Mr. Handyman of Huntsville offers drywall repair and installation services to residents and businesses throughout the area. Drywall repair is a task that most homeowners are willing to try, but they quickly discover that it's more challenging than it looks. That's why many people call in professionals specializing in drywall repair. We have the experience and equipment to meet all drywall repair needs.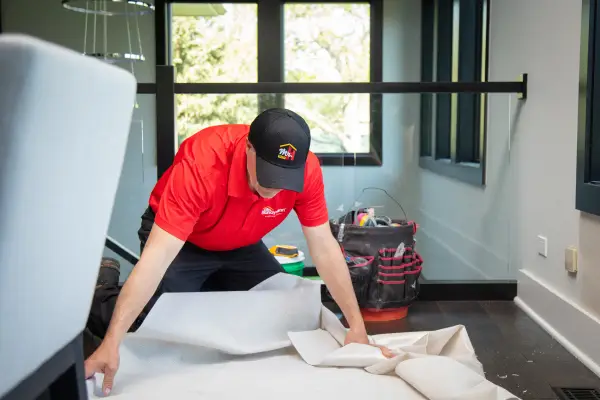 Drywall Repair Services
The Neighborly Done Right Promise™ backs up all the drywall repair services Mr. Handyman of Huntsville offers. This promise ensures our customers are always satisfied with the work they receive. We are proud to belong to the Neighborly family of companies, with its strong commitment to customer satisfaction. Our service providers will always go the extra mile to ensure every job is done right.
Drywall Ceiling Repair
When you need someone to repair drywall on your ceiling, don't attempt to fix it yourself. Drywall repair requires special tools and safety equipment. Mr. Handyman of Huntsville offers professional services and brings all necessary equipment and supplies to your location.
Drywall Crack Repair
If you see cracks in your drywall, don't ignore them. They could indicate more extensive problems. Contact Mr. Handyman of Huntsville for reliable and effective drywall crack repair services. They'll find the root cause of the crack and ensure it won't come back.
Drywall Hole Repair
If you have a hole in your drywall, it's best to seek assistance from the experts at Mr. Handyman of Huntsville. Repairing drywall holes can be tricky, often involving patching up the hole for added support. Holes can be more dangerous than cracks as they can easily compromise the structural integrity of your walls and cause more damage. That's why our skilled professionals can patch up the holes properly to prevent further damage.
Drywall Installation and Finishing
For top-notch
drywall installation and finishing
, you can rely on skilled professionals who take great pride in their work. Contact Mr. Handyman of Huntsville and schedule an appointment with one of our expert drywall specialists. We are committed to exceeding your expectations and delivering your home's highest-quality drywall repair services.