Say goodbye to unsightly drywall holes, dents, cracks, and damage. Contact Mr. Handyman serving Boca Raton to restore your drywall, making it look new and fresh again. We also offer drywall installation to help with home renovation and upgrading needs.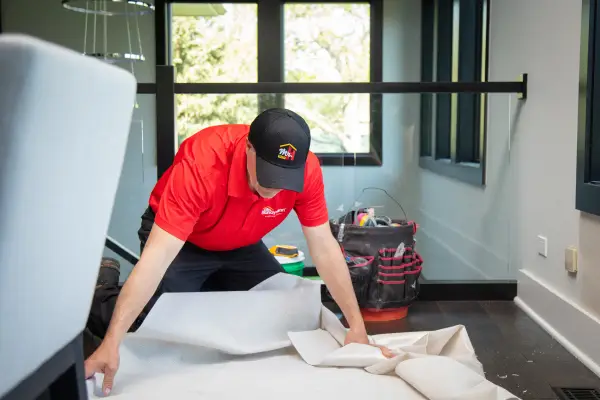 Drywall Repair Services
Mr. Handyman is experienced and ready to help with all your drywall repair needs, including damage from holes, dented corners, scuffs, scrapes, cracks, moisture, and water damage. In addition to our list of local services, we offer drywall repair and finishing services to make your drywall look as good as new.
Drywall Ceiling Repair
Mr. Handyman serving Boca Raton offers various drywall repairs and finishing services, including drywall ceiling repair. Our ceiling repair service targets damage caused by leaky pipes, cracks, and crumbling drywall surfaces. Our experienced drywall professionals will remove and replace the damaged drywall or patch the damage and finish it to make it look brand new.
Drywall Crack Repair
As homes age, they start to show damage from wear and tear. Some homes experience drywall cracks caused by water damage, direct impacts, and shifting foundations. Our experts at Mr. Handyman serving Boca Raton offer drywall crack repair services and will help identify the cause of the damage so you can get that fixed too.
Drywall Hole Repair
Drywall is vulnerable to dents and holes that can easily be repaired. The drywall experts at Mr. Handyman serving Boca Raton provide our clients with high-quality drywall hole repair, erasing any signs of damage. Let us take care of patching, sanding, painting, and finishing your drywall, helping resolve unsightly damage.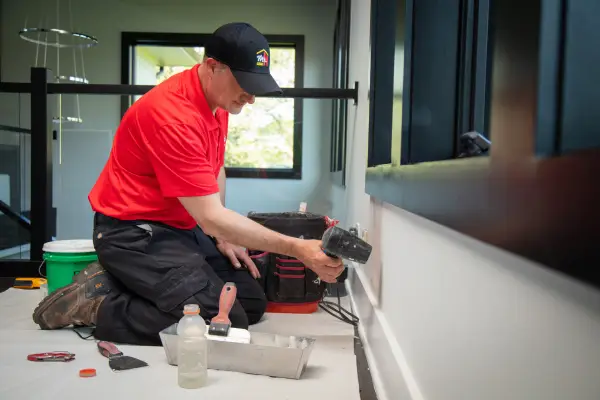 Drywall Installation and Finishing
In addition to offering drywall repair services, our service professionals can install new drywall and conduct all necessary finishing touches. When we come to repair drywall, sometimes it is so damaged that fixing it is not an option. Instead, we will remove damaged drywall, hang new drywall, sand, and paint it. We also offer drywall hanging services for homeowners who want to remodel or renovate their homes. Let Mr. Handyman serving Boca Raton handle the dirty work of hanging new drywall.