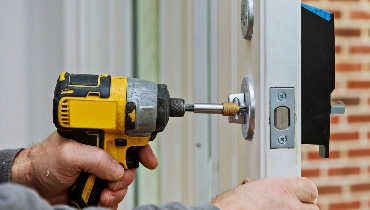 Arguably, your doors are one of the most overlooked parts of your home in Dallas. Yet, they serve many important functions. Dallas exterior doors are especially important. Not only do they contribute to your curb appeal—creating a welcoming entrance for friends, family, and neighbors, but they also provide privacy and keep you, your home, and your loved ones safe from intruders.
But like anything else in your home, your entrance ways will need a little TLC from time to time. Frames warp, hinges squeak, and latches no longer align properly. That's annoying, but it also compromises the security and energy efficiency of your home if you go too long without Dallas exterior door repair service. That's where Mr. Handyman of Dallas steps in. Our pro repair team has years of experience fixing a wide range of issues. Also, we're highly adept at installing new models—should that be what you need to be done.
Our team prides itself on both our high-quality service and our dedication to the Dallas community. We've helped countless homeowners with their improvement, maintenance, and repair tasks. We're the most trusted handyman service in Dallas and surrounding areas for a reason. Our team works hard to provide reliable, transparent, and courteous service with each job.
No matter what issues are plaguing your front or back doors, trust your local Dallas handyman to take care of it. The team of professional service experts at Mr. Handyman of Dallas is highly experienced and takes pride in delivering the highest standards of quality workmanship and outstanding customer service. Continue reading to learn more about some of the Dallas exterior door repair issues we can assist with.
1. Opening and Closing Issues
It almost goes without saying that opening and closing your entry doors should be easy—that's kind of the whole point. If it's sticking, swings open after you close, squeaks loudly when moving, or the knob won't turn, it's time to call your local handyman for Dallas exterior door repair services. There are many reasons why they might not open and close correctly, including:
The latch does not align with the strike plate
The latch is too high or low
Hinges are too loose or tight
Hinges have rusted
Panels have warped from humidity or insect damage
Your home's structural foundation has shifted, and the frame has warped.
Pulling at a knob only to have it come off is no laughing matter—although this is a common trope in slapstick comedies. If your knob doesn't turn, won't lock, doesn't line up with the latch correctly, or sticks, we may be able to repair the latch and get it operational again, but if it's really jammed, then the best Dallas exterior door repair strategy is to simply have your handyman replace the knob altogether.
2. Loose, Tight, Rusty, or Damaged Hinges
Over time, humidity, dust, constant use, and fluctuating weather can take a toll on your brackets' performance. This can lead to frustrating problems like squeaking, sticking, and possibly the bracket breaking off entirely. If the hinges break, it's possible your door might fall out of its frame.
3. Wood Rot
If you have wooden doors in your exterior entryways—or if even just the frame is wooden—there's always a chance it could become damaged from moisture and humidity. Over time, even weather-proofed wood can succumb to water damage such as wood rot, which is a common source of trouble for many Dallas homeowners. Wood rot is a form of decay that only attacks timber that has taken on water and has a moisture content above 20%, so any timber that is outdoors is vulnerable to rotting. Rot causes timber to soften and crumble apart, which can cause serious structural integrity issues.
To check for rot in a wood door, take a screwdriver and press it gently into your panel, frame, and jamb. If it sinks in, you have wood rot. You can also look for earlier warning signs such as discolored patches that appear lighter or darker than surrounding materials or places where the wood has changed texture and looks spongy, stringy, or webbed with cracks.
4. Peeling Paint
This primarily aesthetic issue has never been in style. Peeling paint is unattractive and makes your property look run down. Paint also helps protect wood doors from moisture damage and humidity, so it's important to get Dallas exterior door repair services to replace chipped or peeling paint as soon as possible. On wooden surfaces, peeling paint or solid stain is also itself a sign of moisture damage. When the wood begins to take on water, it swells up and pushes on the paint from the underside. This causes paint to lift and bubble, then crack and peel away in strips. That's why it's so important to apply a coat (or a few coats) of sealant over the top of paint or solid stain when refinishing to help lock out water.
5. Sliding Glass Door Won't Slide
Many homes in Dallas, TX, feature sliding patio doors that lead out to a backyard patio or deck. They let in natural light, give you a nice view of your garden or lawn and slide open with a gentle push—in theory. It's very common for patio entryways to get jammed up, making it difficult to budge them more than a few inches without some serious elbow grease.
Most sliding glass entries operate with a roller and track system with little wheels, or rollers, that run along low-profile tracks attached to the floor or entryway sill. If it's rolling along just fine and you hear a pop or crunch and can't move it any further, a roller has jumped off the track. This usually happens because the roller is damaged or the track is warped or crushed, and it does require Dallas exterior door repair to replace the damaged components. But if the door has just gotten progressively more difficult to move over time, the problem could be that dirt and other debris are gumming up the works and making it hard for the rollers to operate normally. If it looks pretty grimy in the track, grab a scrub brush and warm, soapy water and give it a good scrub. Once it has dried, vacuum out any remnants and see if it's any easier to get the entry rolling.
6. Damage from Wear-and-Tear
As something that gets used every day, it's no surprise that your doors can be damaged from wear-and-tear. Environmental factors, the occasional slamming, and even dogs pushing up against the door to be let out can all negatively impact its structure over time. The good news is that no matter what issue has made it look worse for wear, our Dallas exterior door repair experts can fix it.
7. Pet or Wildlife Damage
Entryways take a lot of abuse from both sides—anxious dogs and vengeful cats scratch and gnaw them from the inside, while the outside faces a barrage from insects and other pests. A Dallas exterior door repair professional can handle minor scratches and gouges by sanding, filling with epoxy wood filler, and painting over the top to conceal the repair, but if the damage is quite severe, replacement is likely the best choice. You may also notice insect damage that looks like a maze of holes or channels on the surface of your entryway, or you may notice that the slab feels lighter than it used to, like it's been hollowed out from the inside.
8. Latch Does Not Work
You rely on both your front and back doors to keep your home safe. If your door doesn't latch each time you try to lock up, then you don't necessarily have to call a locksmith. It could be an issue with the latch's alignment. Perhaps the jamb is twisted from humidity, or the latch borer (the small hole opposite the lock that enables it to latch) no longer lines up correctly—even a perfectly fine lock will be useless in this case. Keep your home safe by calling one of our skillful carpenters for Dallas exterior door repair today.
Dallas Front Door Repair Vs. Complete Replacement
You may be wondering if exterior door repair in Dallas, TX, is going to be sufficient to deal with your home's entryway issues or if it would be better to just have the entire thing replaced. In many situations, such as the ones we described above, repairs by an experienced handyman are likely going to be the best option to get your entryway looking great and functioning perfectly again.
That being said, there are some situations where a replacement will be the more cost-effective, satisfying, and secure choice. Our team can not only complete a wide range of Dallas exterior door repair projects, but we also offer expert entry door installation services.
Outdated Aesthetic
There may be nothing wrong with your door's function, but it just doesn't suit your sense of style. Maybe you moved into an older home, and the front door is outdated, or you just got a puppy and want to install a pet entrance out back (find out more about dog door installation in Dallas). Why not install a brand-new model that is exactly what you like? It's amazing the difference a new door can make to boost the appearance of your home's exterior.
If you're thinking of selling your home and are looking for ways to increase property value, a new exterior entry installation is a worthwhile improvement. It makes a good first impression on prospective home buyers and helps encourage them to seal the deal.
Severe Damage
If you've got severe or widespread damage across your whole entryway, it will need to be replaced. Part of Front door repair is concealing the repaired area, so it looks good as new, and that's simply not possible when the entire thing is a repaired area. Many repairs would also be time-consuming and, therefore, costly. In fact, in a situation with severe damage, repair might end up being considerably more expensive than replacement. After all that, the results would not be as satisfactory as a brand-new installation.
Air Drafts
When an entryway deteriorates around the frame and jambs, it causes air leaks that make it a lot easier for heat transfer to occur. Heat transfer describes the natural process in which thermal energy attempts to move from a warmer area to a cooler place. That changes the temperature in your home and forces your HVAC system to operate for longer periods of time, making it less energy-efficient and increasing the amount you have to pay on your utility bills. Choosing replacement over exterior door repair in Dallas, TX, will help to prevent heat transfer and increase your energy savings over time.
Fogged Glass
Do you have an entryway with a window set in it that looks foggy or misty because there is condensation trapped between panes of glass? This happens when the seal that holds the panes together is broken, and moisture is able to seep in. It makes your home less energy-efficient and spoils both the view through the entryway and the appearance of the door itself. In this case, Dallas exterior door repair is not going to be as effective or long-lasting as you'd hope, and it'll be more cost-effective to replace the entire package. While it is possible to reseal the window panes, the repair will be temporary, and you'll need to repeat it until the package is eventually replaced.
Mr. Handyman Will Fix Your Dallas Exterior Doors
When your front entryway or porch door needs repairs in Dallas and the larger Dallas-Fort Worth area—including Balch Springs, Carrollton, Highland Park, and Mesquite—we're the team for the task. Whether you want to update your home's exterior or that squeaking hinge is driving you up the wall, count on the team of service professionals at Mr. Handyman of Dallas to get the job done right the first time. Plus, we also provide Dallas door repair services for interior doors, too—and a wide range of additional services.
To book an appointment, we invite you to call one of our friendly customer service representatives.