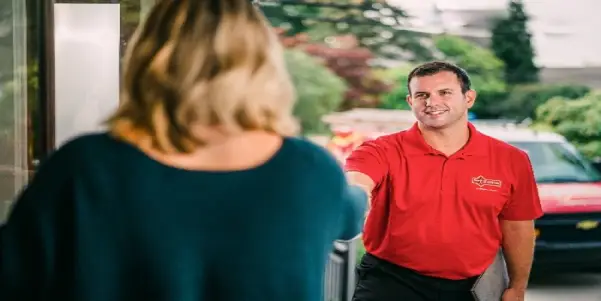 Some projects around the home are well suited to a single person arriving at your home and serving your needs. Other projects are better suited to a team (often two people) to work most efficiently. Still other projects are best handled by a crew. Some of the frustration many have experienced when trying to find help around the home is a mismatch between their need and the staffing model of whoever they contacted.
I have a friend that is a painter. He has been painting for 40+ years, and at this point in his career he often works alone. He has a wonderful bedside manner, customers enjoy him, and he stays busy. His perfect job is a few rooms or less. He can manage that by himself, and he can knock the work out in a day or two.
While he certainly has the skills to paint an entire home inside and out, alone, that could take weeks depending on the size of the home. Entire homes are better suited to a crew. One crew chief and 3-4 painters divide up the work and get it done.
Fencing your yard is a team or crew-based operation, which is why it is so hard to get a fencing company to come out for a minor fence repair, or to fix a dragging gate. Many roofing companies want their crews re-roofing homes. Yet, there are roofing companies that just focus on repairs and small projects (sheds and garages, for example), and your repair is exactly what they do. Depending on your situation, you need to contact the correct one to get a response.
Siding and replacement window companies are often focused on whole home opportunities, not small siding repairs or a single window replacement due to damage identified during a home inspection.
If you left a message describing your project and did not get a return call, this may be why. What you need done is not a good fit for their staffing model. Ideally, they would call back and tell you this, but that often does not happen.
A handyman, or maintenance and repair focused company is often a better fit for smaller one-person projects, even if there is a bigger company that specializes in large versions of that same project. If you need a few things done (fix the dragging gate, a minor drywall repair and touchup paint, siding repair), another benefit is that many handymen can often do all of the above instead of you hiring multiple service providers.
While Mr. Handyman is typically dispatching one craftsman to knock out your project, we can schedule a team of craftsmen if the project calls for this. Many wood-rot issues, for example, can be handled by one person working his way around the home. If the repair is extensive, like resurfacing an entire deck, we can add another craftsman to the project.
One person for two days, or two people for one day, is the same amount of applied labor. This does not affect the cost of the project we are simply doing the project in the most efficient way. We handle many smaller fence-repair, siding-repairs, and painting projects that bigger companies specializing in those tasks cannot do efficiently.
Calling a company matched to your needs greatly reduces frustrations. When that company has the best reputation in greater Jacksonville, you know things will go well.