Most people have home repair issues from time to time. They can be a real pain, especially if it interferes with your home's functionality, safety, and appearance. That's a genuine concern when you need drywall repair or fast installation. There's a solution you can count on, though. At Mr. Handyman, you can get professional drywall repair services for the residents in and around the La Mesa and E Central San Diego areas. You can also feel confident in the work we provide with the Neighborly Done Right Promise™, which underlines our commitment to your satisfaction.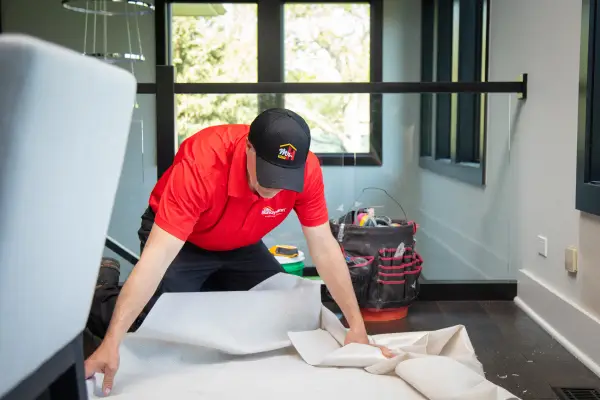 Drywall Repair Services
We have simple solutions if you want to repair drywall damage. Rather than hiring questionable labor or trying to make repairs yourself, you can let us tackle the chore. Our team offers fast results that look great and prevent holes and damage from compromising your safety by allowing pests and microscopic particles from insulation to enter your interior spaces. We can patch, repair, install, and replace drywall on your ceiling and walls. Find out how we can help you get the look you want without hassles.
Drywall Ceiling Repair


Ceiling drywall can become damaged when you have old fixtures, hanging items, or even accidentally poke holes with handheld objects. It occurs commonly in many homes but can lead to other potential problems. Our drywall ceiling repair is the answer if your ceiling has holes and damage.
Drywall Crack Repair


Cracked drywall results from movement related to your foundations, storm damage, or other similar events. When you call Mr. Handyman to tackle the job, get professional drywall crack repair.
Drywall Hole Repair


Holes in your drywall happen over time. That's why you should keep our contact number handy. We can quickly restore your drywall and make it look like the hole or damage never existed. Damage diminishes the look and value of your home but is easily fixable with our drywall hole repair.
Drywall Installation and Finishing


Get our drywall installation and finishing services to completely transform your home's interior. We are ready to provide top services for the residents in the area. Call to schedule services or speak to one of the office team to get answers to questions or details about our services.