As the potential areas where you might need caulking service can vary, the exact process Mr. Handyman uses for caulking service varies too. However, in most cases, you can expect your appointment for caulking service to include the following steps:
Inspection: Before getting started, we'll conduct a thorough inspection to determine the best type of caulking to use for your specific needs. We'll also look for other damage that might need repairs as a result of missing or damaged caulking.
Removal of Old Caulk: If necessary, we'll carefully remove any old caulk, ensuring that no further damage is created.
Application of New Caulk: After removing the old caulk and prepping the area for new caulk, we'll carefully apply a new layer of caulk.
Curing: After the caulking is complete, it may be necessary to allow up to 24 hours or longer for the caulk to cure completely before it is exposed to moisture, depending on the product used.
Because the exact circumstances of your project may vary, it's never a bad idea to give our team a call and discuss the specifics with our caulking experts. The team at Mr. Handyman is happy to answer any questions you may have and provide you with a full estimate and inspection prior to proceeding with the caulking service.
Signs You Need Dallas Caulking Services:
It's not always apparent when you need caulking services. Dallas, TX homeowners who need to re-caulk worn surface fillers may notice the following problems:
Gaps between countertop and wall
Gaps between the backsplash and countertop
Discolored grout lines
Loose window panes
Loose caulk inside shower or bathtub
Gaps in the door trim and jamb
Cracked caulk where baseboards meet floors or walls
As a rule of thumb, any type of gap, crack, or dislodging between two materials poses a high risk of moisture and water damage that could lead to costly repairs, especially in humid areas like your bathroom or kitchen.
Bad caulking services around your door and window trim will lead to air leaks that will cause your HVAC system to become less energy efficient. For proper home caulking services, Dallas, TX handymen bring the right tools and knowledge to help you detect any serious issues that need to be addressed before they remove any faulty caulk and apply new beads.
Types of Caulking Products
As a highly reliant sealer and filler, caulk is a handy repair product to have in every household. Designed to withstand humidity and water, it is not indestructible, yet some types are more durable than others.
ACRYLIC LATEX CAULK
The primary ingredients for this type include acrylic polymers, water, and latex. Sometimes additional fillers are added to increase the bonding resilience. It has the natural appearance of latex and sits well on irregular or porous surfaces. This type is widely used even by your local handyman. It's sometimes referred to as a painter's caulk, ideally used indoors to fill minor wall gaps or seal trim connections. Acrylic latex sealants are also suited for painting applications, but not so much for fixing larger damage.
SILICONE
As an elastomer, silicone caulk is more durable and heavy-duty than your standard acrylic latex. Silicone caulk is known for enhanced elasticity and flexibility and is able to bond various materials together, from metals to glass and ceramics. Silicone is highly effective in repairing cracks, providing additional protection with its flexible movement capabilities. This way, sealed surfaces are unlikely to break. This makes silicone the best choice for indoor and outdoor applications.
Acrylic Latex Vs. Silicone
Although both are efficient products there is slight variation in application. Acrylic caulk is typically preferred as a seam or gap filler that prevents air and water from entering materials. On the other hand, silicone is preferred as a binding product thanks to its elastic properties. That said, it still works perfectly in bathrooms and kitchens where humidity levels are exceptionally high.
Price-wise, acrylic latex is less expensive, and it dries faster than silicone. Both offer versatility and even have specialized varieties for different types of surfaces or environments. During an appointment for professional caulking services in Dallas, TX, our service technicians will assess your existing surface and apply the most suitable type for the required repair.
POLYURETHANE
Besides its silicone counterparts, polyurethane is another popular type that is frequently used. As a plastic material, it can exist in various other forms, and one of them is as a sealant or caulk. It's extremely resilient and flexible while, at the same time, moisture- and chemical-resistant.
Silicone Vs. Polyurethane
Both are highly durable adhesive sealants, but silicone still gets the medal for being superior. Despite silicone's faster bonding strength, it does not bond with paint. Thus, you cannot paint over it like you can with polyurethane. Since polyurethane is an organic polymer, it also works well on wooden materials, especially if they require painting. However, silicone works best if you plan to weatherproof your home and back your insulation system. Sealing around your door and window frames will protect you from unwanted air leaks.
The only downside to silicone is that it takes longer to dry than the others and during the drying period, it emits unpleasant chemical fumes, requiring you to fully air that space. Did we mention that high-quality silicone takes 1 to 10 days to cure properly? When hiring professional home caulking services, Dallas, TX homeowners can rest easy knowing that our team of experts will identify the root problem and provide the right caulking solution with their caulking guns.
Why Choose Mr. Handyman of Dallas for Your Caulking Service?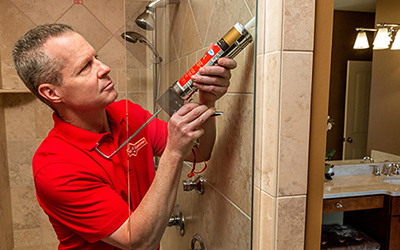 As a team of local property improvement professionals, the experts at Mr. Handyman of Dallas are dedicated to providing high-quality workmanship and exceptional service for every project, including caulking. No matter what the scale or complexities of your project are, you can rest assured that Mr. Handyman will get the job done right!
Some of the benefits of choosing Mr. Handyman as your local home improvement team include:
Trustworthy, knowledgeable service professionals
Access to a wide range of handyman services for all situations
Safe, worry-free experiences for all projects
Fully insured technicians
Guaranteed workmanship
Full clean-up for all services
Dallas Caulking Service FAQs
IS CAULKING SIMILAR TO GROUT?
Caulking and grout are made of different materials and used for different purposes. Grout is made of water, cement, and sand, and designed solely for filling gaps in tiles. If you have an existing tile system in your bathroom and wonder where caulk services are required, here are some examples.
You need to caulk where:
Your bathtub meets the tile wall and tile floor
Your shower base meets the floor
You install a wall-mounted showerhead
The rim of bathroom or kitchen sink touches a countertop
It's important to keep in mind that grout joints will also wear out over time unless it is epoxy grout. Grout also requires a surface sealant to remain intact for years, whereas caulk, as a type of sealant itself, does not need to be sealed.
HOW OFTEN SHOULD CAULK BE REPLACED?
Once every five years is a good guideline for most property owners, though it depends on the type you used and the actual humidity level it is exposed to on a daily basis. While bathrooms and kitchens have the highest humidity levels, Texas itself also has high humidity throughout the year. To better maintain the quality of your joint sealants, we recommend running a dehumidifier on certain days and wiping down your shower, bathtub, backsplashes, and countertops with a microfiber towel to keep those surfaces drier.
HOW DO YOU REMOVE OLD CAULK? OR DO YOU PUT A NEW LAYER ON TOP?
Before you can apply a fresh new bead, it's important to remove the old, discolored joint sealant first using a utility knife. It may be difficult to scrape off all of it without damaging your materials, so it's OK to remove whatever you can. But we don't recommend applying a new bead on top of the old caulk because it won't provide you with a proper seal. Any existing damage has to be removed for an optimal new protective layer.
While applying a new bead to restore the protection against water damage, it's crucial that your Dallas caulking service specialist inspects underneath the surface first to rule out any other issues.
WHAT'S THE BEST WAY TO APPLY JOINT SEALANT?
There is a fair bit of preparation involved before you move on to the application process. Once the old bead has been removed, the area should be cleaned and dry; otherwise, no matter which product type you choose, it won't adhere properly.
Next, invest in a good-quality caulking gun and place the tube inside it. Ensure it sits properly. Use a utility knife or a sharp kitchen knife to slice the pointy nub. (Many people wonder how to best open the tubes!)
With both your hands, hold the sealant gun at a 45-degree angle toward the area you plan to apply the new bead. With one hand in charge of the trigger, the other should guide the tube as you move. Maintaining the 45-degree angle will help you control the gun better as the tube squirts out the sealant.
You might think that the more you apply, the better, but only a little bead will work effectively well.
WHICH JOINT SEALANT IS BEST FOR EXTERIOR USE?
The best choice for exterior use is silicone because it's the most water- and weather-resistant type. Unlike its counterpart, silicone is inorganic and can withstand extreme temperatures and strong UV. When hiring a professional caulking service specialist, in Dallas, TX homeowners can rely on their exterior joint sealant to last them 20 years. Our experienced professionals have seen it all: exterior cracks, untreated water intrusion, and mildew damage. When hiring Mr. Handyman for expert caulking services in Dallas, TX property owners won't ever have to worry about costly water damage repairs triggered by bad joint sealant applications.
HOW MUCH DOES Dallas CAULKING SERVICE COST?
At Mr. Handyman of Dallas, we care to provide our local customers with hassle-free estimates. We value transparency and openness, which means that the price you see on the estimate is what you will pay—no hidden costs or overtime charges. But in order to create that estimate, we need to know more about your situation. In the past, we have detected unexpected surprises for customers, such as water damage behind bathroom tiles or mold growth underneath sinks. These are serious issues that we can't ignore, not if our goals are to enhance your safety and ensure that your property is well-maintained. Feel free to contact our office team for more information about how we work our pricing.
CAN I MAKE MY OWN CAULK?
There is certainly a natural way of creating homemade caulk which includes mixing baking soda with white glue. However, as a temporary solution, we do not recommend using this method for serious repairs. While it's possible to apply this repair method to decorative moldings or other decorative furniture, your Dallas caulking service technician does not recommend this in areas that are exposed to high moisture levels.
WHAT IS POLYSULFIDE?
Polysulfide sealants are another type of caulk material that is primarily used in public and commercial properties. It's popular for industrial projects where the sealant will be exposed to chemicals and other agents. Polysulfide sealants are used to fix tile swimming pools or gas tanks.
Need Caulking Service in Dallas, TX?
Caulking is a job that needs to be done right in order to benefit you for years to come. Our expert team at Mr. Handyman brings many years of experience and is aware of high-quality brands and efficient ways of application.
Whether you're in Dallas or surrounding communities like Garland, University Park and Carrollton, our home caulking services in Dallas, TX will meet all your needs.
Schedule an in-house inspection service by calling our friendly customer service representatives. Or, learn more about our other popular handyman services, including countertop installations, fence repairs, and bathroom remodeling services.