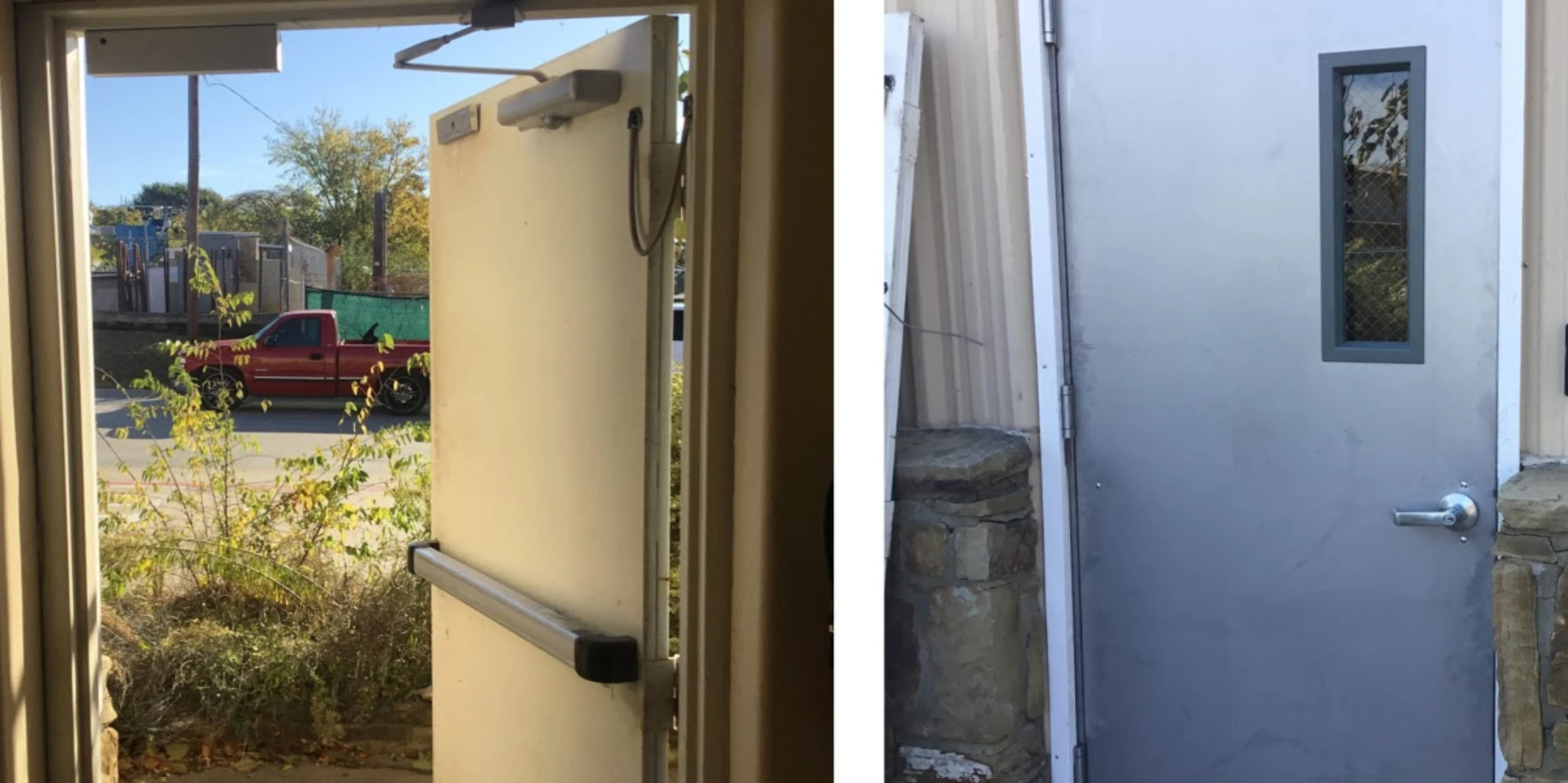 We get it—running a business is hard work and there's just not enough hours in the day to take care of everything that should be done to keep your business running smoothly. You need to stay focused on meeting the needs of your customers or clients, not worry about a long list of nagging repair and maintenance tasks around your commercial property.
But neglecting those tasks isn't an option either. A building in poor condition can reduce the comfort of your staff and clients, and even lead to liability issues down the road. And, fair or not, most people tend to judge a book by its cover. That means a commercial building in a state of disrepair can lower your business credibility in the eyes of your customers and cost you valuable business.
That's why having a skilled handyman service provider on your side can make all the difference in the world to the success of your business and your own peace of mind. The team at Mr. Handyman of Frisco has decades of hands-on experience in the repair trades, and we are dedicated to professionalism and quality workmanship. We can take the burden of maintaining your property off your shoulders so you can focus on what really matters most to you.
What Can a Handyman Do For Your Commercial Property?
From medical offices and retail to restaurants and manufacturing, every business property can use a talented handyman. Anything a handyman can repair, maintain, or improve on your home, they can also do for your commercial building.
However, business properties have their own unique needs that go beyond the basics that you would find in a residence—and our team is experienced with those tasks as well! Our handyman services for commercial properties include:
Door repair & installation, including automatic doors and door closers
Tile installation & repair
Ceiling tile replacement
Drywall repair & installation
Stucco repair (ceilings & exteriors)
Bulb replacement
Office furniture & equipment assembly, including cubicles
Hanging signage & specialty items such as medical equipment
Stall repairs and grab bar installation
Painting and refinishing services
Custom carpentry
Masonry projects
Workspace reconfiguration
Crown molding & wainscoting installation
Flooring repair & installation
General maintenance service
This list is far from exhaustive, so if you have something else in mind that needs doing, just give us a call at 972-439-1191 to chat with our friendly customer service staff. Our handyman service professionals have extensive experience with a wide range of commercial repair services, including maintenance, renovation, and improvements.
Why You Need Commercial Handyman Services
Whether you've got one particular project that needs to be taken care of skillfully and efficiently, or you want a reliable service technician on speed dial in case something comes up, there are some big benefits to hiring a handyman for your commercial building.
1. Focus on Your Business
You've got a lot on your plate and not enough time to worry about facility maintenance. With Mr. Handyman just a phone call away, you can let go of the stress of trying to be everything to everyone and focus your attention where it really matters—on caring for your commercial customers or clients and running a successful business.
2. One Call Does It All
If you've been coping with the stress-inducing hassle of hiring multiple contractors to deal with various tasks around your office, fabrication plant, or storefront, you'll understand why it's such a big convenience to simply call one number and reach a team of professional service technicians who have the expertise to efficiently handle everything on your list. You don't have time to manage a team of repairmen in addition to your own employees, and with Mr. Handyman on the job, you won't have to.
3. Customized For Your Needs
You may be concerned that you don't have enough work to keep a full-time property manager busy, or that hiring someone to take care of repairs and building maintenance will stretch your budget too thin. Mr. Handyman eliminates those problems by offering customized service that's perfectly tailored to suit your unique needs.
Need us to tackle some major, time-consuming projects? No problem! Want a maintenance schedule so we'll show up and get the work done on a regular basis? We can do that! Just need random services once in a while? We'll be there!
4. Preventative Maintenance
As the old saying goes, an ounce of prevention is worth a pound of cure. That's certainly true of property maintenance for commercial businesses. Seemingly minor issues can quickly get out of control when neglected, turning into much bigger worries that will cost more time and money to fix. By getting those issues sorted out before they have a chance to cause more serious problems, Mr. Handyman can save you a lot of trouble and keep your services cost-effective.
5. Increase Your Business Credibility
Scuffed drywall or a sticky door might not seem like such a big problem, but customers tend to notice and harshly judge any sign of disrepair, and those small things can actually impact their decision to use your services. Mr. Handyman will keep your property in top-notch condition, so even the most eagle-eyed client can't find fault with it.
6. Peace of Mind
There's no need to worry about insurance and liability issues when Mr. Handyman is on the job site. That's because we fully insure our handymen with general liability and workers' compensation, so in the unlikely event that something goes wrong and your property is damaged or someone is injured, you won't be on the hook to cover costs. All of our handymen are drug tested and background checked—and they are our employees, not subcontractors, so we know and trust them. When Mr. Handyman is on the job site at your clinic, daycare, or any other business, you can rely on safe, professional behavior at all times.
Mr. Handyman is the Best Choice for Trusted Commercial Handyman Services!
Need experienced handyman services for your commercial business in Frisco and surrounding areas such as Prosper, Little Elm, and The Colony? Rely on Mr. Handyman of Frisco to get the job done efficiently and professionally.
Contact us today or
request service
online to find out why business owners trust us to provide consistent, top-quality repair services!