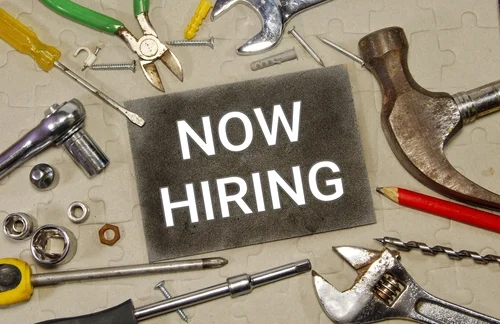 Are you looking for a change in your employment situation? An upgrade to something better?
Are you a seasoned home improvement professional? Do you build strong relationships, do quality work and leave your clients thrilled, but find it harder to land work in these days of online search? Are you burning the candle at both ends, doing todays work while chasing tomorrow's work?
Are you working for somebody else, but looking for a new employment opportunity? An employee opportunity, a company vehicle, paid holidays and vacations, a retirement plan? Are you looking for a full-time position with an employer with a great reputation and steady work
We're hiring, and I'm looking for candidates with the trade skills, customer skills and tools to perform a full range of home improvement, home maintenance and repair tasks and who can leave customers smiling. We're looking for the select few that can work well independently with clients, while also working as part of one of the strongest teams in Jax. If that's you, a relative, a friend or neighbor that would be good for this, please have them visit Jobs.MrHandyman.com to learn more and apply. Search Jax to find local opportunities.
Mr. Handyman is looking for a seasoned home improvement professional that believes the customer experience is their top priority. That 8:00am appointments mean at 7:55am arrival at the customers home. Every home and every project are unique, and we are looking for depth of experience that only comes with time and repetition. Been there, done that, and left the customer thrilled.
Mr. Handyman is specifically designed for the seasoned professional. In most cases it's one employee in the customer home, not 2 junior technicians and a lead. While we can certainly assign 2-3 craftsman to a larger project when needed, each of our staff are highly capable in their own right. We hire seasoned home improvement professionals, and then treat them that way.
This is a career opportunity. Our team has been recognized with the Angie's List Super Service Award each of the past 7 years. Our team was a Bold City Best Home Improvement & Repair finalist the last 3 years (2 wins). The team has thousands of online customer reviews, the overwhelming majority of which are positive, from home and business owners that were thrilled with their Mr. Handyman experience.
Many of our craftsmen have worked independently and found that making the phone ring, chasing estimates, finding help and 'back office stuff' were a constant headache. They realized that their passion is working in the home with customers to make them smile. They get that opportunity daily at Mr. Handyman and leave the headaches for our office.
If you deliver a great customer experience, do quality work, are an experienced home improvement professional and want to be part of the highest rated team in Jax, then we'd like to talk to you. Applications are being accepted at Jobs.MrHandyman.com, and search 'Jax'.