Anne Arundel, PG County, & Annapolis Home Repair Services
Choosing a service for home repair can be tough. After all, this is where you and your family live, and it's important that any job is done right. Mr. Handyman is a locally owned, professional, full-service handyman company that serves Anne Arundel and Prince George's County. We only employ experienced professionals who understand the ins and outs of home repair.
Come find out how we can tackle your home projects. Need help fixing holes in your wall? We've got you covered. Or maybe you want to do a full kitchen remodel? Our handyman can help you plan and execute your vision for the perfect kitchen. Mr. Handyman of Anne Arundel (and the surrounding area) is your one-stop shop for everything home repair and installation. Give us a call for electrical, plumbing, painting, and carpentry work you need done on your house. No matter the extent of the repairs, our fully-insured professionals can help.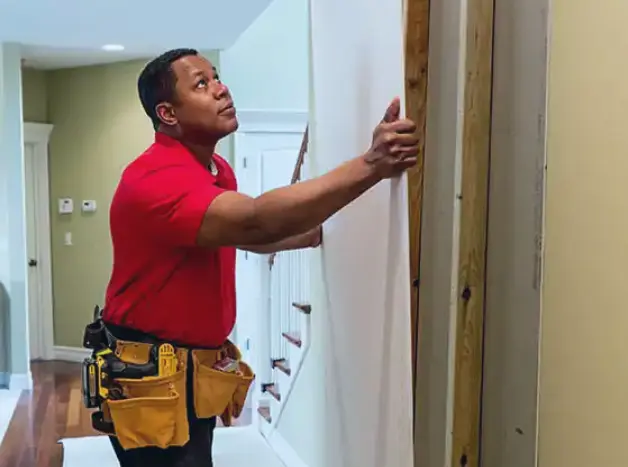 Why Choose Mr. Handyman?
Convenient one-call solution.

Safe, worry-free experience.

Fully insured with general liability and workers' compensation.

We'll clean up when we're done.

Our workmanship is guaranteed.
Our Mission
Mr. Handyman is your one-stop shop for a wide range of home maintenance and repair solutions. Mr. Handyman's service technicians are highly skilled craftsmen, so you know they will get the job done right the first time.
Professional Handyman Services in Anne Arundel for Every Task
Hiring Mr. Handyman has many advantages. Because of the wide set of skills our trusted experts bring to every job, we make home repair more efficient. Instead of hiring multiple specialists for specific home jobs, call on Mr. Handyman. We'll tackle all these simultaneously, saving you money and time.
Home repair, furniture assembly, maintenance, and refurbishing
Home additions and remodels
Custom installation services for floors, windows, and more
Exterior maintenance, including fence repair and power washing
Plus, every job Mr. Handyman of Anne Arundel finishes is backed by our quality guarantee. If you don't have time or skills to do these jobs yourself, you can rest easy knowing your home repairs are in the hands of experts with your best interests in mind. We work around your busy schedule to avoid interruptions and always complete the job as promised. We also follow up, returning to fix anything as needed. That's our Neighborly Done Right Promise™.
Contact us for repair, remodel, or maintenance projects in any area of the home, including:
Attics
Basements
Bathrooms
Bedrooms
Kitchens
Living rooms
Dining rooms
Garages
Exteriors
Decks and patios
Walls and ceilings
Doors and windows
Do you own a local business? Mr. Handyman can help with your business maintenance and repairs, too! Improve your company's image and value by utilizing our experienced handyman services to ensure safety and enhance curb appeal.
We proudly serve the communities of Bowie, Upper Marlboro, Severn, Crofton, Annapolis, Millersville, Pasadena, Severna Park, Greenbelt, Odenton, Hyattsville, Capital Heights, Ft. Washington, Waldorf and more throughout Anne Arundel County and Prince George's County. We are grateful to our neighbors for choosing us as their local handyman and are proud to be America's most reliable bonded and insured handyman service.
Mr. Handyman of Anne Arundel and PG County has won 50 Angie's List Super Service Awards. Only 5% of the companies on the list win in any given year. This award recognizes companies that achieve and maintain a superior service rating on Angie's List.
Let's talk about how we can help you with your repair projects! Contact Mr. Handyman today for services that are On time. Done right.®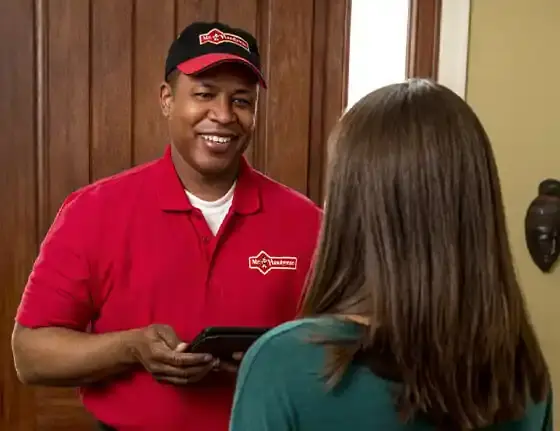 Handyman Repair Services
When you need handyman services in the Anne Arundel area, we're the best in the business. We have service professionals who know how to do a wide variety of home projects for you. They'll help you with repair services, maintenance, and even some home improvements. Find out what they can do for you with our full list of services. Their versatile skills are sure to come in handy in your home.
Handyman Maintenance Services
Home maintenance services are so important to every home. If these projects aren't done periodically, it can cause untold damage to your home. When you need maintenance done, we have the service professionals for the job. They can help you to keep your home in great shape without any hassles.
Mr. Handyman of Anne Arundel and PG County FAQs
When you need home improvement or repairs, choose the best handyman in PG County, Mr. Handyman. We provide professional, trusted handyman services performed by experienced, insured, and licensed professionals. Our service professionals have 10 years of average experience and a wide set of skills. They offer a variety of home repairs services that can help you with broken items. Because we are locally owned, we live in the communities we serve, enjoy the resources of the largest handyman company in the country, and are proud to be part of the Neighborly team of approved home services. For hometown service, the Neighborly Done Right Promise™, and an end to that long overdue to-do list, call Mr. Handyman of Anne Arundel and PG County!
What is a handyman?
A handyman is someone who is mechanically inclined, experienced with home repairs and maintenance, and is, well, handy! While some local home handyman services in Anne Arundel County may specialize in specific repairs, many will take on almost any job—experienced or not. That can make finding the right service in PG County with the skills, tools, and support to tackle your home improvement needs challenging—but not anymore. Mr. Handyman's team of professionals has the experience and know-how to handle nearly any household repair or improvement. They can handle so many tasks around your home that you'll be amazed. If you have a to-do list, they can do it. Don't leave home projects undone when you can get them done with a simple phone call to Mr. Handyman. Our service professionals are ready to help you.
What does a handyman do?
A PG County handyman service may provide services such as tile work, exterior repairs, and other common household improvements. Other handymen may specialize in door installation and repair, drywall repairs and installation, or replacing windows. The professionals at Mr. Handyman can do all the above and more to fulfill your needs. They can fix your deck, put in new insulation, replace broken tiles, and much more. From installing a ceiling fan to creating a beautiful bathroom remodel, you can rely on decades of experience and a home improvement specialist for nearly any job.
Does a handyman in Anne Arundel or PG County need a license?
A handyman service in Anne Arundel County is required to have a license if they perform services defined as home improvements by the Maryland Department of Labor. You'll find that most of the home improvement and repair services homeowners "need" fall under the state's definition! Choose licensed and insured like the pros at Mr. Handyman and stop rolling the dice searching for a "PG County handyman near me." An inexperienced handyman may not help you much, and may actually cause damage to your home when they don't know what they're doing. Call Mr. Handyman instead to get your project completed by the best. But don't take our word for it—our happy customers say it better than we ever could. We have a strong track record of helping customers and leaving them satisfied with the work. Don't leave your home projects to chance- call on the best when you need projects done.
Reliable Handyman Near Anne Arundel and PG County with Community Ties
For a local business that understands handyman services in Anne Arundel and Prince George's County community, Mr. Handyman is the clear choice. We are grateful to our neighbors for choosing us as their local handyman and are proud to be America's most reliable, bonded, and insured handyman service.
Mr. Handyman of Anne Arundel and PG has won ELEVEN Angie's List Super Service Awards. Only 5% of the companies listed win in any given year. This award recognizes companies that achieve and maintain a superior service rating on Angie's List.
Whatever your needs are, Mr. Handyman has a solution for you. From minor home repairs to bigger projects, our experienced technicians can work around your schedule to get repairs done in a timely fashion.
Mr. Handyman of Anne Arundel and PG County
Choose the right handyman services team in your area. When it comes to selecting the right team for your home improvement needs, Mr. Handyman is the right choice.
Areas We Serve:
Accokeek, Andrews Air Force Base, Annapolis, Annapolis Junction, Aquasco, Arnold, Baltimore, Beltsville, Bladensburg, Bowie, Brandywine, Brentwood, Brooklyn, Capitol Heights, Cheltenham, Churchton, Clinton, College Park, Crofton, Crownsville, Curtis Bay, Davidsonville, Deale, District Heights, Edgewater, Forestville, Fort George G Meade, Fort Washington, Friendship, Galesville, Gambrills, Gibson Island, Glen Burnie, Glenn Dale, Greenbelt, Hanover, Harmans, Harwood, Hyattsville, Joint Base Andrews, LaPlata, Lanham, Laurel, Linthicum Heights, Lothian, Mayo, Millersville, Mount Rainier, Odenton, Oxon Hill, Pasadena, Riva, Riverdale, Severn, Severna Park, Shady Side, Southern Md Facility, Stevensville, Suitland, Temple Hills, Tracys Landing, Upper Marlboro, Waldorf, West River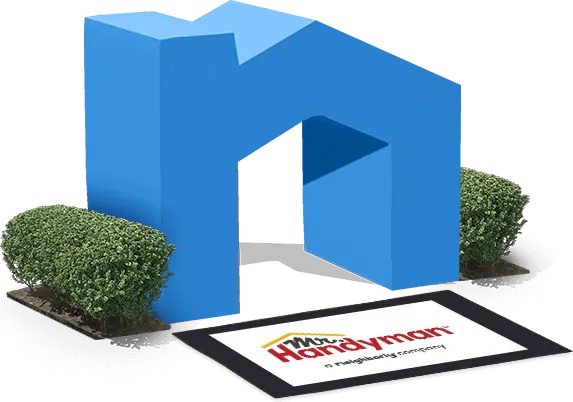 Neighborly®
Mr. Handyman is a Neighborly Company. Handyman repair services are one of the many home maintenance solutions available to you through Neighborly. At Neighborly, we are committed to being there for all your home service needs.
Learn More About Neighborly