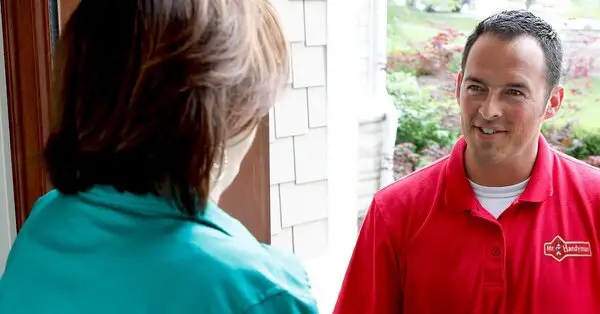 Do you have a home improvement project in mind? When you have a list of to-dos the length of your arm—from furniture assembly and ceiling fan installations to bathroom remodeling—the incredible team at Mr. Handyman of Dallas has it covered. Our local Sachse handyman team has the skills and experience you need to get all the tasks on your to-do list done right the first time.
Our handyman company is dedicated to serving customers throughout the Dallas Area, including in Sachse. We offer unparalleled customer service. From your first phone call with our friendly office staff to the moment our technicians leave your home, you can expect to be treated with respect, integrity and honesty. Our highly-rated Sachse handyman team is known to be reliable and personable. We are passionate about what we do, and our goal is to build long-term relationships with our customers and community. When you need help around your residential home or commercial property, we want Mr. Handyman to be your first choice.
Each of our experienced technicians can complete a variety of services. We truly are your "one call does it all!" handyman service in Sachse, TX—from patching drywall to replacing broken tiles. We've helped countless homeowners with a wide range of home improvement jobs and commercial projects. To learn more about a few of our most common handyman services in Sachse, TX, keep reading!
Tile Repair and Installation
Have you noticed chipped, cracked or dented tile at home in Sachse? If so, it needs to be repaired right away. Broken tile is unattractive, and takes away from the otherwise beautiful appearance of your home. It's also unsafe for your family to be around broken tiles. The sharp edges could cut a little hand, foot or paw. Furthermore, cracks make it easy for water to leak into the structure and cause damage beyond.
Tiles are water-resistant, as long as they've been sealed and installed correctly. This makes them an excellent choice for spaces like your bathroom and kitchen. But when damaged, water and moisture can seep past the tile and into supporting drywall or flooring. Water damage is a serious problem that requires significant repair services—that could have been avoided with tile replacement service. Keep your tile floor, countertop, backsplash, and shower wall in the best condition possible with the help of our Sachse handyman services.
Each of our technicians has excellent tiling skills, and has worked with a range of materials, including:
Ceramic and porcelain
Stone tiles like slate, marble, and granite
Glass
Synthetic tiles such as vinyl and laminate
Drywall Repair and Installation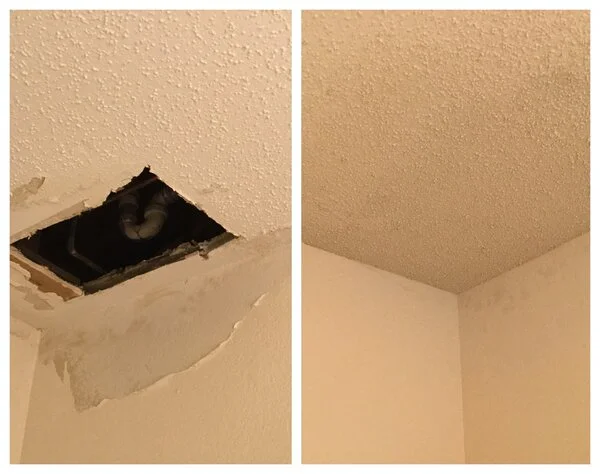 Drywall, also known as Sheetrock, is a fundamental part of most Sachse homes. It's a lightweight, fire-resistant material made out of two paper boards that sandwich gypsum, a powdery white or gray sulfate mineral. Although drywall has many excellent qualities, such as being cost-effective and easy to install, one drawback is that it's easily damaged. Moisture, wear and tear, and settling homes can cause cracks, holes and water damage. And when there is an issue with your drywall, it's imperative to replace or patch it right away. With the help of an experienced handyman, Sachse, TX homeowners can look forward to efficient drywall repairs and replacement. We offer many drywall services, including:
Repairs and repainting
Seam/joint taping
Mudding
Installation/replacement
Ceiling repair/installation
Stucco repair
Texturing
Door Installation and Repair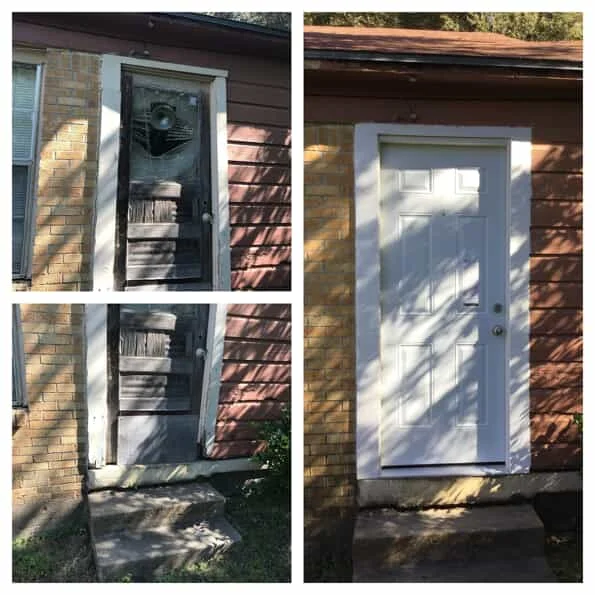 Like most parts of your home, as time goes on, your doors will get damaged by daily use and wear and tear. Also, humidity, fluctuating temperatures and pests can negatively impact the aesthetic and function of your doors. Left untreated, the damage not only looks unattractive but could also get worse. However, with the help of your local Sachse "handyman near me", we can effectively fix damage to your doors—helping them look and work like new. Among the many door repairs we're able to complete, we'll fix issues such as:
Sticking
Squeaking
Air leaks and drafts
Damaged jambs
Rotting/soft wood
Broken locks
Damaged screen doors
Termite damage
Attic Insulation
When it comes to house insulation, your attic may be one of the most crucial areas to insulate. With proper attic insulation in place, you are promoting your home's energy efficiency. But insulation does a lot more than that; it's designed to reduce heat transfer, condition the indoor air, and act as a vapor barrier. Depending on the type of insulation you currently have, it's worth checking how old it is and whether you have noticed any recent changes within your energy consumption. Are you experiencing drafts, rapid heat loss, or uneven temperatures? While air leaks are common in the entryway and nearby your windows, your attic insulation could be to blame. Perhaps you have untreated clogged gutters that have blocked your vents and the lack of ventilation has led to moisture issues inside your attic. Whether you have fiberglass batts or loose-fill insulation, they do not handle moisture well and could quickly deteriorate and promote mold growth.
If you suspect insufficient attic insulation, give our local Sachse handyman near me a call to schedule an inspection service. We'll be able to help locate areas affected by moisture issues and air leakage, as well as measure your current insulation's efficiency. If it's time for a new attic insulation installation, we'll be more than happy to inform you about high-quality insulation products, whether it's mineral wool or spray foam insulation. We'll help you calculate the level of R-value you need to determine your desired comfort level.
Fence Repair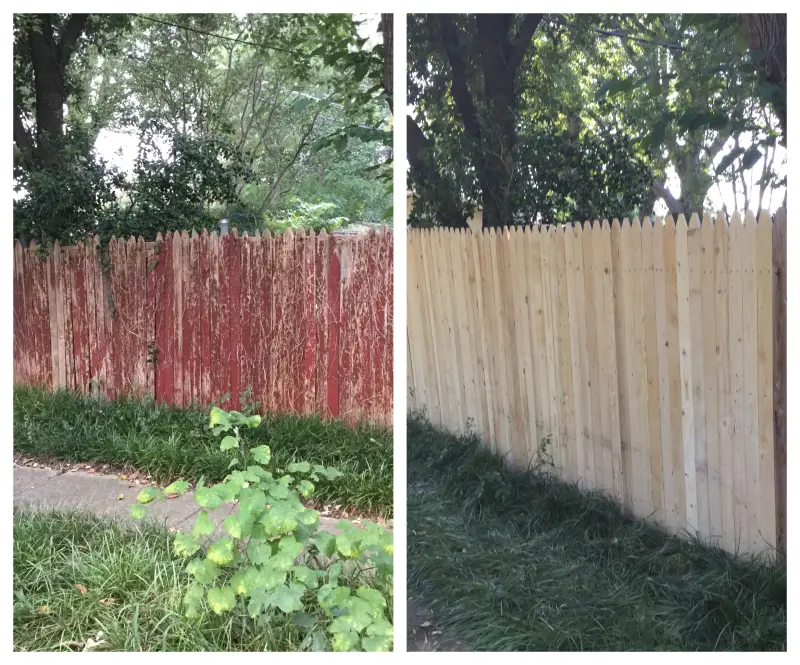 Your fence often adds to the first impression neighbors, friends, and family get of your home. It helps boost your curb appeal, provides privacy, marks property lines and protects playing children and pets. But when your fence looks worn, bleached from the sun or has peeling paint, it detracts from your property's overall aesthetic. Also, exposed nails, splintering boards and rotting planks can be hazardous for loved ones and animals to be around. These cracks are also vulnerable to water infiltration, which means that they become susceptible to weather damage and wood rot. To keep your fence in the best condition possible, trust the fence repair needs to your Sachse handyman. Our service providers have years of experience working with and fixing many types of fences, including:
Chain link
Wood
Composite
Garden
Wrought iron
Cabinet Repair
Are your wood cabinets dated and scuffed, but the overall structure appears to be in good shape? If you're not contemplating a kitchen remodel but want to revamp your kitchen cabinets, some minor home repairs or cabinet refacing services may fix the issue. During a refacing, we typically remove drawers and doors and exchange them with new ones. While cabinet boxes remain in place, we may sand them, replace the laminate or repaint them before installing the new components. Cabinet repair is a cost-saving Sachse handyman service that we offer. However, in some cases, when your wood cabinets have suffered from moisture damage, you may need to consider a replacement, as it could otherwise lead to mold and rot. As your qualified handyman in Sachse, TX, you can rely on Mr. Handyman to check the problem further. Chances are the overall structure can be saved, but you may need to consider the extra cost of materials.
Shower Remodel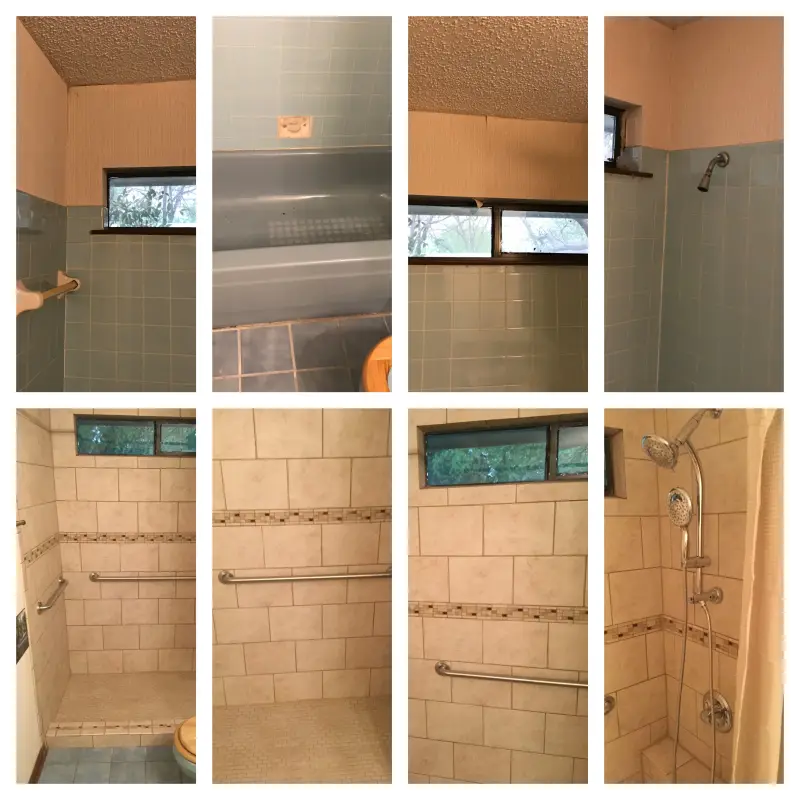 If you have an outdated acrylic or fiberglass shower that gives your bathroom an overall bleak appearance, it may be time for a
shower remodel
. Whether you want to keep up with modern trends or want to increase the showering space and make it more functional, there is a list of things our Sachse handyman remodelers can help you with. But the most important question is, do you really want to get rid of the bathtub? We always encourage our customers to think about their
bathroom remodel
with the future in mind, unless you have the space to keep both.
One of the major upgrades of a shower remodel is redoing the walls and floors, for which you can choose a high-quality tile system and even incorporate a shower niche and a bench. Besides the desire for exquisite tile types and patterns, we have found that frameless glass shower doors are high in demand because they generally make bathrooms appear bigger and also show off the tile. Add improved light fixtures and ventilation systems, and you're set! Contact your professional Sachse handyman team today to schedule a consultation. Our experts will carefully inspect your current shower and check whether some basic plumbing repairs are needed before the actual remodel.
Need A Commercial Handyman in Sachse, TX?
Our professional handyman team in Sachse, TX is extremely versatile and has worked on multiple commercial properties, providing guaranteed workmanship to help local businesses stay on top of their maintenance and repair needs. When you're taking care of daily revenues, signing contracts and caring for your employees, you don't need the extra baggage of upkeep and repair. With reliable handyman services in Sachse, TX, you can lean back and focus on what's more important.
Our team of experts can handle:
Ceiling panel installation
Ceiling fan installation
Commercial door repairs
Finish carpentry
Commercial furniture assembly (filing cabinets, desk cubicles)
Crown molding installation
Graffiti removal
Tile services (countertop or backsplash installation)
There is a huge list of indoor repairs and maintenance that our Sachse handyman experts offer for commercial properties. We understand the importance of local building codes, and we'll ensure that our maintenance service standards are compliant. Whether you're in charge of a hotel, corporate office or public buildings, you can count on our team when you need a fully insured and licensed handyman. Sachse, TX commercial properties are in safe hands with Mr. Handyman of Dallas!
The Mr. Handyman Difference
Mr. Handyman has been around for several decades now and since then, we've grown into North America's leading home service franchise. Committed to providing quality craftsmanship and outstanding customer service to our local communities, each locally owned and operated handyman business has vouched to follow Neighborly's Done Right Promise, which provides our clients with the assurance that each service request is done right the first time; otherwise, we'll be back to rectify any issues at no charge.
As a part of our code of values, we strive to build strong relationships with our customers, which is achieved through transparency and honesty. Therefore, we offer an upfront pricing system, which means that you get a cost estimate before the initial handyman service request even begins, and it will likely include a prior inspection service to help detect any potential underlying issues.
We believe that every residential and commercial property owner needs a dependable handyman. Sachse, TX residents who trust our expertise and knowledge can expect high quality property maintenance and house repair services.
Contact Your Sachse Handyman Near Me Today!
Our service professionals can't wait to help you with your next home improvement or commercial project. With years of experience under our belts, our versatile technicians can complete many of the repair, maintenance and installation tasks piling up on your to-do list. We're more than happy to take care of your to-do list, so you can spend time enjoying your home—instead of working on it.
To get started today, we invite you to contact our helpful customer service representatives. We serve our local community of Sachse and surrounding areas, including
Richardson
,
Carrollton
, and
Addison
. We look forward to meeting you and helping with your next home improvement project.