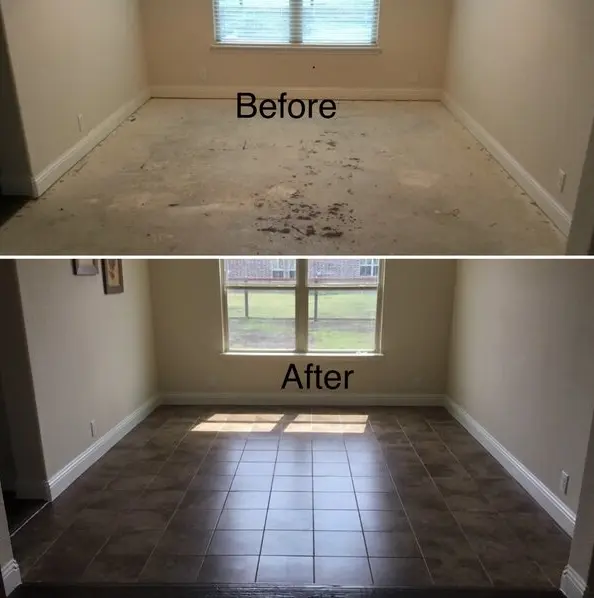 All types of flooring systems have their own unique characteristics and have different maintenance needs. But when you live in a hot, muggy climate like Texas, it is essential that you control indoor humidity levels well, whether it is through an air conditioner or a dehumidifier. Without the necessary maintenance, you could easily run into the need for a vinyl or hardwood floor repair. Frisco, TX homeowners may experience squeaky wood planks or problems with cupping, bubbling, and cracking. But these issues are easily fixed with the help from your local experts at Mr. Handyman of Frisco.
As a local Northern Texan, your skilled Frisco handyman is familiar with residential repairs and maintenance. Whether your vinyl has suffered from UV damage or you have an improvement project to propose, contact us today to schedule an appointment!
What Does Mr. Handyman's Floor Repair Frisco, TX Include?
When hiring Mr. Handyman for effective floor repairs, Frisco, TX residents can rest assured to get the full package. Our team brings a meticulous eye for detail needed for a thorough inspection. You may have squeaky stairs that call for a stair repair, but instead of simply nailing down the affected stair tread, it is important to check for underlying issues, such as wear and tear, moisture damage, or poor installation. The same causes apply to damaged floors. The art lies in knowing why you need floor repairs. Frisco, TX service technicians will get down to the root cause of the problem and ensure it won't come back or lead to other serious repair jobs.
Common types of floor materials our Frisco floor repair technicians handle include:
Hardwood floors: Texas is popular for its wide variety of hardwood lumbers, such as oak. So it's difficult for wood lovers to resist wood materials for their homes. Although solid hardwood floors are of high quality, they are also high maintenance. Besides regular cleaning and applying hardwood floor cleaner once a month, routine maintenance also includes surface refinishing every three years, as well as sanding every five years. Failure to do so can lead to surface damage, splintering edges and cracking, which means moisture can intrude and cause damage from within. If you haven't been regular with your upkeep and believe you might need floor repairs, Frisco, TX technicians are happy to help!
Engineered wood: Engineered means that it was treated with chemicals to become more durable and resilient. Engineered wood doesn't have a solid core; rather, every plank is made of various layers. But that doesn't mean it isn't effective. In fact, engineered wood can handle high-moisture environments better, so some families opt for engineered wood in their kitchens. However, this type requires similar repairs and maintenance as real wood. Bending and warping are among the most common issues, especially when they were installed with the interlocking system. Or depending on the exact type of material used for installation.
Ceramic tile floors: Tile is widely known for its versatility, whether you opt for ceramic or porcelain. It's highly durable and easy to maintain, providing a nice cool surface to walk on during the summer months. However, traditional tile and grout are highly porous and require effective surface sealant to be functional. The protective sealant has a lifespan of around three years, depending on how well you maintain it. It's recommended that you refrain from using harsh chemical cleaners that could cause the sealant to wear off too soon. Dirty grout lines or hairline cracks on tile sheets are an indication that the sealant is worn. With an efficient floor repair, Frisco, TX homeowners will get more out of their tiling system.
Laminate floors: The quality of laminate has drastically improved in the last decade. It comes in a wide range of styles due to the flexibility of choosing a photographic layer that you like. On top of that layer is a wear layer that protects the surface from scratches and stains. While they're cost-effective and resilient, they don't really provide the same visual appearance as solid wood, which is a downside for many homeowners. Plus, repairs can be tough. When in need of laminate floor repairs, Frisco, TX residents must be prepared to have a whole plank replaced. Because it is made of synthetic products, there is no way that peeling around the edges can be sanded, nor can the surface be refinished like wood.
Luxury vinyl planks: LVP has become a young professional's top-choice flooring material, but it's also suitable for family homes with high foot traffic. Made of multiple layers of high-quality PVC, luxury vinyl planks are highly durable materials that are easy to install with a click-and-lock mechanism. Furthermore, it's water-resistant and an ideal alternative to tile in bathrooms as long as they are well ventilated. However, there are some common issues that require LVP floor repairs. Frisco, TX homeowners may experience cupping and curling for which there are some repair methods available, but you might get better results with a plank replacement.
Why Mr. Handyman Is Your First Choice For Floor Repair Frisco, TX
Mr. Handyman has become one of North America's leading home service franchises with over 200 locally owned and operated handyman businesses. What makes our handyman service stand out from the competition is the added value we bring and our commitment to making a difference in our community. Our team members are highly trained professionals who have passed their background checks and bring an average of ten years of experience within the home service and construction sectors. Our loyal customers have referred to Mr. Handyman as their one-stop shop for all their Frisco handyman needs, from residential to commercial maintenance and repairs. Rest assured that every service we provide is backed by our Neighborly Done Right Promise®. This means that besides the high-quality workmanship delivered, it is also covered by a one-year labor warranty.
FAQs About Frisco Floor Repair Service
Having solid ground to stand on at home is important. It should provide you comfort and safety.
HOW MUCH DOES IT COST TO PATCH A FLOOR?
This depends on the type of damage evident and how much needs to be patched. At Mr. Handyman, we have a transparent upfront pricing system, designed to provide customers with a clear price estimate. Typically, this cost estimate is determined after a no-obligation visit from our service technician. During an in-home visit, they'll have the opportunity to perform a thorough inspection and check for underlying issues. As for hardwood flooring systems, they'll often require more than just a patching job. Sanding the edges and resealing the surface are also an important part of the whole repair process. We do recommend that you give our friendly office team a call to describe your current situation. We may be able to give you a useful price range or cost guide.
SHOULD I BE WORRIED ABOUT SLOPING FLOORS?
Yes. Some people may not spot it right away, or they view it as a minor cosmetic issue. But in reality, it could indicate a serious underlying problem, such as structural damage to your home's foundation. Home settlement is a normal process during which every corner of your new home should evenly settle into place. Even during a healthy settlement, your home may suffer from minor damage, such as interior or exterior wall cracks for which our Frisco handyman team provides professional drywall repairs. But a home settlement can also misalign your doors and cause sloping hardwood floors. Our trained Frisco floor repair experts will do the necessary inspection to see if a foundation specialist needs to be involved prior to the floor repair. Frisco, TX homeowners can rely on us for a proper job from start to finish.
WHY IS A MUSTY SMELL COMING FROM UNDERNEATH MY FLOORING SYSTEM?
Musty smells typically signal mold growth caused by moisture or water damage. If you smell it coming from underneath your wooden floors, it is highly likely that water managed to go underneath and that you have mold growth on your subfloors. If this occurs on the main floor, it is possible that you have mold in your crawl space. A more detailed inspection is needed to determine the cause and type of Frisco floor repair needed.
Increase Your Indoor Safety With Mr. Handyman's Effective Flooring Repair, Frisco, TX!
Don't let floor damage pose a safety risk at your home. Instead, call the local pros at Mr. Handyman for professional floor repairs. Frisco, TX residents are invited to reach out to our friendly customer service team today! Ask us any questions you may have about our Frisco floor repair service or schedule a convenient appointment with a service technician.
Whether you're in Frisco or a nearby city, such as Aubrey, Prosper, and Little Elm, we look forward to being of service to you!