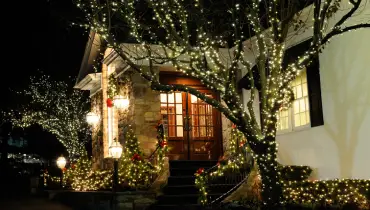 Movies and TV shows always make the holidays look idyllic and relaxing. We bet you can picture a family cozying up by a crackling fire and hot cocoa overflowing with the soft melodic sounds of Frank Sinatra playing in the background.
While the tail end of your Thanksgiving and Christmas may mirror this scene, most of the month is filled with holiday to-do lists, present shopping, decorating, and more. The only time you get to sit back and relax is when all that is complete.
The good news is that you have a handyman in Memphis to take some of the holiday tasks off your hands, like installing holiday lights. This year, why not leave the holiday lighting installation to the professionals? Mr. Handyman of Memphis is ready and willing to create peace on earth (or at least in your home) and take care of holiday light installation for you.
We Install Holiday Lighting on Tall Roof Lines
We know that decorating for the holidays is a tradition for many families and should continue to be honored—safely. According to the Consumer Product Commission, over 18,000 Americans go to the ER annually due to holiday decorating. That said, these injuries could result from various reasons, including inattention to detail, rushing the process, not reading instructions, etc.
When you have a professional handyman company in Memphis to support you in adding holiday lighting to your roof line, you can avoid falls and trips to the hospital. After all, you deserve to keep your holidays merry and injury-free.
We Add Lighting to Architectural Features
Are you excited to decorate for the holidays so you can finally highlight those architectural features that don't always get the attention they deserve? We completely understand and want to assist in that endeavor. Whether you have a Colonial, Contemporary, Greek Revival, Cape Cod, or Georgian Colonial style home, our technicians can safely install your holiday lighting, putting your home in its (literal) best light.
We Incorporate Holiday Lighting on Your Exterior
Your exterior doesn't just include your roof line or architectural style. There are also stairs, porches, windows, columns, and more that need a little holiday cheer. We take the danger out of holiday light installation by doing it all for you. We can decorate the exterior of your home and turn it into the winter wonderland you've always dreamed of.
We Enhance Wreaths on Your Front Door
Don't get us wrong, natural green wreaths are a staple for any door or window during the holidays, but they could probably use some light enhancements, right? That's where our Memphis handymen and women can help! We don't just install lights on roofs or high-up places. We take simple decorations and make them shine with your chosen incandescent Christmas lights. We learn about what you're looking for and even bring the lighting directly to you at an extra charge. Our goal is to add as much convenience to the installation process so that you don't have to lift a finger.
We Add Exterior Flood Lights for Holiday Safety
Safety is a big deal during the holidays, especially when you have friends and family staying. No one should have to worry about potential criminal activity around Christmas. And with our help, you won't have to. Not only do we add aesthetically pleasing lighting to the exterior of your property, but we also install floodlighting so that your guests feel secure in and around your home.
We Install Decorations & Lighting on the Tree
Are you an older individual with mobility issues and unable to decorate your own tree? Perhaps it's your first time having a tree in your own place, and you need some assistance decorating. Mr. Handyman of Memphis is the team you call to install the Christmas lights and ornaments, so you can focus on other holiday responsibilities you've been putting off.
We Decorate Your Lawn with a Beautiful Seasonal Display
One of the most important parts of the holidays is getting your lawn Christmas-ready with a beautiful light display, but maybe you're not sure where to start. Not to worry! We have experience helping you design and install holiday lighting for your lawn. We add lighting to trees, bushes, flowerbeds, and around your property line. Let the merrymaking commence with a lawn display that makes every passerby wonder if Santa has set up shop at your home.
For Holiday Lighting Installation, TrustMr. Handyman of Memphis!
Avoid the hassle of holiday light installation with help from our Memphis technicians! It's not too late to utilize our local handyman services. Let us help you complete any last-minute holiday decorating, home improvement projects, and more.
Request service online or call before the holidays are gone!