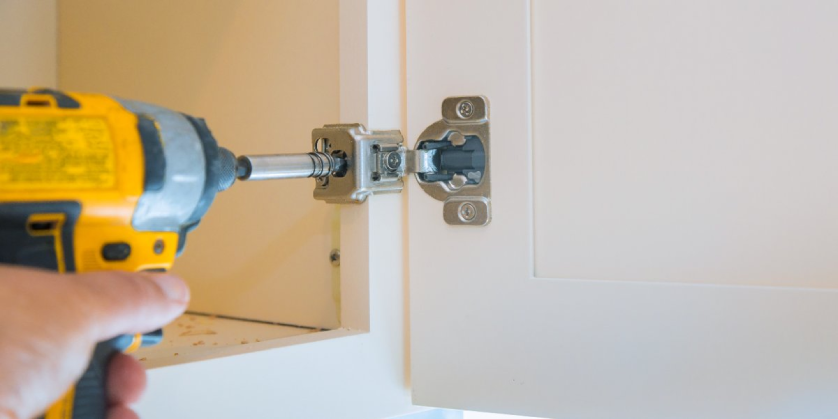 When you think about how often you use your current cabinets, whether in your kitchen or elsewhere in your home, it's surprising how little you notice them. The mark of a cupboard in good working order is one that doesn't draw your attention. When you do start to notice your cabinets, it's usually because they're outdated, not opening and closing properly, scratched, or warped. Not only are these issues unsightly, but some may actually put the structural integrity of your cabinets at risk. If you don't invest in a McKinney cabinet repair service, you could find your cupboards collapsing and your possessions inside of these cabinets damaged.
Our McKinney handyman services include both cabinet installation and cabinet repair in McKinney, TX. All of our service professionals have passed their background checks and are fully insured and licensed. With the help of one of our experienced handyman technicians, you can get your cabinets looking and performing like new again, no matter how old they are. Below, we've outlined solutions to the most common problems requiring McKinney cabinet repair. Using this information, you'll be able to determine when cupboard repair is worth your while and when a replacement may make more sense.
Factors To Consider Before Doing A McKinney Cabinet Repair
When a problem arises with something in the home, homeowners generally take one of two approaches. The first approach is to assume that because the item or fixture is damaged, it should be thrown away and replaced, especially when water damage is at play. The second approach is to try to save money at all costs and repair the fixture as many times as possible before considering replacement.
In reality, these aren't the only two options. A sweet spot exists in the middle of these, but how do you determine when to do a McKinney cabinet repair and when to do a replacement?
There are three possible courses of action when it comes to cabinet repair in McKinney, TX:
Cabinet Replacement
One of the biggest mistakes that homeowners make when planning a kitchen remodel is forgetting to consider not just their cupboards' appearance but their functionality as well. If your cabinets aren't providing as much storage as you'd like, kitchen cabinet repair in McKinney, TX, may not be as useful as kitchen cabinet replacement. This is certainly something to consider during a kitchen renovation.
McKinney Cabinet Repair
It's no secret that cabinet replacement isn't cheap. According to a 2021 estimate, cabinet installation costs an average of around $5,500, but most homeowners foot the bill for anywhere between $2,000 and $10,000. The total cost depends largely on the types of materials used, kitchen size, and intricacy of cabinetry. Large kitchens with custom cabinets could cost tens of thousands of dollars to install.
Unless you want to change up the look and layout of your cupboards completely, it might make sense to do minor repairs instead. Antique furniture and cabinets that have sentimental value may even be worth doing major repairs too.
Cabinet Refacing
Is the problem not so much the functionality of your cupboards but their appearance? Consider conducting cabinet refacing instead.
During cabinet refacing, a professional carpenter will cover your cabinet boxes, doors, and drawers with veneer or laminate. This process gives you what essentially looks like new cupboards, but at a fraction of the cost.
Problems Leading To Kitchen Cabinet Repair in McKinney, TX
Sagging Shelves and Drawer Bottoms
Considering that cabinets tend to hold heavy objects, such as cookware, dinnerware, books, and canned goods, it's surprising how flimsy shelf and drawer bottoms can be. Although cupboard doors are often made of quality materials like hardwood, shelves are primarily made with a thin piece of MDF. If your shelves or drawer bottoms are sagging so much that you're worried they'll snap one day, there are a few things you can do to boost structural support.
For wall-mounted cupboards, take a look to see if you have a center stile. A center stile is a vertical board that runs vertically along the center point of your cupboards. Using brackets, the shelf's center can be attached to the stile for added support. A 'bridge' could also be built to perform the same function as a center stile for cupboards without one. For both cupboard shelves and drawers, it's possible to also add plywood to their bottoms for reinforcement.
Sticking Drawer Slides
Is the problem merely a drawer that sticks? Nine times out of ten, the solution is as simple as lubricating its tracks. Remove the drawer, flip it upside down, and wipe down its tracks with some warm, soapy water. Next, spray tracks with a 'dry' lubricant. WD-40 makes a dry lubricant, as do many other popular brands you'd find at the hardware store. You can also use a regular lubricant, but dry lubricants are oil-free and, therefore, a better choice for kitchen cabinet repair in McKinney, TX, since they won't attract dirt and debris.
If the drawer is still sticking after using a lubricant, it might be time to replace its entire track. Drawers with heavy items like cutlery tend to wear down quicker than other drawers.
Loose or Broken Hinges
Many kitchen cupboards in McKinney have European hinges—hinges that have two mounting plates (one on the cabinet box and one on the cabinet door) that are invisible when your cupboards are closed. If you notice that one of your doors seems to be higher or lower than the others, it's probably a hinge issue.
This is usually a fairly simple fix. All you need to do is tighten its screws. Though simple, the process might feel a bit tedious. Play around with tightening and loosening screws until the door is level with the others. Make sure you only touch the screws on either side of the arm on the cabinet box for this. These screws are known as mounting screws.
The large screw in between the two mounting screws is called the depth screw. As its name suggests, this screw determines how far the door sticks out from the cabinet. To change cabinet door depth, loosen and tighten this screw until you get your desired result.
If you find that you're unable to tighten the screws no matter how many times you turn the screwdriver, it's likely that you have stripped screw holes. These holes are now too big for the screws, and more major repairs are required. The cupboard doors will have to be removed, and stripped holes will need to be filled with wood filler. Once filled and dry, your doors may be mounted again.
Loose Knobs and Handles
Like hinges, knobs and handles become loose, or may even fall off, when the screw holes become stripped. You may follow the same steps above to fill and drill new holes, or you could simply glue the knobs back on. Because knobs mostly have a decorative purpose rather than structural support, glue is a safe option.
There are actually glue products available specifically for stripped holes, called 'thread lockers.' Some of these glues are removable, and others are permanent. Think carefully about how likely it is that you'll need to remove knobs in the future before opting for permanent glue.
Cabinet Boxes and Drawer Boxes Falling Apart
As soon as you notice a corner of your cabinet or drawers coming apart, it's time for McKinney cabinet repair. Depending on the quality of your cabinets, these corners may have been joined using nothing but wood glue. By reinforcing these corners, you will reduce the chance of an accident occurring.
This repair will require your drawer fronts or cabinet doors to be removed. If they don't pull apart easily, don't force them. Add a few small nails to reinforce existing wood glue, and you'll be good to go. If they do come apart, reattach them using more wood glue and hold the pieces together using clamps. Once dry, remove the clamps and hammer a few nails in.
Scratches and Dents
Are your cupboards made of stained wood? One of the easiest ways to fix dents and scratches on cabinets that show the wood grain is by using a fill stick, also known as a lumber crayon. These look like felt-tip markers and work by finding a close color match to your cupboards and drawing over the top of the scratch to fill it in with color. Though someone would be able to see this McKinney cabinet repair job if you pointed it out to them, they wouldn't notice it otherwise.
If your cabinet project involves painting, you can fix scratches and dents with a wood filler or epoxy. To do this, all you need to do is fill the hole, wait for it to dry, and sand down its surface until everything is flush. Finish up with a fresh coat of paint or two, and you won't even be able to tell that there was ever any damage there.
Dull Finish
Over time, UV rays and general use may cause your wood cabinets to look dull and aged. Grease from cooking and smoke from dinner plans gone wrong may also contribute to an overall lifeless look. Using a wood cleaner helps revitalize your cabinets more than you thought possible. Wood cleaners may be picked up at your local hardware store and should be applied once a year to keep your cabinets looking their best.
Another particularly worn area may be the surface around the handle or knob. Because your hand frequently comes into contact with this surface, the finish may begin to wear off. A professional carpenter can refinish your cabinets for you, or you can add a back plate to your cabinet hardware to hide this area.
Outdated Style
Do you still have those old oak kitchen cabinets in McKinney that were all the rage in the 1990s? Before you rush off to the closest cabinetry store, try giving them new life with a fresh coat of paint and some new cabinet hardware. You'd be surprised how powerful a new paint color can be.
Paint is relatively inexpensive and easy to change up as your style changes. Simply swapping out your existing hardware for new, trendy knobs can make all the difference.
Cost of Cabinet Repair in McKinney, TX
Determining the cost of products and services is an essential part of every home repair or replacement project. Because there are so many different reasons behind your decision to spruce up your cabinets, the cost of McKinney cabinet repair varies widely.
Part of the cost to repair cabinets depends on whether you do the repair yourself or hire an expert. Of the above repair solutions, anyone can wipe their cabinets down with a wood cleaner or fill in scratches with a fill stick.
The other repair solutions may be a little more tricky. Unless you have some experience with woodworking, it may be challenging to drill new holes and reinforce shelves with plywood or bridges. In these cases, you may want to consider hiring an experienced carpenter.
Furniture repair specialists do McKinney cabinet repairs more quickly and with a higher quality of workmanship than the average homeowner can. For an accurate estimate, it's worth getting some quotes for cabinet services before you decide to tackle the project on your own.
Trust Mr. Handyman's Team Of Experienced Carpenters With Your McKinney Cabinet Repair
Instead of searching for a "cabinet repair near me," trust the experts at Mr. Handyman of Midwest Collin County with your McKinney cabinet repair. We're proud to serve not just McKinney but also the communities of Anna, Allen, Sherman, and beyond. Our handyman professionals and carpenters have an average of ten years of experience in the industry, so you can trust that they know exactly what they're doing. We also offer a quality workmanship warranty—if you're not happy with the way the job was done, simply reach out, and we'll make it right.
In addition to McKinney cabinet repair, we also do furniture repair, furniture assembly, and custom cabinetry. To learn more about how we can help you with your cabinet repair in McKinney, TX, give our customer service team a call. No time to call right now? No problem! Also, feel free to fill out an online service request form, and we'll get back to you as soon as possible.