How to Find the Best Handyman Near Me in Fairfield County CT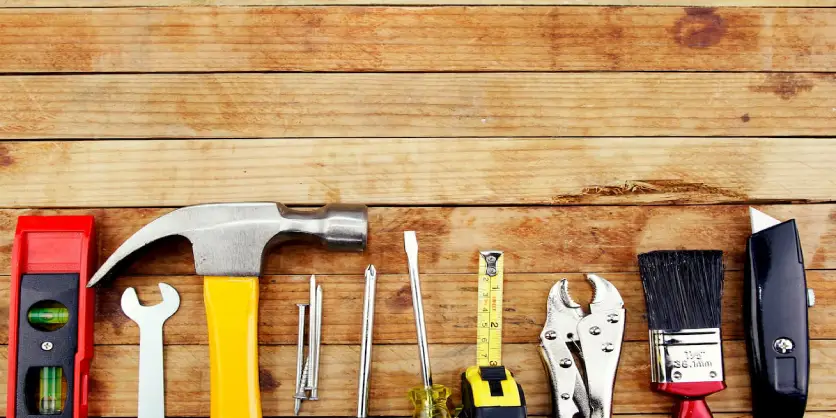 When you search for a "handyman near me" on Google, you'll see thousands of search results pop up in the Fairfield County area alone. While not all of these search results will be a Fairfield handyman service, there's still an overwhelming amount of companies to choose from.
You may find yourself wondering, "How will I know if I've chosen the right one?"
That's what we're here to help you with. It's not easy to ensure you hire a handyman company that you can trust will deliver excellent workmanship and helpful customer service, but there are steps you can take to help streamline the process.
Perhaps you've never hired a handyman before, you're new to Fairfield County, or you want to find a better handyman service than your last one. Whatever the case, our 9 Steps for Finding the Best Handyman Near Me will equip you with the tools to hire a handyman that is fairly priced, will put your needs first, and will get the job done right the first time.
Read on to learn our professional insights, suggestions on how to go about finding a handyman service, and important questions to ask your next technician.
9 Steps to Finding the Best Handyman Near Me in Fairfield County
So, you've searched for "handyman near me" on Google and you're looking through the list to choose a company to hire. It can be daunting to know how to start narrowing down your options. Follow our tips to find the right handyman company for your home repair needs.
1. Ask Friends and Family for Referrals
Has anyone you know recently hired a handyman service? One of the best ways to find a fantastic handyman service after a "handyman near me" search is to go with a word-of-mouth recommendation from someone you trust. In fact, asking friends and family for a handyman service suggestion might even enable you to skip out on the "handyman near me" search process entirely!
A referral from someone you know is a dependable source. You'll be able to ask as many questions as you see fit and possibly see the work that was done for yourself. This will give you a sense of whether or not the handyman service is a good fit for you.
2. Check Online Reviews
If you don't have someone in your inner circle who has recently had work done in their Fairfield County area home, then the next best option is to check online reviews. Checking out a handyman service's online reviews is still a good idea even if they've been recommended to you by a friend or family member. Online reviews will provide insight into how consistent the company is and the full range of work they do.
Google My Business reviews tend to be particularly helpful when it comes to learning about a handyman company. The reviews are current, have a range of insights from people who received a variety of services, may include images of completed work, and will show you how a company responds to the feedback it receives.
Since you'll only want the best for your home, we suggest choosing a handyman service that has at least a 4.5/5-star rating on Google. Mr. Handyman of Upper Fairfield County has an overall rating of 4.8/5 stars on Google. We're truly dedicated to serving the Fairfield County area and our commitment to excellence shows through our happy customers.
3. Do Your Homework
After narrowing down the list of handyman companies you're considering hiring, take your research one step further by looking on third-party websites for complaints, reviews, and details about the company. Think of this step like your own personal background check—you're confirming whether or not what the company states on its website actually tracks.
A few trustworthy sites that provide helpful information include Angie's List, the Better Business Bureau, Yelp, and HomeAdvisor. Angie's List is particularly useful as it contains detailed reviews, and images of work completed, and has its own certification process that rates the quality of a given handyman service provider.
Our Handyman location is honored to have been awarded the "Angie's Super Service" accolade in 2016. With 261 reviews, we rank an average of "A" in categories including professionalism, punctuality, and quality.
4. Look for Additional Signs of Professionalism
There are other signs that a handyman service is the right choice in addition to the ratings, awards, and reviews found on third-party websites like the ones listed above. These signs can also help you determine what company you should hire from your "handyman near me" search result list. Unfortunately, not every handyman service has the interests of its clients at heart and it can be all too easy to hire a part-time contractor working out of his truck with very little dependability or experience.
Rather, companies like Mr. Handyman of Upper Fairfield County are committed to building long-term relationships with clients and providing excellent customer service. As our owner Skip likes to say, "We exist to serve customers. And, the better we serve them, the stronger our business will become."
A few signs to keep an eye out for that indicate if a handyman company is professional include:
Arriving on time to scheduled appointments
Technicians have 15+ years of experience
Friendly, polite, and courteous staff
Uniformed professionals
Use of a company vehicle while on the job
Demonstrating care to keep your home clean, such as wearing booties over shoes
Maintaining a clean work area and cleaning up your home before leaving
Upfront, transparent pricing
Taking the time to answer any questions
Always treating you and your home with respect
5. Ask for Estimates
Are you familiar with the "rule of threes" when it comes to collecting estimates? Obtaining three estimates is typically recommended by most home improvement companies to ensure you get a range of information. However, at Mr. Handyman, we believe in taking as long or as little as you need to find the right handyman service for you. If you feel it's necessary, we encourage you to get as many estimates as you see fit. Alternatively, if you have a good feeling about one of the "handyman near me" search results you've talked to, then trust your gut! You know what you're looking for better than anyone else.
Should you ask for estimates from a collection of handyman companies, keep in mind that the lowest price is not always the best indication of quality. Professional handyman services consistently go the extra mile for clients by tackling multiple tasks in one job, delivering high-quality service, and taking the time to do the job right the first time. This is reflected in their pricing.
6. Inquire About the Pricing Process
Speaking of pricing, asking for an estimate is one part of a larger discussion. Not all handyman services have the same policies and procedures when it comes to pricing, so it's important to clarify what you should expect. You should take a moment to find out if you have to pay upfront if you put down a deposit if the pricing is by the hour or by the task, and if there are any other fees you should be aware of.
It's unpleasant to face a bill that was much higher than you expected; this is why at Mr. Handyman of Upper Fairfield County we offer transparent, hourly pricing. Upon learning of the tasks you require and taking a look at the work that needs to be done, we'll provide you with an accurate estimate that we stick to. Your peace of mind and happiness is our number one concern, so we do everything in our power to ensure you have a positive experience with our company.
7. Prepare a List of Additional Questions
Asking for estimates and inquiring about the pricing process are not the only questions you should ask to vet the results from your "handyman near me" search. We advise you to prepare a list of additional questions to ask so you can learn more about the handyman company and be able to make an informed decision regarding who to hire. Some of these questions might include:
What Type of Work Can You Do?
Not all handyman services do all the home repair, improvement, or maintenance tasks you need help with. Compile a list of all the jobs you need to be done and confirm with your technician that he or she will be able to complete everything on your list.
Do You Have Local References?
Although you may already have looked on websites such as Angie's List for reviews or been recommended a company by your friend, it's still helpful to ask for references from the company directly. Any professional handyman service dedicated to serving the Fairfield area should be able to provide a list of references and photos to demonstrate their work quality.
At Mr. Handyman of Upper Fairfield County, we are always happy to provide prospective customers with our references. In fact, to learn more about our services and workmanship, we invite you to give us a call and our polite and friendly staff will answer any questions you might have.
Are You Insured?
Never hire a company you find in a "handyman near me" search result that cannot provide proof of insurance. Insurance is integral for protecting you from any liability should an incident occur, as well as protecting your home and the company's employees.
What Can I Do to Prepare for Your Arrival?
Depending on the job you need to be done and the different requirements of the company you choose from a "handyman near me" search result, you might need to move furniture or empty out appliances before the technician arrives. Just in case, it's always a good idea to confirm if you need to do anything for the handyman before they arrive. This will speed up the repair process and ensure everything runs smoothly.
While asking about how you can prepare your home for a handyman's arrival, this is also a good opportunity to find out if you need to supply any materials or permits for the work to be completed.
What is the Estimated Timeline?
Asking how long your home repair tasks take will let you know how long you need to be home for if you need to book time off from work, and (depending on the work getting done) how long certain areas of your home might be out of commission.
Additionally, if the handyman service charges by the hour, finding out the projected timeline will help give you a sense of the cost.
Do You Provide a Guarantee?
As mentioned earlier, the many "handyman near me" services you discover in a Google search will all be different. Thus, it's very important to confirm details about guarantees and warranties.
For instance, at Mr. Handyman of Upper Fairfield County, we stand behind our work and guarantee we will get whatever job you need help with done right the first time. In the rare event, you are not satisfied with our services, we will return to fix the problem right away.
Will You Be Working Alone or Will You Have Help?
Part of feeling you can trust the handyman service you hire is having open lines of communication and total transparency. Be sure to inquire how many technicians will be in your home so you know what to expect. While a professional handyman service may already notify you of the tech that will be servicing your Fairfield County area home, it never hurts to be sure.
Will You Clean Up Before Leaving?
Being forced to clean up a big mess after your handyman leaves is a real pain. When interviewing the "handyman near me" search result you want to hire, take a moment to confirm whether or not they clean up before leaving.
The friendly and respectful team at Mr. Handyman always cleans up before leaving a job. We consider it a sign of professionalism to leave a clean area, and we also do not want to inconvenience our clients. We will treat your home like it's our own, and do our best to take care of it while it's entrusted to us.
8. Consider Experience
One way to determine a great "handyman near me" search result from companies you should avoid is to look at experience. The more experienced a technician is, the higher work quality he or she will deliver, the better problem-solving skills the tech will have, and the more likely your home repair or maintenance task will get done right the first time.
When you're asking about how much experience the handyman who's coming to your home has, it's also worthwhile to ask how long the company has been in business. Companies that have a long-standing relationship with the community are more reliable and typically emphasize customer service as well as craftsmanship.
For instance, at Mr. Handyman of Fairfield County, most of our technicians have a minimum of 15 years of experience working in construction, carpentry, and the trades. Likewise, our company has been serving the Fairfield County Area for years and is honored to continue to do so.
9. Get the Project Detailed in Writing
Whenever you're entrusting your home to someone else, it's wise to have a written agreement outlining:
The work that will be completed
The technician/s who will undertake the work
The estimated price/time to complete the work
Having your home improvement or repair project detailed in writing is a great communicative tool to keep you and your handyman on the same page. Handyman companies that undertake this step, it illustrates professionalism, transparency, and honesty.
Why Choose Mr. Handyman of Upper Fairfield County?
Our Mr. Handyman location is proud to serve Upper Fairfield County. As our owner Skip puts it, only his family and his golf game are as important as our last customer engagement. We are truly dedicated to ensuring our customers are happy. We are also very proud of our technicians and office staff. Each member of our team plays an important role in bringing our commitment to excellent workmanship and customer service to homeowners in Fairfield County, Connecticut.
Don't waste time scrolling through the many "
handyman near me
" search results on Google. When you choose Mr. Handyman of Upper Fairfield County, you choose a company that goes the distance for its clients and will always get the job done right the first time. We invite you to give our helpful staff a call or
request an appointment
online to get started right away.