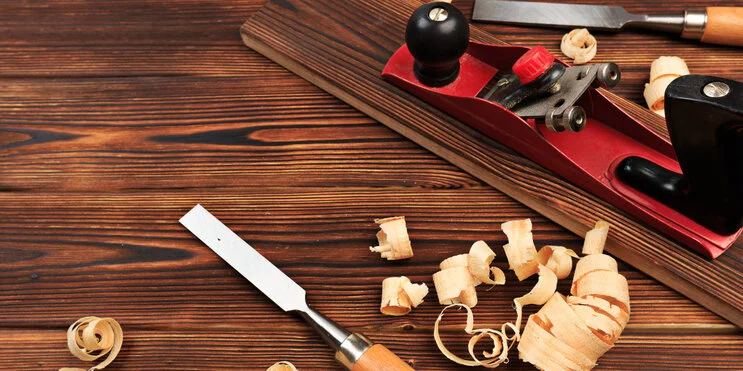 The first thing most people notice when they walk into a beautifully preserved historic home is all the beautiful custom woodwork. From charming trim details like crown molding and wooden banisters to practical and attractive built-in furniture such as a china cabinet or bookcase, the often-repeated refrain is, "they just don't make them like this anymore." But that's not necessarily true—your home could have those beautiful additions and details too with some work completed by Keller interior carpentry experts.
If you're tired of the "same old" house and looking for ways to make a transformative change that will add beauty, function and value to your home, a Keller interior carpentry project should be at the top of your list. You may be thinking that it wouldn't work in your home because you don't have an old-fashioned interior design style—but interior carpentry doesn't have to be old-fashioned. Wood is one of the most versatile materials and it can truly fit into any design aesthetic, including modern and contemporary.
Not sure what type of project would work best? We have a few ideas for interior carpentry by your local Keller handyman. The team of service professionals at Mr. Handyman of Keller, Roanoke and Alliance are highly experienced and can see any carpentry project through to the end, including repair, installation and construction. We are proud to serve the people of Keller and nearby parts of the Dallas-Fort Worth metroplex with expert workmanship and customer service that goes the extra mile.
Are Keller Interior Carpentry Services Worth It?
You may be wondering if custom Keller interior carpentry is the right move for your house. After all, can't you just go to a store and buy something that will be pretty much the same? The short answer is no. The long answer is that there's simply no matching the superior quality and customization of Keller interior carpentry projects with a pre-fabricated item straight off store shelves. Here are some major benefits of working with an experienced interior carpenter from our team.
Have It Your Way
If you've been looking around in stores or online at items such as cabinets, bookcases or other furniture, you may have noticed that all the possible options require some level of compromise on your part. That entertainment center is a perfect color—but it's too big to fit in the space you have available and doesn't have room for all your game consoles. Those cabinets are the style you wanted for your kitchen—but that color doesn't suit the rest of your décor and they don't have all the features you were hoping for.
When you stop looking for off-the-shelf options and start searching for "interior carpentry near me" instead, a whole world of possibilities will open up for you. With our customization services, you could have exactly what you want down to the last detail, no compromise necessary. Color, size, shape, style and configuration can all be tailored to perfectly suit your tastes and the unique layout of your home.
Perfect Fit
Speaking of the unique layout of your home, as we all know, there aren't universal, standard sizes and shapes when it comes to homes and rooms in Keller, TX. That means it's not easy to find a perfect fit when it comes to Keller interior carpentry. If you try to install a prefabricated set of cabinets or any other large piece of built-in furniture, there's certainly no guarantee that it's going to fit flawlessly—and usually it doesn't. It may not seem like a big deal in the store, but once it's home and installed you'll realize how incredibly annoying it is to have a gap between your cabinet and the wall, or have an entertainment console sticking out an inch past the end of your wall. You never have to worry about fit problems when you get custom Keller interior carpentry work. Our handyman team has measuring tapes and we know how to use them!
Everything In Its Place
If you like to have a place for everything in your home, we don't have to tell you what a major headache it is to struggle day in and day out to keep the house tidy and organized when you just don't have the storage space needed for everything you want to keep on hand. You may be thinking that Keller interior carpentry can't change that—your house will still be the same size, so how is it going to help? That's a fair question, but it's not a matter of somehow creating more cubic feet of space; it's a matter of finding the best way to use the space you currently have. You don't need to add more space when you can use a solution like a new cupboard to store specific items in your kitchen or laundry room, or a bench seat in the dining room with a hinged lid that provides storage space to keep items tucked away out of sight. By maximizing your available space with smart storage solutions, you can make a huge difference in how your house looks and functions and take a lot of stress off your shoulders.
Environmentally-Friendly
When you buy pre-fabricated furniture, trim or cabinets, they're often made with wood that comes from a mystery location that could be, well, pretty much anywhere, and has probably traveled quite a distance to reach Keller, TX. But when you have a local interior carpenter build something just for you, you can source local lumber from Texas that hasn't had to travel halfway around the world, or choose to buy lumber that comes from sustainably-managed sources. Those options are much more environmentally-friendly, so you can feel good about choosing local, renewable timber. Depending on the type of Keller interior carpentry project you're planning, you may even consider using recycled or salvaged lumber that is perfect for creating a completely unique, rustic style. If you'd like to avoid toxic chemicals and additives, advise your handyman to use water-based paint, stain or clear-coat.
Expert Craftsmanship
Top-level, quality workmanship is the biggest reason to consider Keller interior carpentry service. There's simply no way a store-bought, pre-fabricated item will live up to the same high quality, durability and beauty of custom woodwork. Quite often, the "wood" furniture or installations available in stores aren't even made with solid wood, just particle board held together with staples and glue, and covered with a plastic veneer that is made to mimic the look of real wood. Our interior carpentry work is made with real, solid timber that will stand the test of time. With a little care and maintenance, it could still be in great condition and perfectly usable a century from now, which certainly cuts down on replacement costs. However, much of the value in our Keller interior carpentry work comes from skill, experience and pain-staking attention to detail. We'll ensure that every stage of the project goes smoothly and that you end up with the outstanding results you're expecting.
Ideas for Transformative Interior Carpentry in Keller, TX
Even if you love your home just the way it is, there are probably some opportunities here and there to make it even better—more appealing, more functional and better suited to your personal taste and lifestyle. Here are a few ideas to give you some inspiration and get you started on thinking about how to enhance your home with a Keller interior carpentry project.
Cabinets
You already have cabinets in a few different places around your house, but they are probably not optimized for your household. It's pretty common for people to move into a house that already has cabinets and other installations, and just get used to living with them even though they may not be ideal for the way you want to use them or how you want them to look.
If you've ever wished your utensil drawer was right beside your dishwasher, or the counter island was right across from your stovetop for greater convenience, or the cabinets went all the way up to your ceiling, this is your chance to erase those problems and get the kitchen set-up that will make your life easier and more pleasant. When you have custom cabinets built for your kitchen, you call the shots and can really create the kitchen of your dreams that will function ideally for your cooking style.
Some of the many things you could choose include when your handyman is working on interior carpentry in Keller, TX are:
The location and number of cabinets
Whether they have doors or drawers
The type of wood and finish
Handles and drawer knob styles
The type of hinges (for example, soft-close hinges so the doors can't be slammed)
Build or relocate a kitchen island
Built-in kitchen table and seating
But your kitchen isn't the only room that needs cabinets. They can be used in the laundry room, mud room, garage, bedroom and study to create extra storage space and keep your rooms looking neat and tidy with items tucked away behind cabinet doors and in drawers. There are many ways a handyman can improve your home with services like cabinet repair, refacing and replacement.
Image download:https://u.pcloud.link/publink/show?code=XZLbx0VZGOAhusyXCJkp1uJ66UHv7f8gNJgy
Alt: Cabinets under a bathroom vanity before and after the cabinet doors have been replaced by Mr. Handyman.
Wainscoting and Wall Paneling
When you think of wood paneling, do you picture your grandmother's living room circa 1970? Banish that thought—a skilled interior carpenter in Keller can do so much more than the same old-fashioned paneling that was so popular a few decades ago. Paneling, wainscoting and other interior trim such as crown molding installation can be tailored to fit in with any type of design aesthetic, including contemporary, rustic, modern, classic, or minimalistic styles. It's a unique touch that will set your home apart from any other you've ever seen and can serve as a conversation piece for the entire room. You'll be pleasantly surprised by how Keller interior carpentry trim can make a big impact that transforms the look and style of your home.
Bookcases and Shelving
Shelving units and bookcases usually fade into the background—it's the stuff that's on them that matters, not the actual storage furniture. But they could actually be a major design feature in the right location and right style. For example, you could have your handyman add wall-to-ceiling bookcases to your study. If you have a high ceiling, you could even create the ultimate book-lover's paradise by adding a ladder on rails to access higher shelves. With the help of our Keller interior carpentry services, your shelves and bookcases can be just as beautiful and interesting as the items they're holding.
Play Room
Children are small and cute—however, the tornado of toys, books, clothes and other items that follows them around the house is anything but small and cute. If you've given up on the play room ever looking tidy again and just try to keep the door closed so you don't have to look at it any more, our Keller interior carpentry service can help. The trick is to create ample storage options that are so easy to use, even a kid can (and should) get everything put away quickly and easily. That could include a full wall of cubby-style shelving for storing toys, books and everything else that needs a place up off the floor where it can still be seen and easily accessed. Other ideas include pegboards for hanging items, bench seating that doubles as hinged toy boxes, and even a "cage" to keep those dozens and dozens of stuffed animals contained.
Ready for Keller Interior Carpentry Services? Call the Professionals at Mr. Handyman!
Regardless of whether your home is in Keller, TX or a nearby area such as Alliance, Trophy Club or Haslet, you can rely on the same exceptional workmanship and outstanding customer service from the team of professionals at Mr. Handyman of Keller, Roanoke and Alliance. Our team is licensed, insured and screened by an employee background check program, so you can rely on us to work safely and show professional courtesy at all times.
Pick up the phone and get in touch with us today by calling to make a service request for a convenient time, or to speak with our friendly customer service staff and find out more about how our popular services in Keller, TX can make your home more comfortable and appealing.