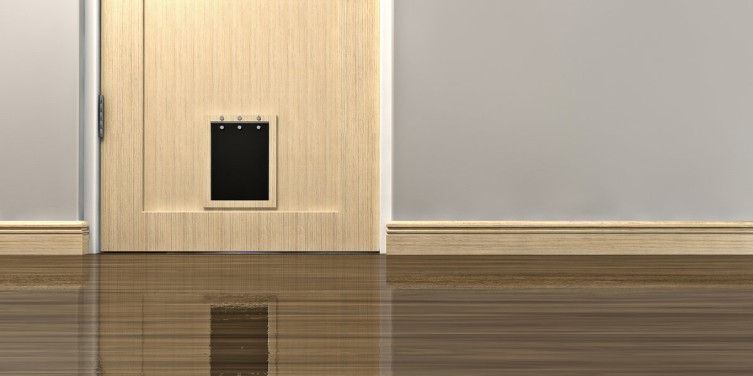 For devoted animal lovers, there's just nothing better than living with a furry friend who is always up for a snuggle or playtime. But there are some drawbacks, too—even the most dedicated pet owner gets tired of getting out of bed multiple times per night to let out a dog with the world's tiniest bladder or spending all day acting as a butler to a cat that can't make up its mind about whether it wants to be inside or outside. There's actually a simple solution that will eliminate those irritating "requests" to be let in and out of the house: Denton pet door installation.
Whether for dog or cat doors, this type of installation work provides the best of both worlds: your dog or cat gets full access to come and go as they please on their own terms, and you get to live your life without constant interruptions and sleep like a baby all night long. If you're thinking about dog door installation in Denton, TX, you probably have a few questions about whether it's the right choice for your house—and we have answers!
This guide answers some of the most frequently asked questions from people curious about "dog door installation near me" with advice from your local Denton handyman. When you need an entry and exit point installed for your animal buddy, count on the team of expert service professionals at Mr. Handyman of Flower Mound, Lewisville, and Denton to handle the job efficiently and effectively. We have plenty of experience serving homeowners in North Dallas with a wide range of reliable handyman services.
Is Denton Pet Door Installation Worth It?
Only you can answer that question when it comes to your property, lifestyle, and household, but in our opinion, yes it is definitely worth it. There are some valid concerns about factors such as home security and energy conservation, but there are workarounds and solutions for all those types of issues that we address below. Overall, Denton pet door installation is a great idea for anyone with house pets who need access to the outdoors—or even for small pets that need to be able to bypass interior human entryways to move from room to room.
Benefits of Dog Door Installation in Denton, TX
Some of the major advantages of Denton pet door installation include:
No more getting up at all hours of the night and day to open the door for a demanding cat or dog
Less scratching on your entry and the interior walls or trim near the entryway
Your household (and the neighbors, for that matter) won't be disturbed by your dog barking for you to open up
You don't have to rush home after a couple of hours to facilitate a bathroom break for your dog
If your cat prefers the great outdoors to their litter box, you could eliminate the nasty chore of cleaning litter
You may not need kennel services as frequently
Your fuzzy best friend will be able to escape the house in the event of an emergency such as a house fire
Your pet won't be so bored because they'll have more space and options available to them, which reduces behavior problems
Pets can get the full benefit of exercise and the enjoyment of going outdoors even when you're not home or are too busy for a walk at the moment
What Options Are Available for Denton Pet Door Installation?
When most people think of dog door installation, they picture a hole in their door covered by a flap—and that's certainly a valid option. If it's not broken, don't fix it. But if that doesn't suit the needs of your household, there are plenty of other options and a wide range of quality products to choose from. The options available for Denton pet door installation include:
Door-Mounted: This is the standard type we mentioned above that is set into an existing (human-sized) entry. It's not always covered by a flap, though—there are a few different choices available, so you can pick the option that will work best for you and your pet.
Wall-Mounted: Sometimes an entryway isn't the ideal place for your dog or cat to get access to the outdoors. You may even have a "catio" (that's an enclosed patio for cats, in case you were wondering) or dog run that doesn't connect directly to a human entryway. In those types of situations, it may make the most sense to have your handyman put a Denton pet door installation directly through the wall of your house in the perfect location. Exterior wall installations can actually be done in pretty much any type of wall or siding, including brick.
Sash Window Insert: If you have a sash-style window that slides open and shut, you can purchase inserts that can be simply installed in a frame and held in place by the weight of the window sash. That's not going to work so well for larger dogs, but it can be a good option for cats or small dogs who are able to easily access the window. It doesn't require you to knock a hole in the wall or make any permanent modifications to the house, so it's a great solution if you're renting or can't modify the house for other reasons.
Sliding Patio Entry Insert: If you need a dog door installation in Denton, TX for a medium-sized dog or a pet that is elderly and can't climb up to a window, and you can't or don't want to put in a permanent installation, there's another option. You can get an insert that goes into sliding glass patio doors and can easily be removed when it's not needed. They can't be too large though, or you won't be able to get past to use the entryway yourself.
Mesh Panels: Screen doors are a really nice amenity when warm weather hits because you can let sunlight and fresh air into your house while keeping the bugs outside where they belong. The problem is, that only works right up to the point where your cat claws holes in the mesh, or your dog just crashes right through it like the Kool-Aid man. You can have your handyman replace the bottom panel of the mesh with a modified version that has a pet door built right in, making life simpler for you and your pets. That's also a great solution for screened-in porches or other types of screen enclosures in Denton homes.
What Size Do I Need for Denton Pet Door Installation?
That depends almost entirely on the size of your pet. You want something that's not much bigger than what they need to pass through comfortably so there's not a ton of heat transfer happening every time they pass through. On the other hand, it's really important that your Denton pet door installation not be too small, because your fuzzy family member can hurt themselves trying to squeeze through. Here are a few tips to help you figure out the ideal size:
Measure the length and width of your pet instead of just guessing, because it can be difficult to estimate size at a glance, especially when the "object" in question is mobile.
If you've got a little puppy, make sure you do your research on how big they are likely to be when they're fully grown. A small entry might be perfect for a cute little baby dog, but they're not going to stay that size forever and may need a larger dog door installation in a pretty short amount of time.
If you've got two pets that are very different in size, like a chihuahua and a Saint Bernard, you may need two separate entries. A Saint Bernard could only get their paw through an entryway sized for a chihuahua, and a tiny chihuahua may not be able to push open a large, heavy door that a Saint Bernard would breeze right through.
Will Denton Pet Door Installation Also Let Burglars In?
Small and medium sizes are too small for most adult humans, but if you need dog door installation for a large breed of dog, there is the possibility that a burglar could try to use it to enter your home. But non-human intruders could be a bigger concern—you don't want stray cats or even wildlife like skunks inviting themselves into your house, and they can fit through any size of entryway.
There are a couple of ways of deterring both human and animal intruders from using your pet door after installation. You can get a secure locking cover that fits in place over the door and locks shut during times when the entryway isn't going to be used for a period of time, like while you're away on vacation. You can also have your Denton handyman install an electronic entry that is controlled by a microchip. Your pet wears a small microchip on its collar, and the security cover will only open when it recognizes that microchip, so your pets can pass through whenever they'd like but it remains securely locked to anyone or anything else.
Can Denton Pet Door Installation Go Between Interior Rooms?
If you're wondering why anyone would need Denton pet door installation in the interior walls between rooms, you obviously don't have a feline friend who is mortally offended by the sight of a closed door. You need your privacy from the rest of your household from time to time—but cats don't believe in privacy, and it can be really nice not to have to listen to them scratching endlessly at the door to be let through. It can also be a great option to keep the litter box tucked away out of sight. Just put it in the bottom of a closet and have your handyman install a cat flap in the closet door so they can access their own personal "bathroom" and you don't have to watch while they take care of business.
Does Dog Door Installation Make a Home Less Energy Efficient?
It's smart to be concerned about energy efficiency, because any gap in your home's siding, such as a door or a window, is an opportunity for heat transfer that forces your HVAC system to operate for longer periods of time and increase your monthly energy bills. However, there are a few Denton pet door installation solutions out there to help combat this problem and keep your house energy efficient. You can get double flaps that have better insulating power and protection against wind. There are also options that "snap" shut with a magnetic seal that your pet can easily push open. Entries operated by microchips are probably the most high-efficiency doors because they only open for your pet and are otherwise locked shut. Learn more about increasing energy efficiency and property value with home improvement in Denton, TX.
Is Dog Door Installation in Denton, TX Going to Lower My Property Value?
In most cases, Denton pet door installation isn't going to have an impact on your property value or curb appeal when you're ready to put your home on the real estate market. Some prospective home buyers won't want or need it, but it's usually pretty easy to eliminate it, so it's not a huge concern—and some people may consider it a bonus. However, if you have a dog door installation in a fire-rated entry, such as one between a garage and the rest of the house, a home inspector may require you to replace the entryway prior to the sale for fire safety purposes.
Improve Life For You and Your Pets With Denton Pet Door Installation Services
Whether you're in Denton, TX, or another community in North Texas such as Lewisville, Lantana, or Justin, you can trust the team of installation professionals at Mr. Handyman of Flower Mound, Lewisville, and Denton to provide the best quality workmanship and customer care that goes the extra mile.
Pick up the phone and get in contact with us by calling to speak with our friendly customer service team and book a convenient appointment for professional installation, or to find out more about our dependable handyman services in Denton, TX.