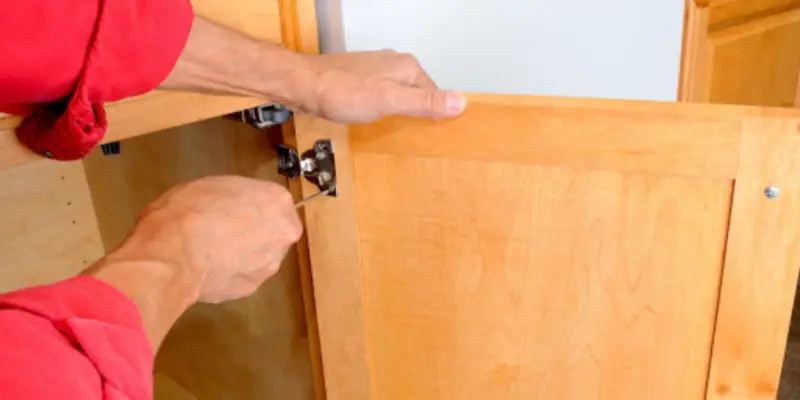 Do you need a professional handyman for your home in Burke, Virginia? Look no further than Mr. Handyman of Northern Virginia - Arlington to Haymarket. Our fully licensed and insured service professionals are here to help.
Our company is the right choice for handyman services—there's a reason we are NoVA's top choice when it comes to home improvement projects. With live-call answering, guaranteed workmanship and highly experienced technicians, we ensure that you have a positive experience with our company from start to finish. In addition to providing quality workmanship for all home repairs, our team is also proud to deliver superior customer service.
Many of our handymen have decades of experience, and there's no job we can't handle. We specialize in all major and minor home repairs. From replacing old caulking to deck repair, pressure washing and tile installation, we've got it covered. We truly are your "one call does it all!" handyman service. Not only can we expertly complete whatever tasks are on your to-do list, but you'll actually save time and money by avoiding hiring multiple niche contractors. Mr. Handyman is your one-stop-shop solution for home improvement services.
We're honored to bring our services to clients throughout NoVA, including Clifton, Fairfax Station, Westgate and Woodbridge. Each of our employees treats our clients with the same courtesy and respect that we show to our dearest friends and neighbors. Our transparency, integrity and honesty are just some of the qualities that separate us from the competition. We'll also:
Arrive on time to your scheduled appointment

Wear the Mr. Handyman uniforms

Drive company vehicles

Wear booties to protect your floors

Keep you informed about our progress

Maintain a tidy work area

Clean up the job site after we finish the job

Take time to answer all your questions before leaving
When you hire the pros at Mr. Handyman of Northern Virginia - Arlington to Haymarket, you can trust that you'll receive reliable and accountable service, while always having your needs met. Our versatile technicians offer a wide range of home improvement solutions, including the following:
Carpentry Solutions
At Mr. Handyman, many of our technicians are also master carpenters. While our team are pros at drywall repair, laying new tile floors and cleaning congested dryer vents, woodworking is where our talents truly shine. We can complete a range of projects, from building custom shelves to fixing broken railings and crown molding. We can build, repair and install:
Decks

Mantels

Crown molding

Door frames

Kitchen islands

Bookshelves

Handrails

Cabinets

Stairs

And more!
Window Installation & Repair
It's amazing the impact new windows can make on your space. Not only do broken or dilapidated windows make your home's exterior look unkempt, but they also negatively impact the energy efficiency of your home. Replacing single pane windows with double or triple pane options helps your house stay warm in the winter and cool in the summer. This means you run your HVAC system less, which is great for your utility bill! We've installed and repaired a range of window styles, including;
Insulated windows

Egress windows

Casement windows

Skylights

Bay windows

Picture windows
Door Repair & Installation
Windows aren't the only part of your home's exterior we can repair and install! We're also pros at fixing an array of door repair issues and installing brand-new models. Your doors get a lot of use; not to mention that they act as a barrier to the elements. Daily use, wear and tear and changes in the weather all take a toll on your doors. To keep them in the best condition possible, hire our team! We can complete many repairs, including fixing:
Broken locks

Sticking

Squeaking

Screen damage

Air leaks

Rotting/soft wood

Damaged jambs

And more!
Kitchen Remodeling Services
For many NoVA homeowners, the kitchen is the heart of the home. It's where friends and family gather to share laughter and food, and where precious memories are made at the dinner table. Thus, it's important your kitchen looks welcoming and functions as you need it to. If you want to remodel the space, we're the team to trust. Not only do we have years of experience that make us pros at completing both minor kitchen updates and large-scale renovations, we also know the pitfalls of kitchen remodels and what mistakes to avoid. We can provide expert advice that ensures your dream kitchen is brought to life. Our services include:
New cabinet installation

New floor installation

Custom kitchen islands

New backsplash installation

Kitchen cabinet refacing

New sink installation

New kitchen counter installation
Bathroom Remodeling Services
The bathroom is another space in the home that's key to improving your personal enjoyment, both in its appearance and in its functionality. A bathroom remodel is your best bet to create a space that truly works for you. Not only does updating your bathroom improve the resale value of your home, but you can actually create a space better suited to your needs—particularly if you're an aging couple or live with an elderly relative. We can provide a wide range of services, including:
Tile floor installation

Tile repair

Toilet installation

Plumbing fixtures installation

New shower door or tub installation

Vanity or mirror installation

New faucet or shower fixture installation

Drywall repair or cement board installation
Schedule Our Professional Handyman Services Today!
Are you ready to put our professional service technicians to work on your home? Whether you need to get a series of odd jobs done or are planning a big project like remodeling the bathroom, we're the team for the task. Each of our technicians is highly skilled, hardworking and dedicated to providing exceptional customer service with every job.
To learn more about our full range of services, or to book an appointment today, we invite you to call our friendly office staff. You can also reach us online by filling out our service request form.