Expert Info about Knoxville Furniture Assembly Services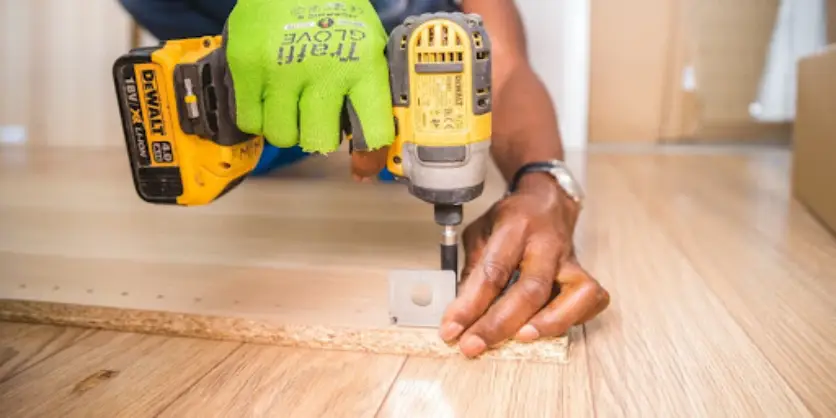 There are few words that affect moods among Knoxville homeowners more than "assembly required" — especially when they're found printed on new furniture boxes. Strolling through the aisles of IKEA and similar stores is certainly fun, but the tasks required to bring the effects of that showroom into your own home aren't quite as thrilling. That's why so many local homeowners choose professional Knoxville furniture assembly services.
Building anything is tiring and time-consuming. Everybody in Knoxville deserves to have great furnishings, but not everybody has the time or energy to spend hours building new storage units or entertainment centers. Luckily, everyone in Knoxville has access to a local team of knowledgeable, courteous professionals.
Mr. Handyman of West Knoxville is always happy to put together your furniture for you! A professional handyman from our team is ready to set up everything in your home. We're also here to help with insider information, including the most difficult things to assemble, the benefits of hiring a Knoxville furniture assembly team, and the advantages of hiring an expert handyman for common jobs.
What is the Most Difficult Furniture to Assemble?
Generally speaking, the larger and more complicated furniture pieces are, the more difficult they are to put together. That being said, the majority of Knoxville furniture assembly projects don't need complicated techniques or advanced tools. Basic tools are often more than enough.
The complications that typically arise with difficult furnishing construction in Knoxville are usually related to the number of people needed, those strange hieroglyphic instructions, and the significant amount of time required for bigger projects like wardrobe assembly.
Common Complicated Projects:
Track System Installation
If you've just purchased a new track system for your curtains — or for sliding storage — then you might want to hire a team of Knoxville's experienced professionals. Track systems often need more than basic hand tools. Saws, drills, and laser levels are common tool requirements for this job.
This type of job also needs two people — especially since you'll likely be using a ladder to reach higher areas of your home. Improper installation always leads to future frustration. An experienced Knoxville furniture assembly team will save you from potential complications.
Storage Bed Assembly
Adding drawers to furniture like beds and sofas is a great way to create extra storage spaces. It's also an excellent way to increase the complexity of construction processes. All furniture with additional storage features will present additional challenges.
If even a single piece of a storage bed isn't connected properly, it could compromise the safety of the entire frame. At the very least, poor construction reduces the lifespan of storage systems by causing increased wear over time. It'll increase your daily annoyance too, as that faulty part scrapes, grinds, or groans when you use it. Furniture assemblers are here to save people from faulty furnishings.
Bunk Bed Assembly
When it comes to a new set of bunk beds for a bedroom, safety is always a top priority in Knoxville. Bunk beds require at least two people, both for sleeping and for building! Putting together those bunks properly could take as many as four hours.
Using a local handyman or furniture assembly company will ensure that your new bunks are built correctly, so that you don't have to worry about the safety of people using those beds. Those knowledgeable professionals will also save you from the time required for proper procedure.
Home Office Conversions
Are you thinking of turning a spare bedroom into a new home office? That's a great idea! Are you ready to set up a new desk, shelves, and other essential elements? Office furniture assembly is the most time-consuming part of any home office conversion. Office desk assembly is complicated enough on its own. It only gets harder when you add a sofa, chairs, shelves, or bookcases.
Everybody wants a great office, but few people are ready to build one. That's why a local Knoxville handyman is a great person to know. A professional furniture assembler will do the laborious work required for your office conversion so that you have time to focus on your own important work.
Entertainment Center Assembly
A smaller TV stand is easy enough to build, but a bigger entertainment unit, bursting with convenient storage, will be a bigger challenge for the average Knoxville resident. Even the simpler pieces of a larger project like that are enough to turn people away.
If you'd like a full, wall-sized entertainment unit but you don't want to spend time putting it together, consider calling your local furniture assemblers — or even better, a local handyman. Larger TV centers require extra steps for safety, such as proper wall mounting. The cost of furniture assembly for a living entertainment center won't exceed the costs — both financial and psychological — of replacing an expensive TV damaged as a result of improper storage installation.
Top Three Benefits of Professional Service:
More Free Time
As building furniture becomes more complicated, time requirements rise sharply. Even with the proper tools and effective organization, the average larger build requires at least three to four hours. A larger conversion project with more than one piece of furniture could take an entire day — if not longer. Quality pieces of furniture demand time from the people building them. A local Knoxville company or an experienced local handyman will stop that new sofa, bookcase, or wardrobe from filling your schedule.
Careful, Guaranteed Service
Flat-pack furniture isn't always simple. It's easy for any average resident in Knoxville to make mistakes or forget a piece during the construction process. If you're building something like a bed, it's concerning to see several extra pieces left over after you're done.
If that mistake goes undetected, you might not even notice something is wrong until a frame falls apart. With professional service, you won't have to worry about mistakes — especially when a professional guarantee certifies the services of your chosen pros.
Skill, Experience & Expertise
Not only do local handymen and professional furniture assemblers have extensive tools for every project, but they also have a wealth of skills and experience that benefits Knoxville homeowners. They won't waste time on the mistakes made by amateurs, and they'll provide recommendations for the best way to manage a project — or even the best place to install your new pieces.
The skills, experience, and expertise of a professional are invaluable, for both providing efficient assembly service and outstanding customer service. With professional assistance, your safety, satisfaction, and peace of mind are guaranteed!
What are the Advantages of Hiring a Professional Handyman?
In addition to all the benefits you get from standard professional assembly service, a handyman also brings a wider range of additional popular services and skills. With the help of a furniture assembler, you could quickly build your new furnishings. With a Knoxville handyman, you could take care of every project on your list. We do it all with just one call!
When it comes to a complete room conversion — or any kind of home project in Knoxville — the talent of a skilled handyman is indispensable. While you're getting help with bookcase assembly for an office or crib assembly for a new arrival, you could also take advantage of additional services like drywall repair or pressure washing to improve the overall condition of your home. You could even just get them to hang a few additional pictures or mount your TV on the wall. Whatever you need to be done, it'll be handled by an experienced professional handyman using professional techniques.
Can We Save You from DIY Furniture Assembly?
At Mr. Handyman of West Knoxville, we provide exceptional customer service, guaranteed work, and safe, worry-free experiences, for everything from setting up a single piece of shelving to building complicated furniture for an entire room. Our popular services are available across Knoxville and in nearby areas like Powell.
If you're interested in our services, call us today!