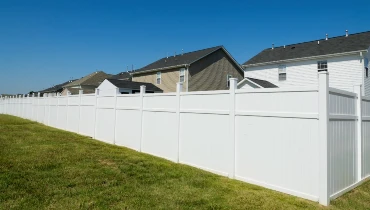 If you have a yard, chances are you have a fence surrounding it. This fence has a lot of different functions. Aesthetically pleasing, privacy, keeping pets and children inside, and keeping trespassers outside. A fence with paint stripping or that is missing boards aren't able to perform any of these functions. Not only is it an eyesore, but it isn't keeping anything inside your property, or outside.
Don't let a worn-out fence ruin your backyard or remind you of weekend chores, with a proper West Chester fence installation, you can love your fence again. If you're the type that prefers doing it themselves, we've compiled this guide to help your weekend project fencing process. If you'd like professional assistance, our experienced West Chester handyman is here to help with your next fence project!
What are the Different Parts of a Fence?
It can be helpful to know about all the different parts of a fence when you're preparing for West Chester fence installation and repair. Different styles have different parts and when following a guide, understanding where each part goes is important for creating your perfect fence.
Fence Posts: These are the vertical parts of the structure that are buried in the ground and provide an anchor point for the rest of your fence to be attached and built.
Rails: These are the horizontal parts of the structure that are attached to posts. They are often attached to the back to provide extra strength for the structure, but may be attached to both sides depending on the final appearance of your fence.
Pickets (Slats): Pickets and slats are the boards that are attached to rails and make up the greatest surface area of a fence. They can run horizontally or vertically, and may be attached to one or both sides.
Fence Gate: This is the part of the structure that swings open and closed to provide access through your fence. Gates can have a variety of features depending on the level of security needed for a fence.
Signs Your Fence Needs to be Repaired
Oftentimes people tend to avoid touching their fence as long as it's still standing in one piece. A broken board might not inspire people to get outside and start working on their fence and in reality, will most likely stay as a task to do in the back of their heads. Once your fence can't do its job anymore, it might be time to consider fence repair. What good is a fence that can't keep your animals inside your yard? This is why it's important to address warning signs before they get to a serious point where your entire fence collapses with a gust of wind.
Check Your Fence out for the Following Signs of Needing a Repair
Cracked or broken planks
Wood beginning to rot
Weather damaged, gray, or splintered wood
Peeling, fading, or flaking paint or wood stain
Rust stains and other signs of corrosion on the wood or metal parts
Sagging or unstable posts that move when you touch them
Bent, warped, or loosened chain link panels
Parts other than posts making contact with the ground
Vinyl faded by sun exposure or harsh weather conditions
Gates that have become difficult to open or close
If you noticed any of these warning signs on your fence or you're worried your recent fence installation in West Chester, PA violates local bylaws or building codes, it's a good reason to search for fence repair. A fence can have a big impact on the exterior of your home and violating rules about height or encroaching on city property can lead to costly fines. Fence companies in West Chester, PA can perform an expert installation, meaning no complaints from any homeowners association and increased curb appeal.
Repair Versus Replace
When looking at your fence, it can be tough to know if it would make more sense to repair any damage or just completely re-do it. The extent of damage is the most important factor in deciding this. A fully-stripped fence that is wobbling is more suited for replacement, but minor visual damage in small areas could be a quick repair for fence companies in West Chester, PA bringing back to life an attractive fence.
Here are some general guidelines for situations warranting a full-scale replacement or at least a large section:
More than 25% of your whole structure has been damaged by factors such as harsh weather, neglect, or just normal wear and tear
Shake your fence to see if it's stable or if its base is rotting
It was hit by a falling tree branch or a vehicle and has suffered extensive damage
If it is infested by termites, carpenter ants, or other destructive pests
You just want a new style of fencing to enhance your property and add value
If any of these apply to you or you have some additional considerations that may be important, we recommend you contact our expert staff here at Mr. Handyman of Western Main Line to see how we can help.
Materials to Choose From for Fence Installation in Wester Chester, PA
If you like choice in your home renovations, you're in luck. There are many materials available for fences in West Chester. A few main factors that influence which material works best are: how long you want it to last before needing to replace it (quality of fencing materials used), how these different styles impact your home's aesthetics, and most importantly, how much you're willing to spend.
While you don't want to spend a small fortune on your fence, investing a bit more at the start means that you're less likely to be forced to spend money on repairs in the future that could have been avoided. Each material has its own unique pros and cons and depends heavily on your preference for each fence type. If you're worried some materials may be out of your budget because fence installation in West Chester could cost more than expected, we recommend contacting us for an accurate estimation you can use in your decision.
Wood Fencing:
A classic, affordable, widespread material that has been used for ages and is the most common among property owners to this day. This natural material is environmentally friendly with domestically grown timber or reclaimed wood options and is very affordable and a common type of fence style.
One problem this material faces is its susceptibility to rotting and paint will tend to peel off, meaning it will require maintenance more than other options. Wooden fences typically need to be replaced every 10 to 15 years in West Chester depending on how the weather has been and the frequency at which it's been maintained and cleaned.
Chain-Link Fencing:
Although commonly found in public parks or school grounds, the classic chain-link fence is popular in residential fencing as well. This material has the most functional benefit and is also relatively inexpensive. This metal fence material isn't the most useful in terms of privacy and isn't a super eye-catching material. This material also may not be able to keep small animals off your property. However, it will hold up quite well against extreme weather conditions compared to other materials, and it requires much less maintenance.
Vinyl Fence:
Vinyl (PVC) styles require barely any maintenance and come in a wide variety of colors and finishes. Some styles mimic traditional wood while other can be made to mimic more vivid finishes and materials. While there are few drawbacks to vinyl, one of the most important is that it can warp and fade when exposed to prolonged, direct sunlight, so it may not be the best choice if you have a sunny yard to close off.
Aluminum Fence:
Aluminum is sturdy and can be inexpensive. It doesn't need much maintenance, and it's available in a wide variety of colors and styles that will match the rest of your exterior. Aluminum is also often recycled, which makes it a great choice for those who want a material with a lower carbon footprint.
Wrought Iron Fence:
Wrought iron is an extremely durable, high-quality, luxury material that will last a long time with proper maintenance. Unfortunately, it's also one of the most expensive materials used for fence installation. The benefit that you get from that high price is that it's unlikely you'll ever have to replace a wrought iron fence that you install, and it can be kept looking great for many years with just basic anti-rust coatings and occasional paint touch-ups.
Steps for Fence Installation
Permit and Utility Lines
Before you start anything, you should check with your local bylaws about DIY fence installations. Oftentimes the height of the fence will be the main thing regulated, but it's important to double-check. Ensuring your fence is on your property line is another big thing. To save yourself a headache in future debates, you can call a land surveyor to confirm where your property begins and ends. Utility lines buried beneath the soil are another unexpected problem that proper planning can help with. Utility companies are able to visit your property and correctly identify any hidden pipes or wires for you.
Outline Fence Posts
Next, you'll want to measure the perimeter of your future fence design. Once you have that number you can use your linear feet measurements of the type of material you'll be using to calculate how many pieces you'll need.
Next, you can lay out the fence perimeter using batter boards and a string line. You can mark the fence post locations using spray paint to easily remember.
Dig Holes with an Auger
A hole digger or two-person auger can quickly dig your holes. Make sure to avoid any areas marked by the utility company. We recommend digging holes about a third deep as the fence is tall. The diameter of the hole should be three times the width of your post.
Position Posts in Concrete
Once all holes are dug, pour four inches of gravel down the base of the hole for proper drainage, and tamp the gravel using the bottom of a post or a tamper. Then position your post in the middle of your hole on top of the gravel and pour in the concrete to within six inches of grade. Fill the remaining area with dirt once the concrete sets
Add Rails or Panels to Posts
Next, you'll want to attach your wood fence rails or wood fence panels to the posts. The widest part of your rail should register on the post. Use either screws or nails to secure your panels to the post, with two fasteners per post. A level can help make sure all rails run in a straight line. Fences up to four feet tall need a top and bottom rail while taller fences will need a third rail in the middle. Rails should start and end in the middle of posts, make sure to stagger these joints so they aren't on the same post for the rails.
Attach Pickets to Rails (Add Post Caps)
Use a level to plumb your first picket, then a spacer block to set any consecutive pickets. Secure each picket with deck screws or galvanized nails. Make sure to adjust the fastener length relative to your picket thickness and rail thickness and make sure it does not come through the rail. Use two or three fasteners per rail
Next, attach a post cap to each of the posts, a light tap from a rubber mallet should do the job. Each one should fit snugly onto the post. Tack the cap in place using a galvanized finish nail
Stain or Treat Your Wood
Apply wood preservative around the base posts to prevent your wood from rotting. If you used pressure-treated wood, wait until it has fully dried before applying stain or finish. Make sure to reapply the stain every two-three years for best results.
If you want to, this is the step in the installation process where you can paint your fence.
Call Your Local Fence Installation West Chester, PA, Expert
If you're not sure if you want to take on this project by yourself, our handyman experts can complete this project for you. With years of experience providing exceptional customer service, we're ready to build you a fence you'll love. With our service warranty and parts guarantee, you can rest assured that your West Chester fence installation was installed at the highest level of quality and was built to last. Our wide array of home improvement services ranging from gutter cleaning to pressure washing can get your home into top shape with amazing service.
If you have any questions or want to schedule a West Chester fence installation, give us a call us today or book an appointment through our website.