We're Your Local, Courteous Handyman in Dallas, TX
From rotten deck boards to holes in the drywall, all the nagging repairs, maintenance tasks, and desperately needed improvements around your property can make it feel like your punch list is a mile long. But searching for a "handyman near me" and scouring the internet for reviews is a big hassle. In addition, trying to find the right Dallas handyman who is both talented and friendly isn't always easy.
Luckily, your search is over! The professional team at Mr. Handyman of Dallas is your best option for outstanding maintenance work and home improvement services provided by an expert handyman. Dallas residential and commercial properties alike can benefit from our expertise. Our service professionals have the skill and hands-on experience to take care of your entire property, from front to back and floor to roof! When something happens that requires help from a qualified handyman, Dallas residents can call on us for superior workmanship and dedicated customer care.
Mr. Handyman of Dallas is a locally owned and operated business. We are proud to serve Dallas and the surrounding areas, including Richardson, Garland, Addison, and Mesquite.
Quality Workmanship from a Handyman Dallas Homeowners Trust
Whether it is a local business or your own home sweet home, your property is among your most precious possessions—and when it requires service from a handyman, Dallas property owners need to know that their building is in capable hands. Our technicians have years and, in some cases decades, of experience in repair trades, including specializations in trades such as carpentry, tile installation, and remodeling.
We don't just do the bare minimum or apply a "quick fix" that will frustrate you by letting the problem reoccur in a few weeks or months and require yet another appointment with a handyman. Dallas professionals on our team will take the time to thoroughly investigate the project and come up with innovative repairs and improvements for a long-lasting solution that will change the way you feel about your property by making it more appealing and comfortable.
Customer Service That Goes Above and Beyond
When you invite someone onto your property to do improvement work, you deserve a safe, worry-free experience with a trusted handyman. Dallas professionals on our team will deliver exactly that by treating you and your property with respect and prioritizing complete customer satisfaction. It's not enough to simply provide high-quality professional handyman service, Dallas-style—excellent customer service is a necessity as well from every handyman. Dallas customer service professionals will communicate clearly and honestly with you, so you always know exactly what's going on. When it's time for service from a handyman, Dallas clients can count on us to arrive promptly, in uniform, and driving a marked van.
We Promise to Get the Job Done Right
Getting work done on your home or commercial property can be stressful. You can check and recheck qualifications, but that's no guarantee of an excellent job by your chosen handyman. Dallas residents can rest assured that we are very proud of the first-rate workmanship that our service professionals deliver, down to the last handyman. Dallas' service team is fully supported by the Done Right Promise: if your service isn't done right, we promise to make it right.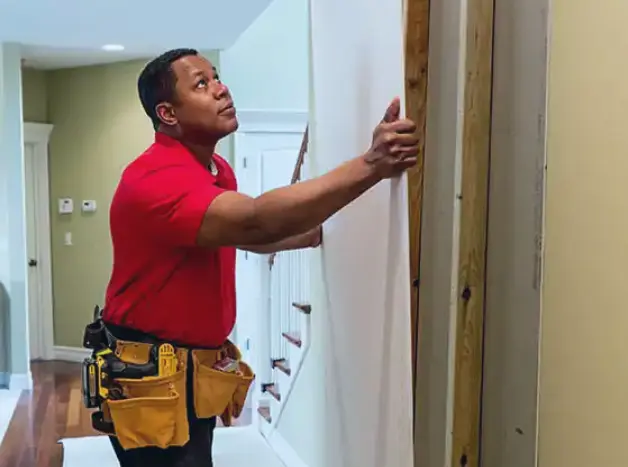 Why Choose Mr. Handyman?
Convenient one-call solution.

Safe, worry-free experience.

Fully insured with general liability and workers' compensation.

We'll clean up when we're done.

Our workmanship is guaranteed.
Our Mission
Mr. Handyman is your one-stop shop for a wide range of home maintenance and repair solutions. Mr. Handyman's service technicians are highly skilled craftsmen, so you know they will get the job done right the first time.
Partnerships & Achievements
Dependable Home Services from Mr. Handyman of Dallas
Professional Services from a Dependable Handyman Near Me
When you experience issues with your home or business property, you need the help of a trusted handyman. Dallas property owners can count on us to get their buildings back in top-notch condition—or tailor improvements to suit your unique needs. Some people tend to think of handyman services (in Dallas and surrounding areas) as being just for minor repairs, small chores, or odd jobs around the house, but that's not the case—you can get so much more from your local handyman. Dallas service providers on our team have the skill and experience to handle everything from minor repair projects such as window repair and regular maintenance tasks to larger projects such as bathroom remodeling and kitchen remodels. When it comes to maintaining your property to keep it in fantastic shape, there's almost no job we can't tackle with the handyman services Dallas deserves.
We provide attic, bedroom, bathroom, basement, deck/patio, garage, office, kitchen, and living/dining room maintenance and repair work, all taken care of by an efficient and capable handyman. Dallas homeowners and people in surrounding areas who are searching for a "handyman near me" can access a wide range of handyman services Dallas properties need, such as drywall repair, window and door repair, painting, and more.
Residential Services from an Expert Handyman: Dallas, TX
Whether it's a sprawling single-family house or a condominium unit that needs service from a local handyman, Dallas homeowners take pride in their homes and want them to look and function at their best. However, that can be very frustrating to accomplish when you aren't equipped with the right tools and expertise to deal with every home project and home repair that needs to be taken care of. The good news is that when they need a handyman, Dallas homeowners can always trust our team to get the work done correctly. All you need to do is call, and we'll get a skilled craftsman at your door as soon as possible to cross every single task off your to-do list.
Reputable Commercial Handyman Services: Dallas, TX
As business owners, we get it. You have enough on your plate between pleasing your customers and growing your business—you don't need the added stress of trying to keep up with all the maintenance and repair work done by the type of handyman Dallas commercial properties to tend to require. That's why it's so important to have a business relationship with a qualified handyman. Dallas business owners, we'll make you a deal: you focus on building a successful business, and we'll take care of work such as repairs, maintenance, and improvements to ensure your property is in excellent condition with the efforts of a qualified handyman. Dallas business owners who work with us rest easy knowing that their commercial property impresses their clients and is capable of supporting their employees in their mission to deliver outstanding work.
Worried that you don't have enough work to support a full-time property manager for commercial services or that it will take too big of a chunk out of your operating budget to hire a handyman? Dallas commercial clients find one of the big advantages of working with us is that we'll tailor your services, so you're only paying for exactly what you need from a handyman, Dallas-style. Want to set up a regular maintenance schedule and trust that it'll get done on time by a licensed handyman? Dallas commercial property owners can rely on us! Just want to keep a skilled service professional on speed dial in case an issue pops up? We'll be there!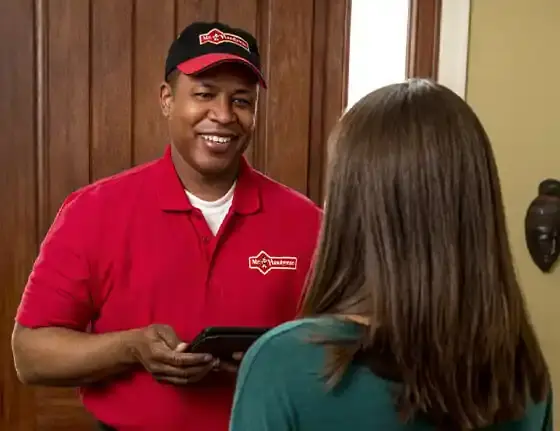 Time to Call a Handyman? Dallas Can Trust Us to Deliver the Very Best!
Mr. Handyman of Dallas is a locally owned business, so our Dallas handyman professionals understand the way homes and commercial properties are built and maintained in Dallas and the surrounding areas. That gives us insight into the best ways to provide quality service according to the strengths of each handyman. Dallas professionals on our team don't just focus on delivering outstanding workmanship on repairs, maintenance, and improvements—we strive to make every part of the process smooth and pain-free for you, including scheduling, billing, and follow-up services.
When you need general repair and improvement work done on your property, you want to know that it'll go perfectly, and you won't be subjected to additional stress at any point during the process due to your choice of handyman. Dallas residents can count on us to provide peace of mind by behaving with courtesy and respect at all times.
Frequently Asked Questions About Professional Handyman Services: Dallas, TX
Want to know more about the courteous service provided by our team, or have questions about a project that could really use the expertise of a professional handyman? Dallas residents can give us a call to chat with our friendly customer service representatives!
Should I Hire a Dallas Handyman or a Contractor?
You may think we're a bit biased if we say a Dallas handyman is the best choice, but look at it this way: most contractors have certain trades that they stick to, and they aren't necessarily skilled at a wide range of trades and specialties like you would expect from a handyman. Dallas customers would need to vet, hire, and manage multiple contractors and contracting companies, which can be stressful and needlessly expensive. Our service professionals have extensive experience with a huge variety of projects and home services, down to the last handyman. Dallas property owners have a convenient, one-call solution to reach an entire team of experts who can take excellent care of your whole property and handle everything that needs doing around your home or business quickly and efficiently.
Are You a Licensed and Insured Handyman in Dallas, TX?
Absolutely! When you hire our team of service professionals, you'll have the peace of mind of knowing that our technicians are fully licensed and have the ongoing training they need to provide quality work and adhere to all applicable building codes in your home or commercial business, regardless of why you need service from a licensed handyman. Dallas' service team members are also insured with general liability and workers' compensation, so in the unlikely event that something does go wrong, you won't be on the hook to cover costs.
Does a Dallas Handyman Need to Enter My Home?
Not necessarily—it depends on the type of home repair service your property needs from a handyman in Dallas. The service technicians who are performing repairs or other services on the exterior of your home or another part of your North Texas property can avoid entering your home to ensure your comfort. If the service involves accessing the inside of your home like a bathroom remodel, of course, your home repair contractor will need to enter. However, you can rest assured that our handymen will behave professionally at all times and maintain a friendly demeanor to ensure you have a safe, worry-free experience.
Can Dallas Handyman Service Help Me Save Money on Energy Costs?
If you're looking for ways to reduce your utility bill, call a handyman! Dallas homeowners don't want to pay any more than they have to on their monthly utility bills. Fortunately, services from our talented home improvement pros can make a huge difference on your bill and get your home operating in a more cost-effective manner.
Your heating and cooling costs are the biggest monthly expenses on your bill. When parts of a home, such as the siding, window frames, or door jambs, degrade due to wood rot and other issues that haven't been dealt with by a handyman, Dallas houses are subjected to air drafts that change the temperature inside the building. By repairing the parts of your house that are compromising your energy efficiency, your local Dallas handyman can lower your energy bill. It's not all about air drafts, though—services such as dryer vent cleaning, water heater insulation, and porch screening can also lower your costs and give your bank account a break.
Call Mr. Handyman of Dallas Today!
Want to learn more about how to enhance your property with services from an expert handyman? Dallas property owners and residents can contact us today to speak to a member of our team!
Mr. Handyman of Dallas
Choose the right handyman services team in your area. When it comes to selecting the right team for your home improvement needs, Mr. Handyman is the right choice.
Areas We Serve:


Addison, Balch Springs, Carrolton, Dallas, Garland, Grand Prairie, Hutchins, Lancaster, Mesquite, Richardson, Rowlett, Sachse, Seagoville, Sunnyvale, Wilmer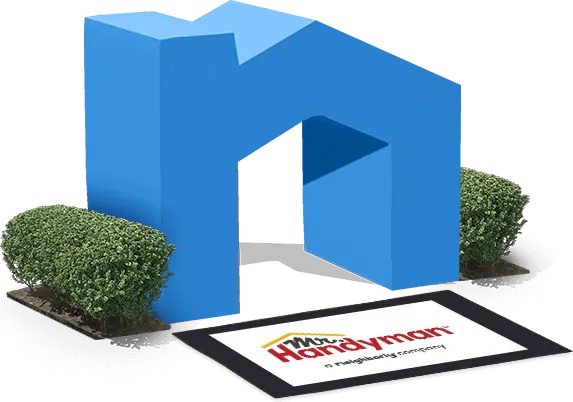 Neighborly®
Mr. Handyman is a Neighborly Company. Handyman repair services are one of the many home maintenance solutions available to you through Neighborly. At Neighborly, we are committed to being there for all your home service needs.
Learn More About Neighborly