8 Things Your Professional Handyman Wants You to Know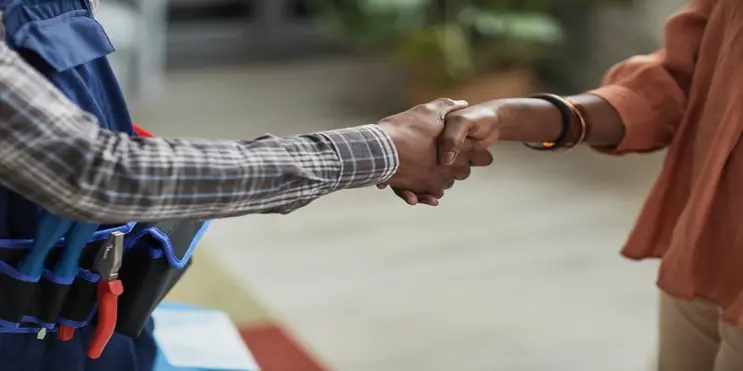 Hiring a handyman doesn't have to be stressful. In fact, it's as simple as checking out the types of offerings Mr. Handyman of Memphis provides. We have a comprehensive handyman services list to make your home life simpler and less hectic. Just think, you could finally get that broken toilet replaced or install the kitchen cabinets you've been putting off. But we digress.
Let's talk about some things you should know as a customer ready to hire a Memphis handyman to complete a job (or jobs) at your home.
What Does a Handyman Do?
Before we get down to business, let's clarify the question, "what does a handyman do?" Not every handyman company or independent contractor providing handyman services operates the same. A conventional handyman delivers residential and/or commercial solutions to make running a business or a household more convenient and efficient.
Typically, types of handyman services include:
Maintenance tasks
Home improvement jobs
Replacements
While some companies only provide a few offerings, we perform every one of these. We don't claim to do it all (this is actually a huge red flag for handyman services), but we do handle a good majority of home and commercial repair, installation, and maintenance projects.
Things We Want You to Know Before Hiring a Handyman
When you hire a handyman, you're putting a great deal of trust into a professional to perform a job to the best of their ability and leave you satisfied. After all, you're paying money and should expect outstanding results. We understand your expectations. What you may not realize is that we have expectations of our own and want to let you in on a few.
1. Minor Plumbing Issues Are Usually No Problem
Suppose you have a clogged drain, and you've already gone the DIY route to see if you could fix the problem yourself, but to no avail. Now, you need a professional to look at your plumbing system. Before you contact an expensive plumber, ask a handyman specialist if this is a task they can assist with. A traditional plumber may charge you up to $500 to perform the same task a handyperson could complete for much less.
2. Ongoing Education Is the Norm
Simple handyman services might seem easy on the surface, but the truth is we go through months, even years, of extensive technical and on-the-job training. And that training doesn't entirely end. Any reputable handyman continues to learn their trade so they can continue to meet your needs.
3. Regular Maintenance Is a Must
Your home won't take care of itself. It's your job as the homeowner to inspect your space and make sure everything is on the up and up. It can be more costly to have a handyman repair an item after years of maintenance neglect. The team at Mr. Handyman is more than happy to help you maintain your home for as long as you live there.
4. Referrals Are Our Bread and Butter
Word-of-mouth is a great way to advertise handyman services. We love when you tell other people how much you enjoyed the work we completed for you. Moreover, 90% of people read reviews, and 88% of consumers trust online reviews, spurring them to utilize the services. And 72% of consumers will take action (buy goods or a service) after they've read positive reviews. The stats don't lie. When you tell others what you think, they listen and take action. This is why testimonials are so important to the success of a handyman business.
5. Check to See if We Can Fix It Before Throwing It Out
Is your lawnmower on the fritz? Did you assemble and install the wrong size kitchen cabinets? Just because something seems broken or ill-fitting doesn't mean you should throw the baby out with the bathwater. We enjoy being able to repair the things deemed irreparable. You can save so much money hiring a handyman to fix something instead of buying something new.
6. Don't Pay for Handyman Services in Cash
A licensed contractor or handyman should never ask you to pay for services in cash. You should always be on the lookout for this huge red flag. It may indicate that the person hired to complete a job doesn't work for a trusted provider, or they're trying to get paid under the table and skip out on paying taxes at the end of the year. Either way, don't pay for any type of handyman services in cash.
7. Keep Your Pets Safe and Out of the Way
We love dogs, cats, and other pets as much as the next handyman team, but your four-legged family member may get in the way of your repair or installation going smoothly. Of course, we never want to interrupt your busy life. Our goal is to complete the job thoroughly and efficiently, and it can be difficult with a curious animal looking over our shoulders. Although, if we're building a dog bed or house for your furry loved one, by all means, keep them around. Just make sure they're out of the way for their safety and ours.
8. Please Ask Questions
G.I. Joe circa 1983 used to say, "Knowing is half the battle." Yet, no one knows everything, so asking questions is vital. Our team at Mr. Handyman of Memphis wants you to ask questions and gain more knowledge about the project we're completing for you.
One of the questions we recommend customers ask is, "can I help with anything?" Some handyman professionals may lower your service charge if the project is safe enough for your assistance.
Here is a list of questions we like being asked:
Would you like some water?
Can I help clean up?
How are you doing today?
Is the project going smoothly?
Engaging with us is a sure-fire way to get labeled an awesome customer, which may get you some perks other people aren't privy to.
Know That You Can Rely on Mr. Handyman of Memphis
While we want you to know as much as possible before you invite a handyperson into your home, the most important aspect that you should be aware of is that you can rely on our Memphis handyman team. We're available to perform residential and commercial repairs, installations, upgrades, and maintenance tasks to help with property upkeep.
Make us your first choice for professional handyman services and repairs in Memphis by calling us or scheduling service online.