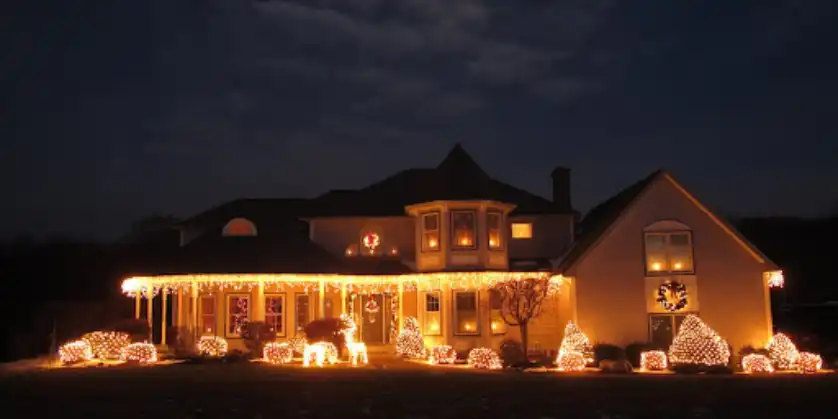 Tiny lights twinkling, big, fluffy snowflakes slowly drifting down outside, and all your family gathered around in their pajamas with hot chocolate to enjoy each other's company during the holiday season. If you are dreaming of the perfect Christmas—or looking forward to celebrating other holidays—it's time to get started on preparing your home with holiday lighting installation in Northern Virginia.
Whether you are planning on having all your family and friends at your house for a festive explosion of fun, or it is going to be a quiet, peaceful time of year when all is calm and all is bright, you likely need some assistance getting your house in ideal condition—especially that "all is bright" part. Not everyone is willing or able to climb a wobbly ladder and get all those lighting strings installed properly, and that's okay! Just call your local Northern Virginia handyman for professional holiday lighting installation.
There is a lot more than just twinkling lights that need to happen to transform your house into a festive winter wonderland, inside and out. From maintenance and remodeling to safety measures and even mantel installation, you can count on the experienced Northern Virginia handyman crew at Mr. Handyman of Northern Virginia - Arlington to Haymarket for your holiday light installation and other holiday home preparations. We are a locally owned and operated business, and we pride ourselves on always delivering the highest standards of quality workmanship and excellent customer service.
Holiday Lighting Installation in Northern Virginia
You go to get the old holiday lights out of the garage, only to discover a virtual rat's nest of knotted extension cords and burnt-out bulbs. If you can't face the thought of another year of drooping, sad lights that certainly don't give you the holiday cheer you're looking for, there is a solution: get some new lighting and decorations, and call your handyman to have them installed professionally. It's also a much safer option—in fact, according to the U.S. Consumer Product Safety Commission, there are 250 injuries per DAY that are related to decorating during the holiday season. Just think of how much time and stress Clark Griswold could have avoided with professional Christmas light installation!
Our skilled handyman team can create a beautiful holiday lighting display and much more. Our services for holiday lighting installation in Northern Virginia include decorative elements such as:
Strings of lights along the roofline
Lights framing windows, doorways, and other architectural elements
Staked landscape lighting around the front or back lawn
Light-up wreaths on the doors
Exterior flood lights in your choice of color combinations to highlight parts of the house
Decorations and lighting on outdoor trees
Beautifully lit seasonal lawn displays
Holiday lighting installation and decorations aren't just for homes in Northern Virginia, of course. If you are a business owner who wants to make your commercial property more noticeable and festive with winter illuminations, we can take care of commercial holiday lighting installation using commercial-grade products that are durable and attractive. We offer many other property maintenance and commercial handyman services as well. Anything we can do on your residential property in Northern Virginia, we can also do for your commercial property. But businesses have unique needs, and we have experience handling commercial-specific work as well.
When Should Holiday Lighting Be Taken Down in Northern Virginia?
This can be a surprisingly contentious issue. According to some etiquette guides, they should come down sometime between New Year's Day and mid-January—or no later than two to three weeks after a holiday—but in our opinion, your outdoor holiday lights should be taken down whenever you want. That being said, there are a couple of considerations that you may want to be aware of.
If you have a Homeowners' Association (HOA), they may have specific guidelines on how long holiday lighting can remain on display. There is also the energy consumption factor. A lot of incandescent lights, even if they're tiny, can make a difference to your energy costs if you turn them on frequently or keep them on all the time. Whenever you decide it is time for your holiday lighting installation to be taken down and stored away, give us a call. Our certified installers will take care of uninstalling your lighting efficiently and make sure it is all put away tidily so you don't have a mess to deal with next year.
Repairs and Replacements
Whether you are having guests visit your home or you just want your property in tip-top condition for the festive season, it makes sense to consider if your house needs anything repaired or even replaced. Repair or replacement installations have the obvious benefits of making your property look better and preventing the damage from worsening and spreading. But repair and installation services can have some less blatant advantages as well, such as restoring energy efficiency so you don't have to pay as much on your monthly utility bill, and helping to prevent rodent and insect infestations.
Take drywall repair, for example. Drywall is not a very noticeable part of any house in Northern Virginia, but when it has suffered damage such as holes, cracks, and water stains, everyone's eyes go straight to the ugly problem area as soon as they enter the room. But it's not just a cosmetic issue.
Drywall damage increases your energy bill by allowing warm air from your heating system to escape inside the walls, which causes your HVAC to operate for longer and use a lot more energy. It also encourages rats, mice and other pests to infest your home by giving them an access point.
Some repair or installation services you may want to add to your handyman's to-do list are:
Ceiling Repair
Ceiling fan installation and repair
New window installation
Water heater insulation
Interior trim repair or installation
Repair or installation of tile and other types of flooring
Gutter cleaning and gutter repair
Gutter cleaning and repair are usually handled in the spring and autumn in Northern Virginia, but if they were missed this year and your gutters are overflowing with dead leaves, dirt, animal nests, and other debris, it is a good idea to get them cleaned and repaired prior to holiday lighting installation. Gutters run along the edge of your roofline, usually attached to the fascia board, which is a typical location for holiday lighting installation in Northern Virginia. It will be difficult to get the lighting attached to your gutters with clips if the gutters themselves are overflowing and damaged. But more importantly, overflowing gutters can cause severe moisture damage to your house that ranges from a leaky roof to a cracked foundation and everything in between. Need more info? Here are six reasons why you need gutter repair in Northern Virginia.
Safety Precautions
Next up, you may want to make sure you have some safety measures in place to ensure you and everyone around you has a safe, enjoyable holiday season. Are you inviting house guests who will be bringing a bouncing baby or toddler with them? There's nothing like the presence of babies and small children to make the holidays extra special, but they have unique needs that may require some baby-proofing measures. That could mean having your handyman install gates to block off staircases and a temporary fence to surround the fireplace, along with many other potential modifications. The same principles can apply to pets, especially ones that are not very disciplined with their behavior.
Aside from baby or pet-proofing, here are a few other safety precautions our team can handle in Northern Virginia:
Installing smoke detectors and carbon monoxide detectors on every level of your home, especially near sleeping areas, or testing existing alarms and changing batteries
Cleaning out your dryer vent hose or pipe
Installing safety modifications for those with reduced mobility, such as threshold ramps, grab bars, and raised toilet seats
Installing handrails or repairing railings that are loose and wobbly
Repairing or replacing plumbing fixtures
Is Dryer Vent Cleaning Really That Important?
It absolutely is. This is a task that tends to get neglected by many people in Northern Virginia, and a big reason for that is most homeowners don't actually realize how dangerous a clogged dryer vent could be. Professional dryer vent cleaning once or twice per year is a necessity to protect the safety of your family and your property.
Under normal circumstances, lint is supposed to get caught up in the lint trap, and the ventilation hose or pipe is used to vent heat and humidity out of the dryer so it can dry your laundry properly. But over time, lint works its way into the vent and partially or completely blocks the flow of air out of the dryer. That causes your dryer to need to run much longer to get your clothes dry, which means it is a lot less energy efficient and increases your electricity cost. But, much worse, the dryer could create an electrical spark that sets the highly flammable lint ablaze and sends flames racing through the walls of your home. By getting that lint removed on a regular basis, you drastically reduce the risk of a house fire and can have peace of mind knowing your home is safe.
Redecorating or Remodeling
Do you want to make a dramatic impact on the look and function of your home before family holiday celebrations get underway? There may be some opportunities for redecorating or remodeling projects that can make a big difference in appearance, but also make it much easier to enjoy the season without everyone feeling cramped.
For example, if you don't have enough bedrooms to accommodate everyone but you do have a big open space in your basement, there is a surprising solution you may not have thought of: ask your handyman team to put up walls. Dividing that big, useless area into several bedrooms will give everyone their privacy and a comfortable, quiet place to sleep so they are full of energy for the festivities.
If there are parts of your house that are outdated or just don't suit your tastes the way they once did, we can take care of those problems for you as well. That could include projects such as a new tile backsplash in the kitchen, replacing the old carpet with beautiful hardwood planks in the family room, or even upgrading plumbing fixtures such as your toilets or faucets.
Here's another thought: where are you going to hang stockings on Christmas Eve? If you don't have a mantel over your fireplace, this is the perfect time for mantel installation in Northern Virginia. Our carpenters can create a beautiful custom mantel that will look absolutely perfect bedecked with holiday decorations and will enhance the look of the room year-round.
Furniture Assembly
Are you purchasing new furniture before the holiday season in Northern Virginia? If you have some old pieces that are on their last legs, this is a good time to consider replacements. But if the furniture you have selected comes unassembled, you may be dreading the task of getting it all put together quickly and correctly. If the sight of an Allen key causes you to break into a cold sweat, and the instructions appear to be written in ancient hieroglyphics, don't panic! Our team provides professional assembly service. We can get everything assembled efficiently so all you have to do is sit back and enjoy your new furniture.
Searching for Christmas Light Installation Near Me? Leave It to the Pros at Mr. Handyman of Northern Virginia - Arlington to Haymarket!
Whether you are in Arlington or a nearby part of Northern Virginia such as Manassas, Bull Run, or Gainesville, you can trust the dedicated team of service professionals at Mr. Handyman of Northern Virginia - Arlington to Haymarket. We will take care of holiday lighting installation and dozens of other services with quality workmanship and professional-grade equipment, within the agreed-upon time frame. We offer a complete service experience and prioritize your satisfaction.
Pick up the phone and give us a call today at to chat with our friendly customer service staff and schedule a convenient appointment time, or to find out more about our dependable Northern Virginia handyman services.