Everything You Need to Know About Flower Mound Awning Installation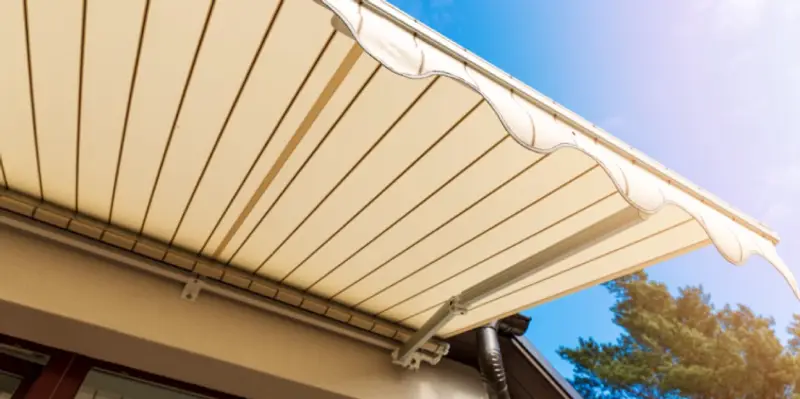 There's no doubt that Flower Mound, TX, is one of the most beautiful places to live. Located northwest of Dallas along Grapevine Lake, this incorporated town has a lush, suburban feel with all the amenities that a big city has to offer just a stone's throw away. In addition to the stunning homes and greenery, hot summers and temperate winters attract citizens across the country to settle in this area of Texas. Though warm weather is appreciated by residents, the scorching Texas sun can sometimes be difficult to bear at midday. To avoid feeling stuck inside and enjoy the summer months, Flower Mound awning installation is your solution.
From comfort and curb appeal to energy savings, adding one or more canopies to your outdoor living space has measurable benefits. Whether you enjoy doing home installations on your own or would be more comfortable hiring a professional Flower Mound handyman to do your installation for you, every homeowner in the local area should consider awning installation in Flower Mound, TX.
In this article, we'll help you decide whether an awning installation is right for you by going through everything you need to know, including:
Benefits of awning installation in Flower Mound, TX
Types of awnings available
How to do an awning installation on your own
When to call in the experts at Mr. Handyman
Flower Mound awning installation cost
What is an Awning?
Patio covers, porches, arbors, and awnings are all familiar terms to you, but would you be able to explain the difference between all of these if someone asked you? All of these structures fall under the umbrella of shade structures used in outdoor spaces, but when we're talking about awnings, we're referring specifically to a shade cover that extends from the space above the windows and/or doors of a residential or commercial building.
Awnings don't just provide protection from the sun but from weather conditions like rain, wind, and snow as well.
Benefits of Awning Installation in Flower Mound, TX
Aesthetic Appeal
The right awning can spruce up your home's exterior, making it look more attractive and giving it more character. As we'll discuss further below, canopies come in a wide variety of materials and styles, so no matter what style of home you live in, you'll be able to find a design that complements it.
Quality awning installation can also increase your property's value, making installation a no-brainer.
Comfort and Flexibility
There's no doubt that the Texas sun can be a little hard to handle sometimes. In addition, being out in the sun all day just isn't good for your skin. Regular sunscreen application is important for reducing your risk of skin cancer, but most tend to wear off after just a couple of hours, requiring you to apply more throughout the day. By adding an awning to your backyard, you can enjoy the outdoors while also limiting your UV ray exposure.
And if you decide you want to soak up the sun for a little bit? Simply retract your awning and pull it back out when you've had enough.
Low Maintenance
Whether your awning is made from canvas or aluminum, all it needs to keep looking its best is an occasional sweeping and wash with warm, soapy water. No expensive professional cleaning services are needed.
UV Protection
Not only does a canopy protect you and your family from the harsh UV rays, but it protects your property, too. When UV rays pass through your windows, they can damage your home's interior. Think fading carpet, wood furniture and floors, and leather sofas and chairs. Flower Mound awning installation protects your home from damage associated with direct sunlight.
Energy Efficiency
Are you searching for home improvement projects that will boost your property value and energy efficiency? Awnings are a great way to do that. Most Texas homes have air conditioning, but the less insulated your home is, the more work your air conditioner has to do to get your home down to your desired temperature—and the higher your energy costs.
By sheltering your windows from direct sunlight, your windows will better insulate your interior and improve the energy efficiency of your HVAC system.
Types of Awning Installation in Flower Mound, TX
Having many different materials and designs available for awning installation in Flower Mound, TX, allows you to find the perfect product, but it can also be a little bit daunting. With so many choices, how can you determine the best fit for your property?
Picking the right type of canopy is dependent on three main factors: your functionality needs, your style, and your budget. We'll discuss the advantages and disadvantages of each type so that you can make the right Flower Mound awning installation choice for your home or business.
Non-Rollup Style
Also known as a fixed awning, this design is a permanent fixture that creates an overhang over your windows and doors in all weather, rain, or shine. Because they can't be rolled up, they're usually made from aluminum or another kind of metal. This makes them durable enough to bear the weight of heavy rains.
Most homeowners prefer retractable awnings, but non-rollup awnings are a great addition to commercial buildings.
Manual Retractable Style
Retractable awning installation in Flower Mound, TX, is the way to go if you enjoy the morning and evening sun but prefer to relax under some shade when the UV rays are at their strongest. These units can be pulled down as needed and then rolled or folded up when you're done with them.
Although they do take a bit of time to open and close, they are relatively affordable and still afford a high degree of convenience.
Mechanical Retractable Style
If you're willing to spend a little more for ultimate convenience, mechanical retractable awnings are for you. By simply pressing a button, your awning will open and retract automatically, meaning absolutely no work is required on your part. Though they're still the most expensive unit you can buy, they've decreased in price in recent years.
When deciding between manual and retractable Flower Mound awning installation, it may be helpful to approach a friend or neighbor who has a manual unit and ask them about their experience with this design. This will help you determine whether a manual design will be convenient enough for you or if you're likely to stop using it because the hassle of pulling it out and retracting it is an inconvenience to you.
Portable Units
Also called portable canopies, portable awnings are the most cost-effective option. However, because they're a temporary structure, you'll have to put them away before going to sleep to ensure that they don't blow away. These units are essentially like big patio umbrellas, and unless they're placed up against your home, they won't provide any more protection to your property than a patio umbrella would.
Canvas Fabric
Almost all types of canopies are available in canvas fabric. This makes them easy to retract but also durable. A big advantage of canvas is that it comes in many different styles and colors. You may wish to opt for something plain and modern that doesn't stand out or pick a striped style with scalloped edges for a more vintage look.
Metal
Typically a little more expensive than canvas, but not by much, metal awnings are undoubtedly the way to go for a modern, contemporary look. Whereas canvas is best for covering small areas, such as window awnings and small patio awnings, aluminum awnings can extend across a large patio or deck.
DIY vs. Professional Flower Mound Awning Installation
Out of all the home installations you can do, Flower Mound awning installation is one of the easiest. That being said, unless you're fairly experienced with home construction and installation projects, these can still be a challenge to install yourself. If you want to give it a shot, here are some tools and materials you'll need:
Measuring tape
Pencil
Awning
Brackets
Screwdriver
Level
Nuts and washers
Electric drill
Appropriate drill bit for your siding material
A physically capable friend
And a building permit
Flower Mound awning installation is not something that you can do on your own unless you're placing very small, light canvas awnings above your windows. Trying to do this installation on your own could lead to your awning becoming bent out of shape, making it impossible to mount correctly.
Once you're ready to install your new awning, follow these steps:
Check any deed restrictions and Homeowner's Association requirements for shade structures. Take the appropriate steps to receive approval from these organizations before continuing.
Submit a building permit to the Town of Flower Mound Building Inspections department or to the equivalent department in your own community.
Once you've received full approval, start by measuring your awning and the part of the structure that it will be mounted to. Using a tape measure and pencil, mark the exact center point above your exterior doors, patio doors, or windows.
Mark the center point of your awning. You will need to match up the marking on the wall and on the awning.
Using a level, draw a horizontal line to provide you with a guide to the height at which the awning will be mounted.
Mark the points where the brackets will be installed.
Attach the brackets to the wall using a drill and mounting bracket screws.
With the help of a friend, lift the awning up and insert it into the brackets.
Fasten the brackets to the awning, making sure it's secure. Once you're satisfied, you're ready to begin enjoying the shade that your Flower Mound awning installation will provide!
If you don't feel confident doing a Flower Mound installation on your own, or you would simply rather spend your time doing other things, hire a professional handyman. Using an experienced handyman prevents you from having to worry about damaging your new awning due to poor installation techniques.
Flower Mound Awning Installation Cost
No matter how big or small your budget is, the cost of a Flower Mound awning installation is something to consider—especially if your primary motivation for doing so is to improve the energy efficiency of your home.
Cost guides indicate that awning installation can range anywhere from a few hundred dollars to several thousands of dollars, depending on the scale of the project and the type of awning. Quality products cost more, of course, but some awnings have special features like remote controls that involve extra costs.
When deciding how much you want to spend, it's important to think beyond upfront costs. If you plan to be in your home for a while, you should consider how much the installation is likely to save you in energy bills over the course of its lifespan, which is typically around 10 to 15 years for basic canvas and even more for aluminum models. Alternatively, if you plan to sell in the near future, you'll want to factor in how much the awning is likely to increase the value of your home.
Likewise, opting for the cheapest model on the market means you'll probably just be replacing it again in a few years, leading you to spend more than you would have if you'd gone for the higher-priced but better quality model in the first place. Units that come with some kind of life or limited warranty are likely to be higher quality and last you for years to come.
Don't Search For "Awning Installation Near Me"—Call Mr. Handyman for Flower Mound Awning Installation Today!
Are you ready to hire a professional Flower Mound awning installation expert and start enjoying your backyard this summer? The talented and professional team at Mr. Handyman of Flower Mound, Lewisville, and Denton is here to help, whether you live in Flower Mound or another nearby area like Highland Village, Argyle, or Ponder. Our professional awning installation service stands out from the rest due to our reputation for consistently providing quality workmanship combined with exceptional customer service. If the job isn't done to your satisfaction, simply let us know and we'll make it right.
To book an appointment or learn more, give our office a call today. We can't wait to hear from you!