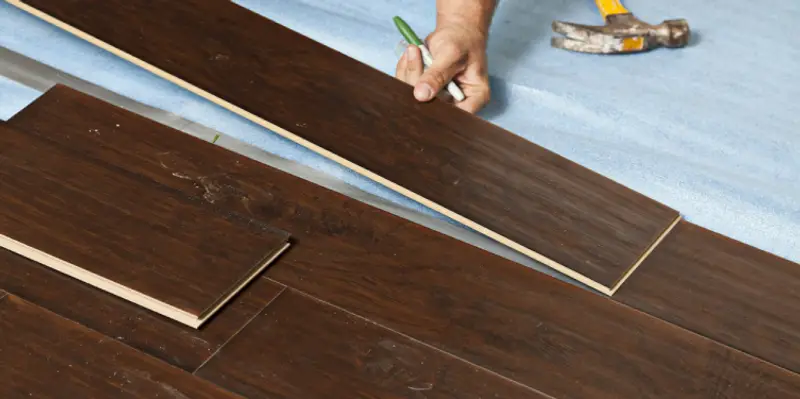 Some people would have you believe that floors don't matter in the slightest when it comes to interior design—they just fade into the background and are hardly noticeable. But that's simply not the case. When you look at any room, a huge portion of your vision is taken up by one of the biggest components of the room—the flooring. If it's in bad condition with gouges, cracks, missing pieces, stains, and other damage, or it's an outdated, ugly style that doesn't match the rest of your décor, you need a new Flower Mound flooring installation project to restore the aesthetic of your home.
Appearance is important, but it's not everything. Your new flooring installation in Flower Mound, TX also needs to provide long-term value by being strong, durable, protective, and, ideally, easy to maintain. When you start looking around at the possibilities and see the wide array of options available, it can feel overwhelming. We're here to help—this guide explains eleven questions you can ask yourself that will make the selection process a lot easier, so you can narrow it down to the best choice for your property and household.
Ready to get your dream floors installed in your home or commercial property? Rely on your local, experienced Flower Mound handyman to get the job done right! The team of service professionals at Mr. Handyman of Flower Mound, Lewisville, and Denton are proud to provide excellent workmanship and exceptional customer service to the residents of Flower Mound, TX, and nearby communities in the North Dallas area.
1. Should I Get Repairs or a New Flooring Installation in Flower Mound, TX?
One of the first questions many homeowners ask us is the old "repair vs. replacement" quandary. It makes sense to give this some consideration before you settle on Flower Mound flooring installation—after all, if you love your current floors but they've suffered a few small instances of cosmetic damage, floor repairs from a knowledgeable handyman are probably all you need to restore your home to a beautiful, functional condition. Need more info? Here's what you should know about tile repair.
But if they're in really rough shape with major or widespread damage, you don't like the way they look or you have other concerns such as allergies being triggered by flooring material that holds dust and dander, the best way to make your home more comfortable and livable again is with a new flooring installation. That way, you'll have peace of mind knowing the interior structure of your house is protected and your home is looking and functioning how you want it to. Replacement will also probably be the most cost-effective solution in this case because major repairs or numerous small repairs will be time-consuming and probably more expensive than a new installation.
2. What Flooring Installation Options Are Available to Choose From?
You may think you already know precisely which type of flooring installation you're going to choose, but part of the selection process is considering options you may not have known about or considered previously. There's a very wide range of flooring choices available for property owners in Flower Mound, TX, including:
Tile: ceramic, porcelain, quarry, mosaic, etc.
Carpet
Vinyl
Stone: slate, granite, marble, travertine, etc.
Hardwood: oak, cherry, maple, walnut, hickory, etc.
Engineered wood
Laminate
Linoleum
3. What Is the Top Priority For My Flower Mound Flooring Installation?
Next, take some time to really think about what your personal priorities are for your new flooring installation in Flower Mound, TX, and what features it needs so it can hold up and perform well in the space where it's going to be in your house. For example, if you're choosing a material for a high-traffic area that is prone to moisture exposure like the kitchen, bathrooms, laundry room, or mudroom, it's important to choose something that is very durable and water resistant, like ceramic tile or vinyl, to help avoid water damage to your subfloor and joists.
If it's going to be in a lower-traffic area where you really want a striking design change, your priorities will be quite different. In that case, it may make perfect sense to choose a more delicate but gorgeous material that can serve as a conversation piece for the entire room, like natural stone or exotic hardwood flooring.
4. How Much Maintenance Work Is Acceptable to Me?
There's not always a trade-off between a beautiful appearance and durable longevity, but the options often do divide along those lines. The most luxurious, finest materials are natural options such as slate, marble, and exotic woods, while synthetic materials such as ceramic and porcelain or engineered wood tend to be the most durable and often the most long-lasting options.
That's why it's important to consider maintenance needs when making a purchase decision. Slate tile, for example, is absolutely beautiful and screams luxury, but it is vulnerable to chipping and staining and it needs to be sealed regularly to keep it looking good. Ceramic tile doesn't have the same incredible design cachet, but it's very durable and virtually maintenance-free. It's also available in a wide variety of looks, including many options that mimic the appearance of natural stone.
5. What Style of Flooring Installation Will Look Good in My Home?
One of the most difficult parts of getting a new Flower Mound flooring installation is choosing the perfect style to enhance the overall interior design aesthetic of your home. Your floors are actually far from "design neutral"—your choice can really make or break the look of the whole room.
Just look at the options for hardwood alone. A hardwood flooring installation can work for almost any type of design scheme, from a rustic farmhouse style to a post-modern minimalist look. But the type of wood, color, sizes and shapes of the pieces, and many other factors will determine if it fits in perfectly with your existing décor or sticks out like a sore thumb. That effect can be even more pronounced with laminate, tile, and other varieties of materials, so it pays to give careful consideration to how you want your installation to look and how well it will complement your home décor.
6. Are Allergens a Concern For My Flower Mound Flooring Installation?
If you or another member of your household suffer from indoor allergies related to dust, dander, and other substances, a new flooring installation in Flower Mound, TX is the perfect opportunity to choose a material that can help reduce allergy suffering. Some people ask, "What's the best carpet for allergies?" but in our opinion, the best choice for allergy sufferers is no carpets at all. Even if you have a low-pile carpet, dust, dander, and other allergens get ground into the fibers and can't simply be vacuumed up to the degree that would prevent an allergy attack. Smooth floorings such as hardwood, tile, or luxury vinyl planks is far easier to sweep and vacuum clean, and you may be surprised at what a difference it can make to the comfort of your resident allergy sufferers.
7. Should I Add In-Floor Heating Underneath the New Installation?
Do you hate putting your bare feet on ice-cold floors? Are you looking for ways to heat a room more evenly and efficiently? Since your old flooring needs to be removed to make way for the new installation, this is the ideal time to consider whether you'd like to add an in-floor heating system. If you do decide that's something you'd like to include, the best choice to go over the top of it is going to be ceramic tile or engineered hardwood. They're porous enough to let the heat pass through, but also won't be damaged by the extra warmth.
8. Does My Flooring Installation Need to Be Suitable for Pets?
If your family includes some furry friends with sharp claws, it's probably in your best interests to avoid hardwood flooring and other materials that can easily be scratched or gouged by the pitter-patter of little paws racing around the house. Carpets are also questionable, especially if you've got a cat who loves to scratch everything except its scratching post, and it can be difficult to get bathroom "accidents" fully removed from a carpet. A hard, durable material like laminate or tile will be easier to clean up and less susceptible to surface damage. But if you've got a dog with long, gangly legs, sometimes it's hard for them to keep their grip on a smooth floor and they can get anxious about slipping and falling. In that case, a tile with a rough texture will help them feel more secure and comfortable.
9. What Are the Budget-Friendly Options for Flooring Installation?
You may be working with a pretty limited budget, and that's okay—it's still possible to get your Flower Mound flooring installation done in a cost-effective manner. But even if budget isn't your main concern, it's a good idea to look for ways to keep project costs under control. To start with, make sure you look around at a few different possibilities and keep your eyes open for a bargain—you never know what you might be able to find on sale or at a discounted price.
If you are considering a luxury material like marble or exotic wood, keep in mind that you may be able to get a similar look with a much less costly synthetic material. For example, laminate flooring gets its look from an image layer that is often made to mimic the look of hardwood or natural stone. It's a great way to get the appearance you want at a fraction of the cost, and laminate is both long-lasting and easy to clean.
10. Does My Choice Come With a Warranty and Guarantee?
By the time you've carefully considered all the points listed above, you'll probably have your list of options narrowed down to a couple of great choices, or at least know what type of material you need and want for your Flower Mound flooring installation. Before you make your final decision, it pays to take a moment and check that your selection comes with a decent manufacturer's warranty. In the unlikely event that you get a product that is faulty or damaged right out of the box, you want to know that you can get it replaced or at least returned quickly and easily.
It is possible that damage can occur during flooring installation, especially with an inexperienced or completely amateur installer. If you choose a professional who offers a guarantee on your workmanship, you don't have to worry about that. A labor warranty is a sign that the company is confident they'll do the work correctly the first time. Our Flower Mound handyman team is highly experienced with all types of flooring installation, and we stand behind them with the Done Right Promise—if it's not done right, we'll make it right.
11. What Do I Need to Do to Prepare for Flooring Installation in Flower Mound, TX?
There are a few things that need to be taken care of, typically prior to the day of your Flower Mound flooring installation appointment. Here are some of the preparation tasks to keep in mind:
Remove all furniture and items from the room
Remove delicate items on the walls like picture frames, drapes, and glass-fronted cabinet doors
Clean the surface or subfloor
On the day of service, set your thermostat to the recommended installation temperature for the material you've chosen
Ready to Get Started on Flower Mound Flooring Installation? Call Your Local Handyman Experts!
Whether you're in Flower Mound, TX or a nearby community such as Lantana, Ponder, or Highland Village, you can always trust the team of licensed flooring experts at Mr. Handyman of Flower Mound, Lewisville, and Denton for high-quality installation services and the topmost standards of workmanship and customer care for everything from your flooring to a major kitchen remodel.
To schedule an appointment at a time that's convenient for you, pick up the phone and give us a ring. Or, speak with our friendly customer service staff about what we can do to enhance your property with repair, maintenance, and improvement projects.