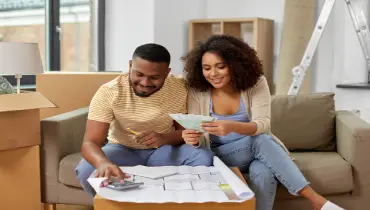 Are you thinking about starting a remodel? Even a seemingly simple one can make you feel a bit overwhelmed and prone to keep pushing it off. With the new year fast approaching, it's time to stop procrastinating and install those new kitchen cabinets, stain your deck, or add a floating shelf to your living room. No matter the project, our Memphis professionals have some tips to jumpstart your home renovation project today!
1. Be Patient & Realistic
As the saying goes, Rome wasn't built in a day. A home improvement project can be thought of in the same way. You can't rush the process, or you could end up making mistakes or injuring yourself. Take your time planning out home improvement projects for 2023 and set realistic goals for yourself (we'll talk about how to do this in the next section).
2. Create Home Improvement Goals
Before you dive into a home improvement project, you'll need to set some goals first. Goal setting helps guide your focus and keep you on track when things get overwhelming.
To help create attainable home renovation goals, do the following:
Ensure your goals are clear, so they're attainable
Commit to your prospective goal, and don't give up halfway through
Break down your home improvement goals from the easiest to the most challenging
Don't procrastinate this step! If you want to finish home improvement projects you can do yourself, you'll want to get on this ASAP.
3. Get Organized
Before you can even conceive of a home renovation plan, you'll need to get yourself organized. Daily organization is important and should be a habit. Still, before you jump headfirst into a simple or more complex improvement project, it's essential that you know the space you're working with.
For instance, if you're planning a kitchen renovation or improvement project, you'll need to pare down small appliances that you don't need or use anymore. This helps clear the clutter and allows you to start with a clean slate. After all, you don't want to bring the same unused stuff into a newly remodeled kitchen.
4. Find Project Inspiration
You can find inspiration in multiple ways, from Pinterest to the great outdoors. You might discover lime-washed brick that you want to incorporate on your fireplace or as a feature wall. You could find your design aesthetic in the glossy pages of a home improvement magazine. You may even look up in the sky and discover that a pastel blue would be perfect as a dining room paint color. Your creativity could be unlocked in so many ways; be open to it.
5. Know Your Limitations & Consider Your Options
"Sky's the limit" doesn't apply in every situation, especially if you have a lengthy renovation project that you want to complete sooner rather than later. This is why creating realistic home project goals is so crucial. Not only will it help you plan accordingly, but you also know some of the limitations of your project.
On the same note, you should understand and consider all your options when improving a room in your home. Try unconventional materials for countertops or cabinets. Think about home projects that add value. Weigh paint color options. Consider rearranging the room's layout for better function and efficiency. You might even ask for advice or guidance from a highly trained Memphis handyman (wink, wink).
6. Finish One Project Before Moving to Another
Hopping around from project to project won't help you complete them faster. In fact, it could slow the process down even more. The best thing you can do before starting a home improvement project is to take it one project at a time. You might get tired of working on the same remodeling task, but don't give up! Keep going until the entire project is completed.
If your motivation starts to wane, let one of our Memphis handymen take over for you! There's no reason to add more time to an already lengthy home remodel when you can just hand it off to a licensed and courteous technician.
7. Celebrate Victories
The most important part of any remodels is completing them or reaching mini goals along the way. Celebrate those! As we said, a renovation can be tedious and requires a lot of patience. Your instincts may tell you to rush through the process and stop before you've really made progress, but that will only end in problems, mistakes, and disappointment. Take your time. Trust us; the mini-celebrations you throw yourself will be that much more meaningful.
Mr. Handyman of Memphis Can Knock Out Remodeling Projects for You!
Remodeling your home or commercial space doesn't have to be challenging or have you contemplating the entire project. Our Memphis handymen are here from beginning to end. We can take over a project you've already begun or start an entirely new project. Small to midsize home improvement tasks that add value to your property are our bread and butter.
More importantly, we can make the process even more convenient by ordering and picking up the materials at an extra charge. You won't have to leave the comfort of your home to get your dream space.
Call to speak with one of our technicians and get started transforming your abode.