6 Reasons You Need Professional Furniture Assembly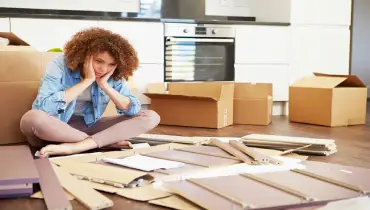 Buying new furniture for your home or office space—and thoroughly enjoying the experience—is the prime definition of "adulting." Still, the prospect of self-assembling furniture probably doesn't sound very appealing at all. You may feel a sense of pride once the process is complete, but getting to the finished product will leave you feeling drained.
So, why not hire a professional to take care of it for you?
Check out eight reasons why a professional furniture assembly company should handle all the—literal—heavy lifting and construction for you.
1. Get Back to The Things You Love
Furniture self-assembly takes time (as it should). After all, you don't want to rush through things only to use the wrong bolt or fasten a part backward. That would take up even more of your time having to undo and redo the assembly.
With a professional furniture assembly company, you can get back to doing the things you love (unless you absolutely love self-assembly). You won't have to worry about losing precious hours in the day for a tedious task. Our Memphis professionals love putting together complicated furniture pieces. No joke. It's almost therapeutic to us. We want to offer the convenience of our services, so you can focus on yourself and the things you love.
2. Prevent Serious Injury
From 2017 to 2019, the Consumer Product Safety Commission (CPSC) reported that hospitals treated more than 25,000 people injured in furniture-related accidents. Many of these injuries were linked to poor design, manufacturing, tipping, or self-assembly. We know you don't have time to deal with a minor or major injury from simply putting together furniture. A surefire way to prevent hospitalization and serious hazards is to let a qualified handyman specialist in Memphis take care of it for you.
3. Avoid Mistakes and Redos
It can be extremely rewarding to assemble something. But all those positive feelings can fly right out the window when you realize you assembled a part upside down or you're missing an important piece. That's when the frustration sets in. You already spent more time than planned to put the furniture piece together. Now, you have to allot more time to correct mistakes. Avoid this scenario and hire a handyman to avoid the fuss.
Our team is so well-versed in furniture assembly that it's rare that we make a mistake that costs you more time and money. We don't do redos. We get it right the first time.
4. Reduce Damaged Parts
Sometimes, a furniture component may come to you damaged, and that's certainly not your fault. However, when you're unfamiliar with furniture assembly, you may make mistakes that result in damaged parts. If the damage is severe, unfortunately, there's nothing you can do except contact the manufacturer and order a replacement. This means more time to assemble something that was supposed to be quick and easy.
Don't even entertain this thought. Let our Memphis handymen ensure that parts are connected correctly to prevent damage. If we accidentally damage a part on the rarest of occasions, we have the tools and equipment to fix it and avoid delays.
5. Expert Advice at Your Fingertips
Having an expert on-hand ready to assemble furniture means you can get professional advice to maintain the furniture and some tips and tricks for future self-assembly. Trust us; we've assembled a lot of furniture in our day. You can ask us anything that will help your next furniture assembly project.
6. No Mess to Clean Up
Let's say you do decide to self-assemble new furniture. We definitely respect your gung-ho attitude. But, have you thought about the cleaning process afterward? This part of furniture assembly can be even less appealing than reading the instructions to understand what's needed to complete the task. There's no need to overexert yourself with furniture assembly and cleaning. When you trust one of our handymen, you can sit back and relax while we take care of everything.
Ready to Assemble Furniture? Our Memphis Team Is on the Job!
Have we sold you professional furniture assembly? Perfect! Our team at Mr. Handyman of Memphis is ready to assemble furniture for you. We specialize in IKEA furniture assembly and various non-furniture-related items, including grills, outdoor storage, and more.
Call to schedule furniture assembly service in Memphis today.