Roof Trim: What to Know About Soffit & Fascia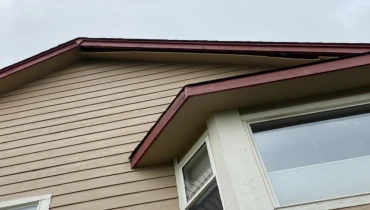 Soffits and fascias may not be in your vocabulary. These technical terms refer to specific parts of your roof that are often labeled as the trim.
If you're like most Wichita homeowners, you likely think that your trim merely serves an aesthetic purpose. While it does complement your home's figure, soffits and fascias actually have a much more important role to play. They protect your ceiling, eaves and attic from all sorts of damage. Pretty important, right?
You may be asking: What's the difference between soffits and fascia? And, what am I even looking for anyway?
If this is your first time learning about fascias and soffits, we're sure you have a lot of questions. That's why we took the time to put together the following guide. At Mr. Handyman of the Wichita Metro Area, we know lots of homeowners have questions about their houses. That's why we want to do our best to help you feel empowered when you notice something is wrong. Even though you'll likely hire a professional repair service, it's still helpful to know the ins-and-outs of residential repair. To get started, keep scrolling.
What Are Soffit & Fascia Boards?
Both soffits and fascias make up your roof trim. They work together to keep your home's exterior looking attractive, acting like a frame on the edge of your roof. Painting your trim is one of the easiest ways to give your house a face-lift without undertaking a big project—like painting the entire exterior.
The difference between soffits and fascia is that the former runs beneath your roof. If you were to stand directly beneath your roof and look up, you'd see your soffits. Fascia runs perpendicular to soffits. These are the boards you see when looking directly at your house.
These trim-components can be made out of a range of materials:
Aluminum
Steel
Wood
Vinyl/PVC (polyvinyl chloride)
Fiber cement
Why is Trim Important?
Although soffits and fascias may seem like mere boards that go along and under your roof, they work hard to protect your home by:
Venting excess heat and moisture out of the roof space by ensuring proper airflow
Preventing moisture from entering your attic and damaging wood rafters and drywall
Stopping squirrels, rats, insects and other pests from infiltrating your home
Securing gutters against the outside of your house
How Does Damage Happen?
Clogged Gutters
Everything in your home is connected, when one part of your roof is poorly maintained, it impacts all the other areas. For instance, the main cause of soffit and fascia damage is unkempt gutters. Fascia supports gutters, and soffits lie directly beneath them, so it makes sense that they're a sort of "first line of defense" when there's an issue.
Gutters should be cleaned out at least twice a year, possibly more if you have lots of trees by your home. Clogged gutters impede water from flowing to a safe distance away from your home. Instead, water spills over the edge and can cause all kinds of problems for your siding, foundation, yard and basement.
Cleaning out gutters is an onerous chore that many Wichita homeowners find tedious, messy and unsafe—especially if you're not comfortable climbing ladders. The good news is, the pros at Mr. Handyman are experts at gutter cleaning, and are happy to do it for you.
Exposure to Elements
Over time, wind, rain, hail and even sunshine can take a toll on your trim. Storms are particularly troublesome. Strong winds can blow rain to the soffit vents, where it may accumulate and not evaporate properly—this may cause wood rot to develop.
What are the Signs of Damage?
Peeling, chipped and flaking paint or finish
HVAC system working too hard
Discoloration and staining
Ventilation issues in your home, like excess condensation
Rodents and insects are getting into your home
Visible bird, rodent, or insect nests
Leaking or damaged gutters
How Can I Maintain My Trim?
If you've noticed any of the above issues, then your trim likely needs repair services as it is already damaged. The best course of action is to hire a professional handyman service, such as the experts at Mr. Handyman. Our team has years of experience working on indoor and outdoor home improvement services. We'll be able to diagnose the issue and make any necessary repairs efficiently and effectively.
That said, there are still a few things you can do to keep your soffits and fascia in good shape year after year:
At least twice a year, you should walk through your property and look for signs of damage. You should do this once in the spring and once in the fall.

Consider hiring Mr. Handyman for power washing services to give your trim, and other surfaces throughout your property, a deep clean. This will get rid of any build-up and revitalize the appearance of your property.

Sand and paint any damaged trim. Paint helps prevent water damage, which may cause wood rot, mold and mildew.

Stay on top of regular gutter cleanings. The best way to prevent trim damage is by maintaining your gutters!
Need Your Soffits & Fascias Fixed? Choose Mr. Handyman!
At Mr. Handyman of the Wichita Metro Area, we're proud to serve clients throughout Kansas. We've brought our high quality services to residents in Andover, Bel Aire, Derby, Eastborough and Park City. Our team works together to give you a positive experience with our company, from start to finish. From our hardworking office staff who keep operations running smoothly to our skillful and friendly technicians, customer service is always our top priority.
To book an appointment today, we invite you to call our team us today. You can also reach us online by filling out a
service requests form
. We look forward to helping you with your next project!