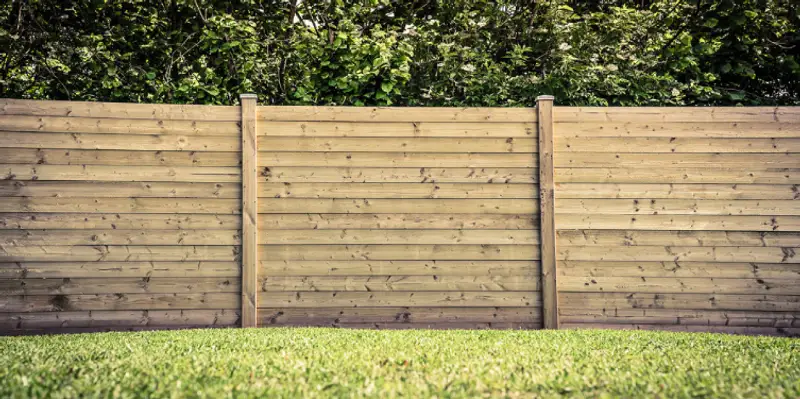 If you've got dogs or small kids running around your backyard in Denton on a regular basis, you're probably well aware of how important proper, professional Denton fence installation is for keeping pets and children safe—you can turn your back for mere seconds and they'll be off like a shot toward the busiest intersection. But even if that's not a concern for your household, your fence still does a lot to enhance the curb appeal of your property and deter casual trespassers.
But your fence can't do any of that if it's suffered sudden damage or deteriorated over the years and the next light breeze could cause the whole thing to collapse. Or, maybe there isn't anything surrounding your property and you would like Denton fence installation services to get the protective and aesthetic advantages a fence can offer.
Whether you need replacement or a brand-new fence installation project, business owners and homeowners alike can count on their local, trusted Denton handyman to get the job done correctly and efficiently with quality workmanship. The team of Denton fence installation professionals at Mr. Handyman of Flower Mound, Lewisville, and Denton are standing by to offer expert advice and attentive service for your property's next repair, maintenance, or improvement project.
What Are the Signs My Fence Needs to Be Replaced?
Are you wondering if your structure needs replacement as soon as possible, or if it would be fine to let it slide for a few seasons? Walk along the length of the entire structure—on both sides, if possible—and look closely from multiple angles for trouble spots. Keep an eye out for these warning signs that indicate you need Denton fence installation sooner rather than later:
Wood is softened, discolored or crumbling apart
Severe damage to multiple pickets
Weathered, splintery wood
Peeling paint or solid stain is flaking off
Rust on metal fences
Difficult to open and close gate
Leaning, wobbly posts
Damaged or worn chain links
Contact with the ground—only posts should be touching the soil
Soil has eroded and exposed concrete footing
Faded vinyl
Creaking or broken hinges and latches on the gate
If you've received a notice that your current structure violates bylaws, encroaches on city property or is in violation of other rules from your Homeowners' Association (HOA), you may also need fence installation services in Denton, TX to alter or relocate it to a more suitable position on your property. It's best to get that type of thing taken care of before you are fined for noncompliance.
Do I Need Denton Fence Installation or Would Repair Be a Better Choice?
This is a fair question—you don't want to dive right into a full Denton fence installation project if all you need is a few repairs from a skilled handyman. In the history of our professional experiences here in Denton, we've learned that the answer to the "repair vs. replace" question usually depends on the extent of the damage. If we're talking about a couple of minor issues or damage to one specific section of the structure, common repairs may be completely sufficient to get it back in excellent shape. Learn more about the 12 signs your property in Denton, TX needs fence repair. If the damage is severe or widespread, a new fence installation will probably be the most effective solution.
Here are some situations in which you will likely need to replace stretches of fence or the whole thing:
A large section of the structure—at least one-quarter of the entire length—has sustained extensive damage or wear
Timber is rotting or metal has corroded
There are clear signs of damage caused by insects or pests
You simply want to replace your existing fence
What Are the Local Regulations for Fence Installation in Denton, TX?
Before you plan out your whole project and have it set in stone, it's important to do some research on Denton fence installation regulations so you understand what is allowed and what's not. While it is necessary to get a fence permit from the City of Denton, don't worry—our handyman professionals will help you out with that. The local regulations for fence installation in Denton, TX are relatively straightforward:
Height must not exceed eight feet
Height is limited to 48 inches high in a front yard setback
The structure must be set back 10 feet from right-of-way pavement or five feet from sidewalks, whichever is greater
Barbed wire, razor wire, and electric fences are not allowed in residential areas
Structural posts and framing members (the back of the structure) must be facing inward so the front of the structure is visible from outside your property
Depending on zoning, there may be limits on the type of material that can be used—check section 7.7.8 of the Denton Development Code (DDC) for detailed information
If you are replacing an existing structure, you may use the same materials as the original structure or higher-quality materials
Fencing is not allowed in easements or areas blocking the right of way
If you're not sure how to interpret some of the rules and regulations in Denton, give us a call—our team is experienced with Denton fence installation and has the training to adhere to all local regulations and building codes.
Do I Need to Do a Land Survey?
If you're having a new perimeter fence installed, it's a good idea to find out exactly where your property lines run. Over time, especially in older neighborhoods that have seen a lot of landscaping changes and construction over the decades, those lines can get a bit blurred and it's good to know where the real boundary stands. It could also help you avoid a conflict with your neighbors if there's any disagreement about where your property ends and theirs begins.
Pro Tip: Call Texas811 Before Digging
It can be surprising to discover what's buried right underneath the soil in your yard—and you don't want to make that discovery after you've already started digging. Denton fence installation involves digging multiple holes, and you don't want to risk cutting or damaging buried electricity lines, water and sewer pipes, telecom cables, and more. That's why you should call 811 at least two business days prior to digging. They will send a locator to mark underground lines so you know where you can and can't dig before beginning the work. That simple precaution keeps everyone safe and ensures there's no costly damage to buried utility lines.
What Material Is Best for Denton Fence Installation?
There are plenty of types of fences out there, and the type of fence material you choose will, of course, have an impact on the overall appearance, function, and longevity of your new structure.
It's worth noting that a new fence installation in Denton, TX that is adjacent to and fronting public right-of-way must be made out of masonry, wrought iron, elevated and sealed wood, or a combination of those three. However, if you're replacing an existing structure, you may use the same material as the old structure. If it's not adjacent to or fronting public right-of-way, it can be made from wood, wrought iron, masonry, brick, vinyl, PVC, architectural metal panels, or composite materials, according to the Denton Development Code.
Wood Fences
There's simply no denying the appeal of wood. A wooden fence installation is a classic slice of Americana that is bursting with natural charm. It's a fairly inexpensive material that is renewable and environmentally friendly, and there's no end to the ways it can be cut and assembled to create the perfect style for your property.
That being said, timber does have one critical weakness. Any wood that is outdoors and constantly being soaked by rain is vulnerable to rotting because wood rot will attack any wood that is regularly soaked with moisture. The only way to avoid wood rot on outdoor timber is diligent maintenance and regular refinishing to restore the sealant that locks out moisture. If you're going with wood, it's a good idea to choose material such as a pressure-treated pine or cedar fence, since those varieties are more resistant to rotting. In our climate here in Denton, it will need to be replaced every 10 to 15 years depending on the type of timber and how well-cared for it is.
PVC or Vinyl Fences
Vinyl or PVC requires considerably less maintenance than wood and comes in a wide array of styles, including options that mimic the look of wood. But, it's not completely without drawbacks. Initial material costs can be higher, and PVC or vinyl is prone to warping or fading in extreme weather, especially the parts that get a lot of direct sunlight. It's also not environmentally friendly since it's made of plastic.
Wrought Iron Fences
If you're looking for a classic, elegant choice that will last a very long time and do a lot to enhance the appearance of your property, consider wrought iron. Upfront costs are high, so it's not going to be the most budget-friendly option for Denton fence installation. On the upside, replacement costs will be very low—with adequate maintenance, it could still be standing 100 years from now. The maintenance isn't terribly difficult, either. All it needs is a coat of rust-resistant paint every few years.
Aluminum Fences
While aluminum doesn't have the same style cachet as wrought iron—or the same longevity—it does have a lot going for it. Aluminum is inexpensive and very durable, and it comes in many different colors and styles. Fencing made of aluminum is also often made of recycled material, which means it's also an excellent option for environmentally conscious homeowners. However, it's not necessarily the most effective choice when it comes to privacy or security.
What Types of Gate is Available for Fence Installation in Denton, TX?
If you want your structure to contain rambunctious pets and children or prevent access to your property by people or vehicles, you'll need to have your handyman take care of gate installation. Whether you want to add a gate to an existing structure or are considering your options for a gate to go with your new installation, here are a few common styles to choose from.
Standard options include both single- and double-door gates. Single options latch on the opposite post, while doubles latch together in the middle.
For fences that cross a driveway, you can install a large swing gate to block or open access as needed.
If the space is too limited for a large gate to swing out into a narrow street or alley, there are cantilevered gates that slide or fold up as they open to conserve space.
You can also install rolling gates, which rely on wheels that run below the structure.
Got a Plan in Place for Denton Fence Installation? Leave the Rest to the Pros at Mr. Handyman!
Whether you're living in Denton, TX, or a nearby part of North Texas such as Justin, Argyle, or Ponder, you can rely on the team of fence professionals at Mr. Handyman of Flower Mound, Lewisville, and Denton for expert fence installation services, repairs and other outdoor services like pressure washing and deck repair. All of our team members undergo a background check program and you can rest assured we will behave professionally and courteously at all times. We also offer a service warranty on our workmanship.
Pick up the phone and give us a call today to chat with our team and book an appointment at a convenient time, or to find out more about why we're Denton's top choice for reliable handyman services.