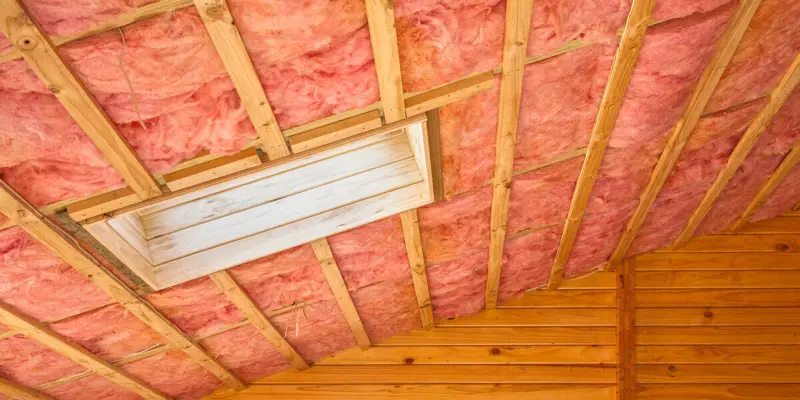 Do your energy bills seem high? Are you worried you are losing money due to indoor heat loss? Have you noticed more drafts in your house, and you're worried your home isn't adequately protected against fluctuating weather patterns and moisture? If so, you should carefully check to see if you have the proper attic insulation installed. If you don't have attic insulation in Frisco, or it's old and outdated, then you're leaving your house vulnerable to uncomfortable temperatures and excess humidity that can cause a multitude of problems.
Not to mention, without insulation your home would be blistering hot during the summer—especially the upper floors and attic, as hot air rises. It would also be very cold in the winter, since insulation also helps to keep warm air in.
This energy efficiency leads to another benefit of having proper attic insulation in Frisco. Since it helps keep your home warm during the winter, it will lower your heating bills. And since it keeps your house cool during the summer, you will likely use your air conditioner less—also helping you save money.
All around, heat-proofing is an important part of any Frisco home. Yet, some houses are built without it, particularly older homes. And, many residences may have insulation that is starting to deteriorate or not perform correctly—or perhaps that wasn't installed properly to begin with. These situations can all lead to uncomfortable interior temperatures and expensive energy bills.
To prevent such headaches, call on our Frisco handyman professionals. At Mr. Handyman of Frisco, our team can expertly and efficiently install attic insulation. If you're not sure where to start when it comes to attic insulation, keep reading. Our experts have broken down what Frisco homeowners need to know about this integral part of your home.
Why is it Important to Have Attic Insulation in Frisco?
Insulation is considered one of the most efficient ways to save energy at home, as it mitigates your indoor temperature and keeps your house cool in the summer and warm in the winter. As we mentioned above, this helps to lower energy bills. In fact, a house in Frisco that is properly protected against temperature changes is incredibly energy efficient and requires very little additional heating during the winter—except on exceptionally cool days.
There are many factors that impact how much you can save on your energy bills by correctly heat-proofing your house. A few of these factors are the size and age of your home and what type of insulation you have. If you live in a new or recently built house, chances are your insulation is still in great shape—as long as it was installed properly. However, this is not always the case for older homes. If your home is more than 10-years-old, you'll likely need to replace old insulation—or install it if it isn't there to begin with.
Attic insulation is especially important to have in your Frisco home, as the roof accounts for roughly 25% of total heat loss. If you're currently using your attic for storage, it may be worthwhile to move those items to a shed or storage unit so the area can be properly insulated. As an added benefit, attic insulation helps to reduce unwanted noise as well. This is especially useful if you live near a busy road in Frisco, as it helps to keep your living space quieter.
How Does Attic Insulation Work?
Attic insulation is a thermally resistant barrier that lowers the amount of heat, or thermal energy, moving into and out of your house. A function of heat is that it always wants to escape to a colder area. Thus, in the winter, heat flows outside. In the summer, heat flows inside. Since this is the exact opposite of what you want to keep your home at a comfortable interior temperature all year round, attic insulation remedies this problem.
What Does a Vapor Barrier Do?
Some types of heat-proofing need a vapor barrier. Also called a vapor retarder, it's a material used to prevent water vapor from diffusing into the wall, ceiling or floor during the winter. Without a barrier, you're exposing your house to excess moisture and risking mold and wood rot growth.
How Does a Vapor Barrier Work?
Typically, a vapor barrier is made out of a plastic or foil sheet. It reduces the movement of water vapor by diffusion. It's very important that the barrier does not have any holes or damage, otherwise humid air may be able to seep through your walls and cause all kinds of problems in your home.
What is an R-Value?
Insulation ratings are measured in R-values per inch of thickness. Essentially, the R-value lets you know how well different types of attic insulation can prevent heat from leaving or entering your home. The type, thickness and density of the material influences what the R-value will be. The higher the R-value, the better climate control and energy efficiency it offers. However, generally the higher the R-value, the higher the price as well.
While it may be tempting to go out and buy the highest R-value you can find, this is not always necessary for Frisco homeowners. The R-value you need in your house depends on its geographical location. For Texas, the average R-value needed is R30 to R60.
R-Values, Lowest to Highest:
Loose-fill
Batts and rolls
Spray foam
What is the Best Type of Attic Insulation for Frisco Homeowners?
There are many different options when it comes to installing attic insulation in Frisco to decrease unwanted heat flow. Each variety has its own pros and cons, and should be used in specific situations. We've outlined these pros and cons below to help you make the best choice,
Spray Foam
Spray polyurethane foam is a spray-applied plastic. It is a high-performance product increasingly adopted by builders across the country for new homes. A great benefit of spray foam is that it can be adhered to even the smallest spaces, which helps create an airtight seal and adds structural strength to areas where it's installed. It also has a high R-value.
Pros:
Spray foam lowers seasonal energy bills.
There is no need to install a vapor barrier.
It can seal even the toughest to reach spots.
It reduces moisture accumulation in your Frisco house.
It acts as an air, vapor and insulation barrier all at once, which results in very high energy efficiency.
It virtually eliminates air leakage.
It provides an airtight seal to prevent heat loss.
Cons:
As a premium product, spray foam is sold at premium costs—making it comparatively expensive.
Cellulose
Cellulose is a loose-fill heat proofer. It comes in two types: dry and wet. Made out of recycled paper (primarily newspaper and cardboard), it is the most environmentally-conscious option available since it recycles other materials. However, it's important to note that cellulose has to be treated with chemicals before being used as insulation.
Pros:
It's generally less expensive than fiberglass options.
It also has a higher R-value than most standard fiberglass options.
There are fewer health risks from cellulose than fiberglass.
It helps reduce the amount of paper waste.
It's treated with boric acid, which increases its fire, mold and insect resistance.
Cons:
Dry-blown cellulose settles and sags over time, reducing its R-value.
It absorbs moisture more easily, which reduces its long-term efficiency.
Both dry and wet-blown cellulose need a vapor barrier.
It has higher installation costs than fiberglass.
It must be installed while using a breathing mask, as it creates a lot of dust when installed.
Fiberglass Batt
Fiberglass batts are the easiest way to add insulation to just about any part of your home, including the attic. It's also one of the most common types of heat proofing used in Frisco homes. Fiberglass batt is a very popular option because it's so straightforward to install. Fiberglass comes in long blankets, or batts, and as loose-fill.
Pros:
The plastic covering also acts as an effective vapor barrier.
Fiberglass attic insulation is fire-resistant.
Insects don't eat it.
It's inexpensive and effective.
It will not shrink over time.
It's often already sealed, so there are no issues with breathing in the fibers.
Some types of fiberglass attic insulation use recycled glass, this reduces its environmental impact.
Cons:
Batts do not seal ceiling spaces very tightly.
It will settle and sag over time, decreasing its R-value.
Fiberglass can cause a wide range of health issues, including cutting skin, causing lung disease and causing cancer.
Loose-Fill Fiberglass
Similar to fiberglass batts, loose-fill fiberglass shares many of the same pros and cons. However, there are a couple of important differences. Loose-fill does not come with a plastic cover, so it needs to have a vapor seal installed as well. Also, it can fit into smaller nooks and cavities, meaning it can cover more areas and provides a tighter seal.
Mineral Wool
Mineral wool is similar to fiberglass, but it's made out of natural materials instead of glass. There are two types of mineral wool: slag wool, which is made out of fibers from iron-ore waste, and rock wool, which is made out of natural stone fibers. Just like fiberglass, mineral wool is sold in loose-fill and batts.
Pros:
It has much better sound blocking abilities.
It won't burn unless it reaches temperatures higher than 1,800°F. Thus, it acts like a fire barrier and slows down house fires.
It is naturally moisture resistant, so it retains its insulating qualities when wet.
Cons:
The tiny slivers of mineral wool can lodge in the skin and cause lung disease and cancer, similar to fiberglass.
How Much Attic Insulation Should I Buy in Frisco?
Your professional technician will be able to advise you on how much you need to purchase to ensure your Frisco home is comfortably insulated. The amount of you need for your Frisco home depends on a few different factors, such as:
Your house's age: If your house is more than 10-years-old, you will likely need new attic insulation.
How large the area is: Larger houses will need more attic insulation than smaller properties in Frisco, because they are bigger.
Where you live: Frisco's climate typically requires a lower R-value than a house somewhere much colder, like Wyoming. However, you can still opt to be on the safe side and choose a high R-value anyway.
Hire Our Frisco Attic Insulation Installation Pros Today!
If you need help to install attic insulation in Frisco, then trust the experts at Mr. Handyman of Frisco to get the job done right the first time. Our highly experienced handyman team can complete a wide range of home improvement tasks. Each of our talented and hardworking technicians has the industry knowledge and tools to ensure any project we complete for you will be of the highest-quality workmanship.
In addition to our dedication to excellence, we're also known throughout Frisco and the surrounding areas for our outstanding customer service. Our team always puts the needs of our customers first. We will take time to listen to your questions and concerns, and answer them to the best of our abilities. Our team will also take care to keep your home tidy during the job—we will even go so far as to wear booties over our shoes to protect your floors. Before leaving, our team will ensure we clean thoroughly, so you can enjoy your new insulation in safety and comfort. Our goal is to leave your home even better than when we found it.
The team at Mr. Handyman of Frisco has had the honor of working with a multitude of both residential and commercial clients throughout Frisco and in many nearby areas. Some of the communities we've brought our outstanding services to include Aubrey and Little Elm.
To get started on installing attic insulation in Frisco or learn more about the benefits of choosing a professional home improvement service, we invite you to give our friendly customer service representatives a call.