Maize Handyman Services
As a small suburb just northwest of Wichita, Maize was ranked as one of the best places to live in Sedgwick County, KS. The mix of suburban and rural vibes and nearby amenities and parks have attracted young families and professionals to put down roots and make Maize their forever home. Over 60 percent of its 5,800 residents happily own their homes, which means three are many local homeowners who need professional Maize handyman services.
As a homeowner, you understand the responsibilities and commitment of owning a house. You might find yourself redecorating specific areas to make them more personalized or remove inadequacies that you decided to tackle by yourself during the time of purchase. While creating a more "homey" space for you and your family is great, you're likely aware of other seasonal maintenance tasks that require your attention, such as gutter cleaning, drywall repair, or refinishing your deck. These are some of the most overlooked jobs that could otherwise lead to costly repairs. We hate to add extra work on top of what you're already busy with, but remember that you are not alone!
Don't worry if the list is already getting too long for you because your local Maize handyman from Mr. Handyman of the Wichita Metro Area is here to give you a helping hand in keeping your property safe and comfortable. If you are already working hard, commuting to the city and back, and want your weekends to wind down, we can make that happen. As a locally-owned and operated business, we only hire trusted, licensed service professionals who have passed their background checks and drug screens. Our technicians bring a minimum of 10 years of experience and have been praised by local customers for their "one call does it all" ability to get the job done.
Need a Maize Handyman for Property Maintenance?
It's not until you own a home that you become inherently conscientious and picky about maintenance, repairs, and improvements inside and outside your property. In fact, it's more than just a paint job or interior improvement project; you also have to consider maintaining a healthy deck and well-insulated doors and windows too. Your Maize handyman has helped many residents restore their homes' looks and functions by dealing with wear and tear immediately before it causes further problems.
Feel free to ask us about the common handyman services that might be useful for you.
We offer a wide range of maintenance services that can help you reduce your need for major repairs and extend the lifespan of your home with essential minor repairs and part replacements.
Deck Maintenance
As soon as spring is around the corner, you can't wait to prepare your outdoor living area for the summer. It's the perfect time to have everything set and ready to go, and that includes deck services. Pressure-treated wood decks are probably the most common type found in Maize homes. Since Kansas has lots of cedar trees, cedar has become a popular material for decking. Unlike pressure-treated wood, you can install cedar as is without treating it with any sealants or other chemicals. It naturally resists rot, moisture, bugs, and most weather conditions, but the beautiful color will fade over time due to UV exposure, and boards might develop cracks in some areas. Another downside is that it's extremely flammable, and flames spread fast if it ever catches fire.
If you care more about safety than having natural wood and prefer minimum maintenance, your Maize handyman would recommend composite decking for deck building. While it resembles wood, it's actually made of a blend of wood fibers and plastic resins that create a strong resilience on the inside, whereas on the outside, it resembles wood. You might pay more for the material, but its durability and small maintenance requirements often make it worth the higher cost.
Overall, maintaining a deck can be hard work, especially if you haven't been able to use it during the winter months. As part of your home's outdoor extension, you want to ensure it's safe to use, which is why you can count on your local, licensed handyman. Maize, KS property owners can trust our expertise and tools to ensure their deck is in working order. Some important checkpoints to cross out on your maintenance checklist might include:
Staining, painting, or refinishing
Replacing corroded anchors, fasteners, and screws
Door Maintenance or Replacement
There's nothing like shutting the door and being in your safe space—safely shutting out the outside world, so you can rest and not think about anything else. Other times, you might find yourself mad and slamming your door, believing that it's durable enough to take it. Perhaps it is, but your door frame that connects to the walls might not be. The frame is an essential part of keeping your entrance safe from potential air leaks. This way, it works in accordance with your home's overall insulation system.
Depending on the type you have, you may require a different kind of door service. Wood lovers know that routine sealing or staining is an essential task to protect it from moisture damage. If you have trouble detecting damage on your own, you can leave it to your experienced handyman. Maize, KS homeowners can rest easy knowing that our wide range of maintenance services always includes thorough inspections.
If you have metal-based doors, they will also benefit from periodic care to prevent rust. We recommend using semi-gloss or satin paint. But if priming and sanding are too much of a bother, feel free to leave it to your qualified handyman. Maize, KS homeowners who want as little maintenance as possible should opt for fiberglass doors, which are extremely weather-resistant and durable. They are made of compression-molded fiberglass and have three distinct components: skin, frame, and core. The core consists of rigid insulation (polyurethane) and glass-reinforced polymer, whereas the frame is made of either wood or composite. With only a little maintenance, they often last up to 30 years.
Signs You Need Door Replacement:
Noisy: When worn, the overall consistency deteriorates and no longer blocks out noise.
Cracked frame: If cracks around the frame haven't been fixed over the years, they will deteriorate further and also impact your door
Safety issue: Is your current door old or low quality? If so, it may pose a safety concern and easily allows intruders to break in.
Rust and corrosion: Metal types that haven't been maintained well are better off being replaced.
Wood rot: Depending on how far the damage has spread, your Maize handyman could probably remove the rotten part and fix it with wood hardener and filler. But opting for a new energy-efficient one could give you long-term peace of mind.
Termite damage: Termites typically start around the jamb or frame and then spread across your wooden door. While pest control is the first call of action, door replacement will be the next.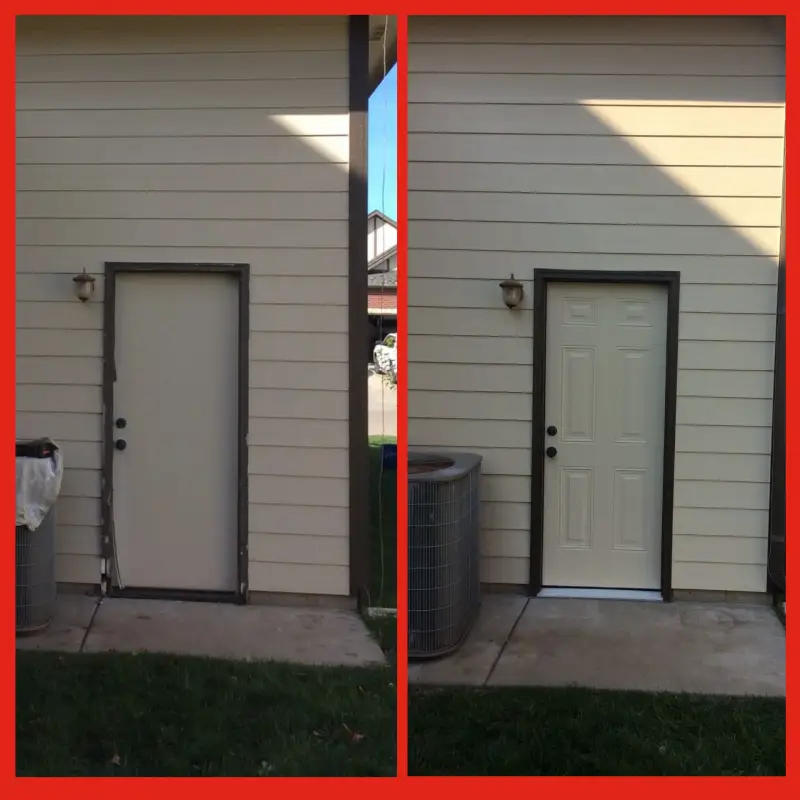 Alt: An exterior door on a home before and after it has been replaced by Mr. Handyman.
Benefits of a Door Replacement:
Save on energy bills with increased efficiency
Save money on maintenance and repairs
Improved safety and security
Other Maize Handyman Property Maintenance Jobs:
Attic insulation installation
Window repairs or replacement
Need a Maize Handyman for Repair Services?
We are a versatile team that specializes in many types of repair services, from minor home repairs to other larger projects. Whether you own a residential or commercial property in Maize, we can provide the repair services you need.
Soffit, Fascia, and Siding Repair
As essential parts of your home's exterior, a lack of maintenance for soffits, siding, and fascia boards could lead to potential problems that call for repairs from your local handyman. Maize, KS homes need more work than you think to stay safe.
Soffits
Your soffits are located just beneath the roof eave and connect the far edge of your roof to the siding of your house. They're an essential part of the overall roof system, designed to help reduce moisture and condensation from building up in your attic. Soffit vents ventilate your attic and circulate airflow, so your home stays dry and receives fresh air. Damage to the gutter system or fascia will impact your soffit's performance. Cracking wood and peeling paint are the warning signs to look out for.
Fascia
Your fascia is a horizontal board that connects to your roof rafter's end and supports your overall gutter system. It also creates a barrier between the outside elements and the inside of your roof. Just like soffits, fascia boards can crack and suffer from peeling paint. If you have damaged gutters, they can pull away your fascia boards and cause damage that way too.
Soffits and fascias are designed to support your gutters as they direct stormwater away from your home and keep moisture and condensation at bay. Clogged gutters could trigger water to overflow and compromise your roof's health.
Another serious situation is when water begins to flow down your siding.
Siding
Your siding is the ultimate shield that protects your home from external forces such as harsh weather conditions. Typical siding types include:
Do you own a newer home that is still going through home settling? If so, you may experience foundational cracks on your siding and interior drywall. While small cracks are usually not a cause for major concern, you may need assistance from your local handyman. Maize, KS homes that have foundation cracks need immediate repair. Water that seeps through those cracks could cause structural damage, affecting your home's integrity and interior walls.
Signs You Need Siding Repair:
Wasps and other insect nests
Worn-out waterproof layer
Other Popular Repair Services:
Maize Bathroom Remodel
Any type of Maize remodeling project requires a lot of planning, budgeting, and mapping out before you can make it happen. If you seek an expert's opinion and a way of doing it right, you can rely on your local handyman. Maize, KS homeowners are advised to first write down all the essential changes they seek without worrying too much about the budget. From what we've experienced, restricted thinking will stop you from doing a lot of things! You'll never know what type of solutions we might have up our sleeves! That said, it is important to set aside a budget for unexpected expenses, like unexpected wood rot repairs or a leak behind your tile. You can rest assured that your Maize handyman will thoroughly inspect your bathroom remodeling needs and complete any necessary repairs before the start of any remodeling project.
Bathroom Remodeling Tips:
Decide if you need to upgrade countertops and cabinets
If you plan to remove your bathtub, ensure you really don't want it
Set aside a budget for emergencies (around 30 percent)
Draw a basic layout or map of how you want the new bathroom to be
Install an improved ventilation system
Choose a perfect spot for a vanity mirror
Need a Maize Handyman? Trust the Team at Mr. Handyman!
You don't have to spend time searching for a "Maize handyman near me." Our local pros have helped countless residents and property owners in the Wichita Metro Area keep their properties in shape and free from signs of damage with dependable workmanship and dedication to outstanding service, from Maize to Goddard to Derby. Count on our expert team of service providers to get the job done right.
Call us today to schedule an appointment or learn more about our wide range of Maize handyman services, including everything from popcorn ceiling removal and crown molding repair to shower remodels and other home improvements.