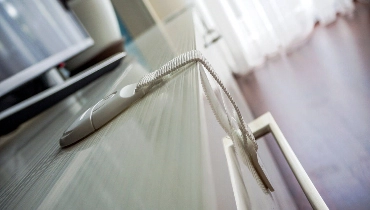 Are you preparing to meet a brand-new family member, or looking for ways to make your Dallas home safer for a new arrival? Congratulations! Welcoming a child is a huge milestone for any family, and most new parents are eager to do everything possible to keep their precious little one safe and sound with thorough baby proofing. But that can be a source of stress when you're not sure exactly what needs to be done to make your home safer for curious babies, especially once they start exploring around the house on their own. Luckily, there are professionals ready to help with baby proofing in Dallas.
Your home may feel very secure and safe to you, and it is—for adults. It can be very surprising to look around from the perspective of a baby or toddler and start to notice potential hazards you have never considered before, because you aren't about to climb a bookshelf or take a sip of cleaning products. Some Dallas baby proofing measures are pretty obvious. For example, we all know that electrical outlets should be covered and toxic chemicals should be locked up. But there are actually a lot of important baby proofing steps that aren't so straightforward, particularly for first time parents who aren't sure what a mobile baby or toddler is truly capable of.
Help is on the way! When you need expert baby proofing service from a qualified Dallas handyman, rely on the experienced team of service professionals at Mr. Handyman of Dallas. We can offer suggestions based on the unique needs of your home and household, and install all the baby proofing measures needed to make your home safe for your new baby. We understand how important it is to ensure everything is absolutely perfect, so you can count on us to deliver the highest standards of quality workmanship and excellent customer service.
1. Keep Hazards Out of Reach
This is number one on our list because it's one of the most basic and well-known Dallas baby proofing steps, as well as one of the most critically important things you need to do. Any potential hazards need to be kept well out of reach, either up high in a location that can't easily be climbed to, or in a locked cabinet. That includes items such as toxic cleaning supplies and beauty supplies, medication, alcohol and anything else that could harm a small child when ingested. But it also includes strangulation hazards such as the cords on small appliances and lamps, as well as sharp tools like knives, scissors, screwdrivers and anything else that could cause puncture wounds.
The safest way to keep those types of things well out of reach while still having them available for your use is to have your local Dallas handyman install childproof cabinet locks and drawer latches that will prevent certain cupboards and drawers from being opened by a baby or small child who doesn't have the tensile strength or logical reasoning abilities to undo the safety latches.
Don't Forget: Safety Latch on Toilet Lid
Speaking of safety latches, there's a major hazard in your home that is often forgotten during baby proofing in Dallas—the toilets. Naturally you don't want your little one splashing around in toilet water because it's unsanitary and just plain gross. But the more serious problem is that toilets also pose a drowning risk. You may think, "well I just won't let my child go in the bathroom by themselves," but it only takes a few seconds for a mobile baby or toddler to get into places and things they aren't supposed to be near. Your handyman could simply install toilet locks that will hold the toilet lid closed when the fixture is not being used.
2. Securely Attach Furniture to Wall
This is another extremely important step for baby proofing in Dallas, but this one is less well-known. Any medium to large-sized furniture that could be pulled over needs to be firmly attached to the wall to prevent the possibility of toppling. The biggest risk is with large furniture items such as dressers, bookcases and china cabinets. That being said, any type of furniture that might be toppled or climbed needs to be properly secured to the wall, such as entertainment centers, wardrobes and other items.
Even something that seems too small or short to cause a problem, like a small child's dresser, could be very dangerous if the drawers are pulled out and a child tries to climb up them. The dresser might fall forward and land on top of the child, resulting in serious injury. Your handyman will install baby proofing wall tethers on the back of any furniture with the potential to topple and fix the other end of the tether firmly into a wall stud. The tethers are not visible and will give you peace of mind that your child is protected against the risk of crushing.
3. Block Access to Windows and Stairs
One of the leading causes of injury to babies is an accidental tumble down the stairs, whether they are in a wheeled baby walker or just toddling or crawling along on their own steam. Any stairs that are accessible from areas where your young child is likely to be—whether they lead up or down—need to be blocked off by baby safety gates. If you're worried that your legs aren't long enough to easily step over a gate, or you don't want to drill holes in the drywall, don't panic! There are many options available for Dallas baby proofing gates, so there's sure to be one that will suit the needs of your household.
Here are a few considerations to keep in mind when choosing the right baby proofing options for your windows and stairs:
For those who would find it difficult to swing their leg up and over a childproof fence, there are options available with a latching gate that swings open and shut.
If you're renting a house or don't want to drill holes in the walls for other reasons, get a pressure-mounted gate that can be moved around or set in place without damaging the walls.
When you need to block off a larger area, like the bottom of a staircase or a wide entrance to a room, you can use an extendable fence with hinged panels that can be customized to the right shape and width.
Households with fireplaces, radiators and other items that could cause heat-related injuries should consider fencing off those items so they can't be touched by a roaming baby or toddler.
Windows that open are also a falling risk (even if they have a screen, which could easily be crashed through). The higher the window is in a building, the worse the risk—but even first-story windows that are low to the ground could be a huge problem if a child tumbles out headfirst. The best solution is to have your Dallas baby proofing professional install window guards, which are a small grate or fence that can be placed over the part of the window that opens.
4. Cover Electrical Outlets
Anyone who has seen Saturday morning cartoons knows not to stick anything in an electrical socket, but they do need to be covered up until your child learns that valuable lesson as well. There's a range of products available for this type of baby proofing in Dallas, from simple plastic outlet covers that are inserted into each individual socket to hinged devices that cover both sockets and can be locked shut. Your handyman can also install options that cover the socket when it's not in use, but slide to the side for quick access.
5. Remove Flaking, Peeling Paint
If you have spots of peeling paint or loose wallpaper in your Dallas home, it's a good idea to get that situation taken care of well before your new arrival makes their grand entrance. Babies love to pick at and peel off anything they get their chubby little hands on, and you don't want them swallowing a paint chip or ripping off a big chunk of wallpaper. Your handyman can remove the peeling remnants of your old wall covering and create a smooth surface that is ready for a fresh coat of paint. This is also the perfect time to think about taking care of projects such as repairing cracked tiles that could cut or scrape little hands and feet.
Don't Forget: Finish Painting or Wallpapering Before Baby's Arrival
Planning on painting or wallpapering as part of your Dallas baby proofing efforts? If at all possible, try to complete any paint or wallpaper applications at least eight weeks before your child is born. That gives plenty of time to ensure the fumes have completely dissipated, and it also gives you the opportunity to take care of other baby proofing tasks like arranging (or re-arranging) furniture and hanging decor once the paint is fully dried and cured.
6. Eliminate Curtain and Blind Cords
If you have Venetian blinds or curtains with pull cords to draw them open or closed, those window treatments are dangerous strangulation hazards and the cords need to be safely moved way out of reach where they can't be accessed by a curious child. Sadly, this is a bigger problem than many parents suspect—a child, typically under the age of three, dies of blind cord strangulation every two weeks in the United States. There's no need to get rid of all your window coverings, though. Your handyman can attach cord winding devices to each blind or drape cord to keep them wound up and safely out of reach, and you'll still be able to get the blinds or curtains open and closed.
7. Install Carbon Monoxide and Smoke Detectors
Every household in Dallas, whether they are in the process of baby proofing or not, needs fully functioning smoke alarms on every level of the house, particularly near sleeping areas. If you don't already have them installed, or you're not sure if they're working correctly, our Dallas handyman team can get them installed or test them and change batteries, even in difficult-to-reach areas.
Carbon monoxide is a colorless, tasteless gas that is very harmful when inhaled in large quantities. If you have ventilation hookups in your home to vent carbon monoxide from appliances such as your water heater or stove, it's important that you have functioning carbon monoxide detectors as well.
8. Assemble Nursery Furniture Correctly
If you've already begun shopping for all the things your new arrival will need, you've probably noticed that babies require a surprising amount of stuff—and almost all of it comes unassembled. If the words "some assembly required" give you an instant headache, don't worry! Your Dallas handyman has plenty of experience with all types of furniture assembly, and can get the entire nursery put together safely and correctly. That includes cribs, change tables, bouncy chairs, recliners and everything else you may need to create the perfect environment for your precious new family member.
Don't Forget: Avoid Blankets and Crib Bumpers
While you may be tempted to dress your new crib in all the trimmings and trappings, the current baby proofing guidelines for the safest crib set-up recommend a fitted sheet only. That means blankets, pillows, stuffed animals, crib bumpers and pretty much everything else should be kept out of the crib until the baby is about a year old to reduce the risk of suffocation or strangulation. It may look too bare and uninviting to you, but the good news is, your child won't mind—and they can still use those cozy blankets and toys outside of the crib while they are awake or being closely monitored.
Not Sure Where to Start with Dallas Baby Proofing? Get Help from Your Local Handyman!
Whether you are living in Dallas, TX or a nearby community such as Lancaster, Mesquite or Addison, you can get the baby proofing assistance you need to make your home safe and secure from the service professionals at Mr. Handyman of Dallas.
Pick up the phone and give us a call today to book an appointment at a convenient time, or to speak with our knowledgeable customer service staff and learn more about how our experts help people with baby proofing in Dallas.